What's the difference between you and your picky eater? Well, obviously a lot! But one of the main differences is how you see food. Kid food and adult food are VERY different…so the question is, can you see the difference? Can you see the food the way your child sees it?
Let's Try Something
To begin, I want to ask you a question…
What is wrong with this picture?
Have you figured it out yet? I want you to think like your picky eater.
To help you out a little, what if I ask you… What is right with this next picture?
If you said that one has black specks all over the fries and one doesn't! You would be correct! That means you can see what your child sees!

If you didn't see the difference, the game is not to try and confuse you, it is to get you to see what your child sees when they look at food.
As adults, we look at those pictures and we see…
Bowl 1: A delicious basket of fries with seasoning. YUM!
Bowl 2: A delicious basket of fries without seasoning. YUM!
What your picky eater sees…
Bowl 1: A bowl of fries that would have been really good if they didn't have black things all over them. YUCK!
Bowl 2: A bowl of fries they will actually eat because they don't have black things all over them! YUM!
Why Am I Telling You This
Sometimes we forget that food doesn't look the same to us as it does to our picky eater. And I am just using fries as one example! This happens when a picky eater looks at any food. Their immediate thought is…Does it look the way I remember it?
When our kids won't eat it can be as simple as that. Your child is thinking …do things look the way I want them to. Or they are thinking… something doesn't look how I remember it looking.
The fries are a great example. My kids, at ages 12 and 8, will still not eat the fries at Red Robin (a national restaurant chain) with the seasoning on them.
But they will eat them plain just fine.
I have run into this in restaurants plenty of times! My son (who is my picky eater) orders Macaroni and Cheese (one of his absolute favorite things to eat!) and the dish comes out with parsley and grated cheese on top.
Guess what! My son says…uh, no way am I eating that! With a face like the server has just handed him a bowl of poisonous mushrooms!
Tips To Help Your Picky Eater Eat While Out
So here are some quick tips I have learned about going to eat at a restaurant or at a friend or family member's house with my kids….basically, anywhere we are going to eat that isn't my house!
These are also tips you can use at home if you are struggling to get your picky eater to eat certain things you are making.
Tip 1: Ask Approximately 20 Questions
When you are out to eat, don't let the waiter or waitress get away from your table until you have asked them about the "in's an out's" of the dish you ordered for your child! Especially if your child is a picky eater
You may think I am joking but I am not!
The questions I would ask about macaroni and cheese are as follows:
What color is the cheese sauce? (yellow or white)
What shape are the noodles? (elbow, penne, rotini)
Is there grated cheese on top?
Is there any kind of decorative garnish like parsley or paprika on top?
Are there areas on the bowl or the actual food that are "browned" and not the same color as the rest of the dish?
You may think that these questions are silly, but let me tell you how my son sees macaroni and cheese …he sees elbow macaroni, yellow cheese sauce and no garnishes of extra cheese, parsley, paprika, or browned areas.
To my son…anything else is NOT MACARONI AND CHEESE!
Restaurants don't understand this. They have some corporate person making up their recipes. Who knows if they have kids or not.
Or maybe you are at a local restaurant where the chef is trying to make a statement…They don't have kids, they don't get it.
Yeah, I'm being totally serious! When a restaurant tells me they serve Kraft Macaroni and Cheese, I will gladly pay $6.00 for that bowl of noodles I can make at my house for $0.25! Because I know for a fact that my kids will eat it and I will have a nice dinner!
The point is, if there is anything weird about the food you order for your picky eater, then don't order it!
You will just be wasting your money! If you have to, just buy them a bowl of plain fries and then feed them something healthy when you get home!
Tip 2: Take Your Own Food
When my son was young, this is what I would do. I would take my own food!
I realize some restaurants frown on this, but it is necessary to keep the peace with my child, so if they don't like it, they will most likely lose my business.
This is a hard concept to swallow. You read things about not being a "short order cook" to your picky eater. Don't make them separate meals, get them used to going out and ordering off a menu…blah blah blah.
When you have a picky eater, you gotta do what you gotta do!
If you need to take something small with you, then DO IT!
When your kids are little, you know you always have a baggie of puffs or cheerios in your purse, so this is the same. Your child is just a little older.
What is the consequence of not doing this…HMMMM let's see!
While you are at the restaurant or other person's house, you realize there is nothing for your child to eat but they are SOOO hungry as they have told you about 100 times in the last 30 minutes. End result…MAJOR MELTDOWN!! And more than likely you wind up standing outside with your screaming child because they are disrupting everything. Which totally defeats the point of you getting out in the first place.

Yeah. Take them some food in your purse. For the longest time, I would take a salami sandwich in my purse any time we went somewhere else to eat. I no longer have to do this at restaurants because my son will usually eat the chicken strips now.
But if we go to someone's house to eat, then I always take either a salami sandwich or a hot dog for him. There are just too many variables that I don't want to worry about.
And many many moms have seen what I do and said, "Oh my gosh that is such a great idea. My child is only eating potato chips right now because there is nothing else they like."
Tip 3: Make It Kid Friendly
Yep, you have to make good choices for your picky eater or they may not eat, so here is the challenge. Pick the picture that your picky eater will actually eat…Number 1 should be easy!
1.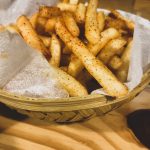 2.
3.
4.
Here are the answers:
#1. The first picture of the fries with no seasoning…but you should have already known that from the beginning of the post!
#2. The fried chicken strips in the first picture. Your child likes things that are easy to pick up with their hands, don't have any weird green garnishes and no funny looking vegetables they have never seen before! They also like things that look like what they eat at home!
#3. Obviously the toast with the fox on it. Why? Because it is fun! The other toast has green goo all over it! That looks pretty scary to a kid who is a picky eater!
#4. The eggs sitting on a colorful background! Of course! When kids see their food on something bright and fun, that makes it more exciting to eat! AND, the other eggs have "weird black stuff" on them…do I sound like your child?!
A good tip for making your child's food a little more fun at a restaurant is to bring a fun plate from home. Or maybe a fun mat that you stick to the table. This will make things a little more familiar for them and also add that bright and colorful plate to keep their attention!
So the point to this post was just to get you thinking a little more like a kid.
A Recap
If you make things fun and familiar for your kids then you will have a better chance of getting them to eat while you are out. By cutting their food into fun shapes and sizes, using bright colors, making sure the food looks how it looks at home, putting things on fun plates, and possibly bringing food from home, then your picky eater may decide not to be so picky after all!
And then, when you go to a restaurant or someplace else that is not your home to eat with your kids, you will be able to enjoy the time out that you deserve and so desperately need!
If you are looking for more solutions to your problems, you can check out some of my most popular posts:
13 Solutions: So Your Picky Eater Starts Eating
9 Mom Bag Essentials For Every Mom 'On-The-Go'
5 Super Easy Steps For Getting Organized
Thanks for reading my post and I would love for you to comment below if you have solutions you use when eating out with your picky eater!