Easy Patriotic Table Decoration Ideas for Fourth Of July And Memorial Day
The Best Patriotic Table Decorations I Have Found
I love any celebration, but celebrating the land of the free and home of the brave makes me want to jump for joy! The fireworks, the kids being out of school, the grilling, and even the decorations just make this holiday fun and festive. And since we gather around the table to eat with friends and family, I love these patriotic table decoration ideas.
Our country is one of a kind and I am proud to be an American. And because I am proud to be an American, I love decorating both my home with patriotic decorations.
Check out some of this years most fabulous decorating finds!
There are sponsored links on this page from which I may get a commission at no added cost to you.  For more information, please read my Privacy Statement.
Patriotic Table Decoration Ideas:
Patriotic Table Decoration Idea #1: Table Runner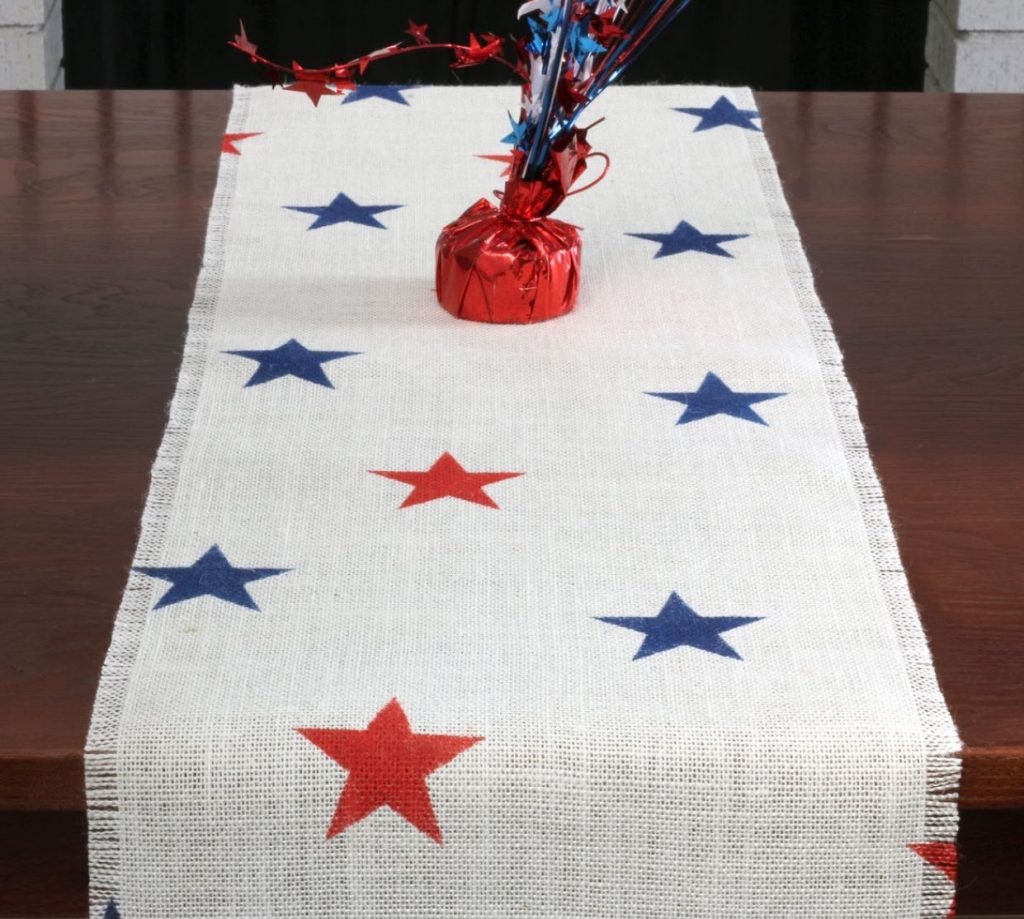 This patriotic burlap table runner makes for the perfect patriotic center piece. The look is clean and light colored due to the burlap material, but still gives the patriotic vibe you want for your Fourth Of July or Memorial Day Table.
---
Patriotic Table Decoration Idea #2: Twirly Ribbons and Bows
These twirly and swirly ribbons make you think of fireworks and fun. Place them on your table top to add a little flare to your patriotic table decorations.
---
Patriotic Table Decoration Idea #3: Festive Tiered Tray
You can try to create this festive and patriotic tiered tray on your own, but Ashley Michele Designs on Etsy can do the whole thing for you…and, and make it look this perfect! Head over there now and start designing your patriotic look.
---
Patriotic Table Decoration Idea #4: Stars Standing Tall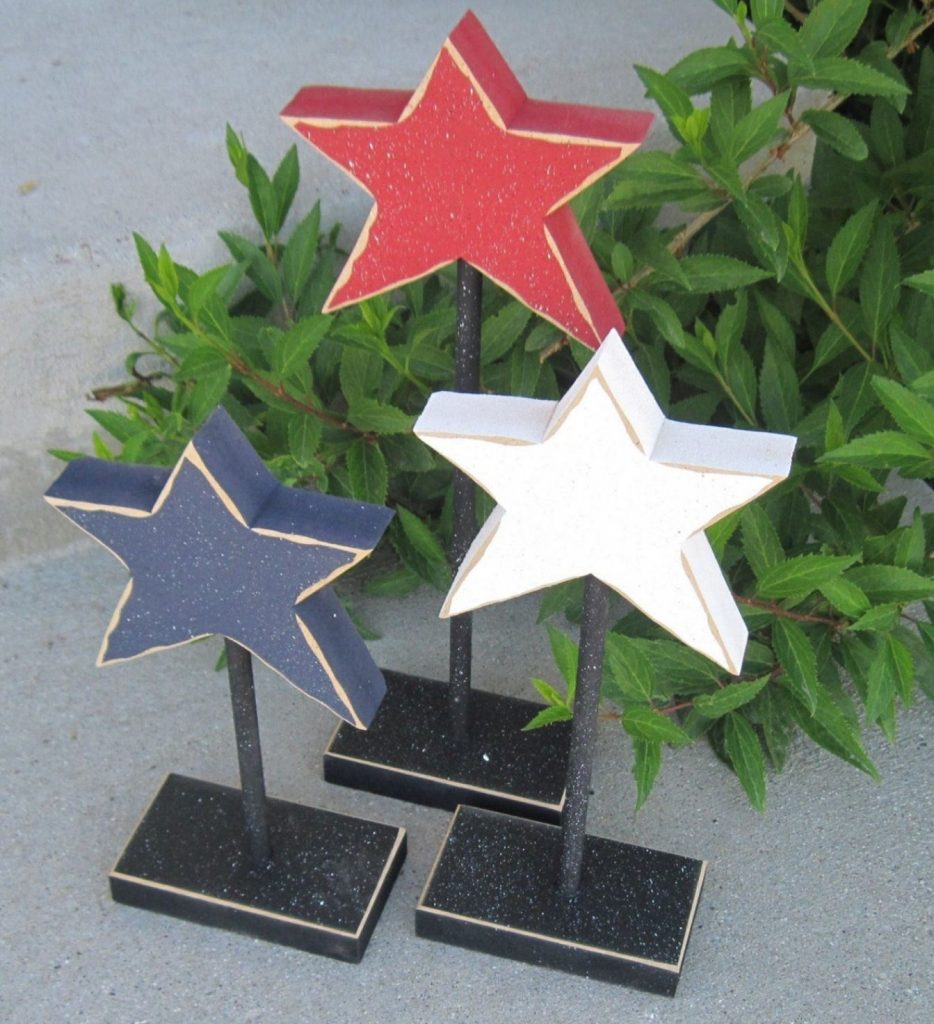 What better way to show your strong patriotism than with these three red, white, and blue stars standing tall in the center of your table, mantle, or entryway table. But don't fret! You don't have to try to make them yourself! You can buy these exact stars on Etsy. Just click the link below.
---
Patriotic Table Decoration Idea #5: Words Of Freedom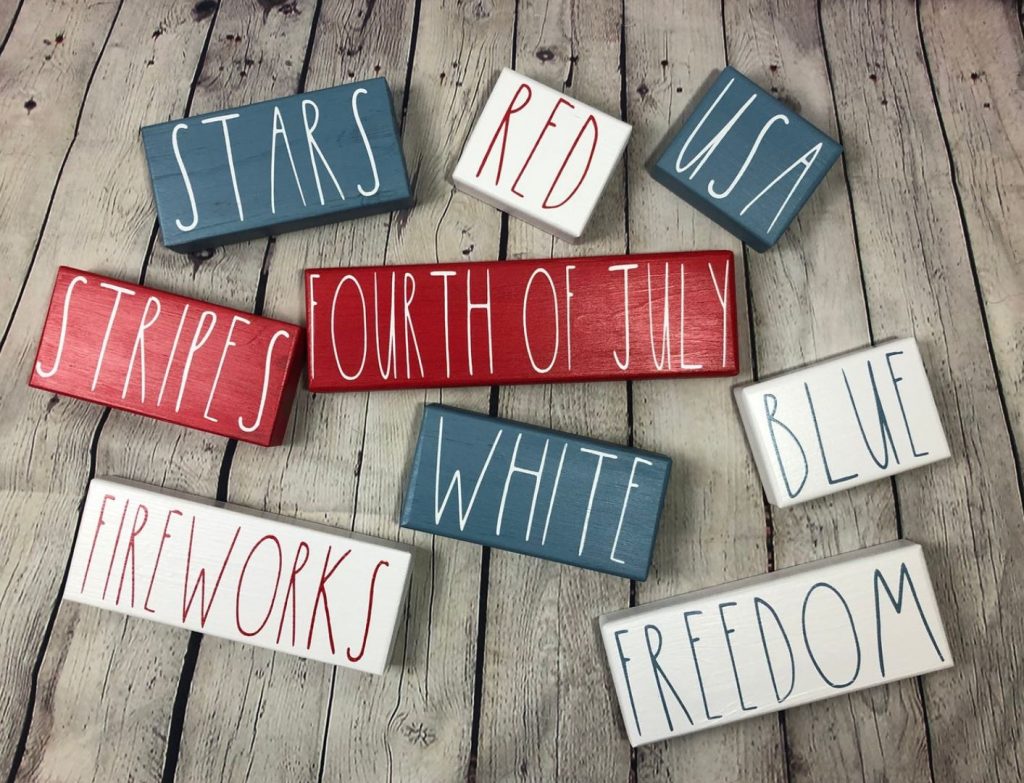 Stars, Freedom, Fireworks and more! All signs of your patriotism for your patriotic table. Pick and choose which words ring the truest with you or buy them all to place in all different locations around your home for a unified look and feel.
---
Patriotic Table Decoration Idea #6: Starry Place mats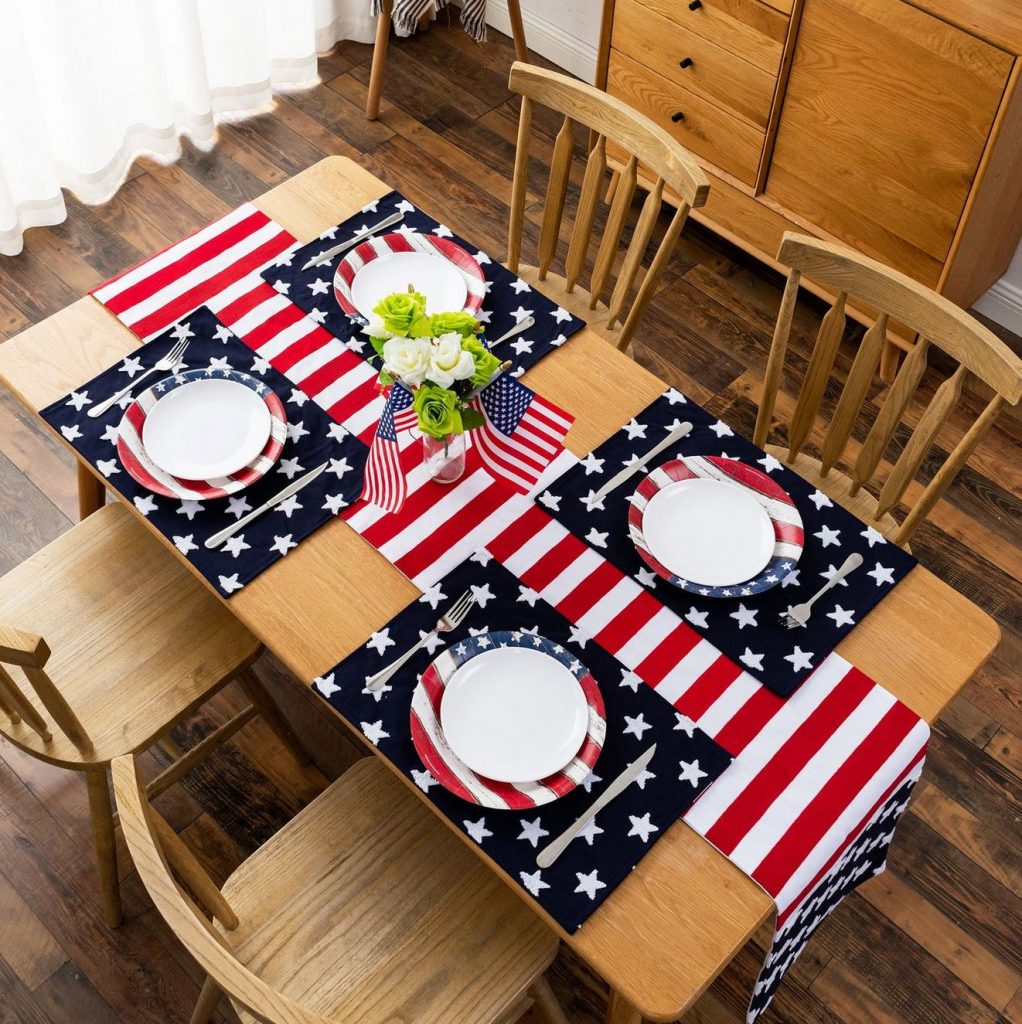 Once you have your centerpiece and runner, all you need are these embroidered star place mats. these place mats are handmade just like the original American Flag.
Other Fun Patriotic Decorations for Patriotic Moms:
Why just decorate your house when you can decorate yourself too? This low key and relaxed 'Merica shirt is patriotic and fun for any patriotic holiday.
---
I'm loving the burlap look this summer! But instead of the normal brownish burlap, this wreath is bright Red, White, and Blue!
---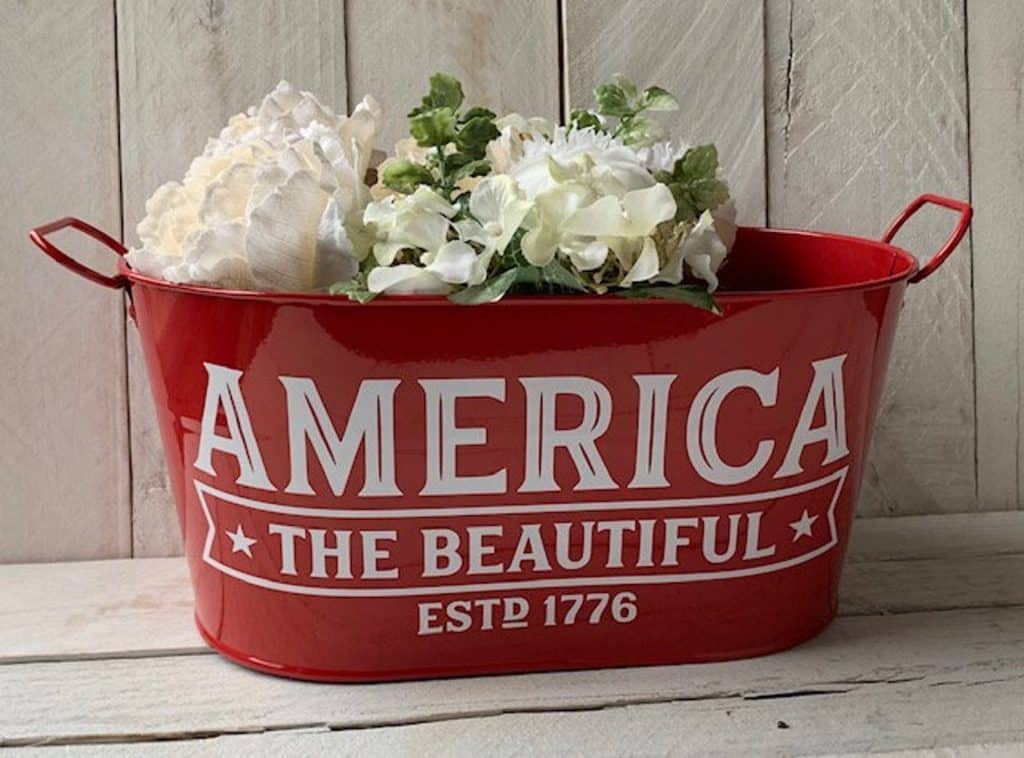 This festive red painted bucket would make a great place to keep some party drinks cold. And when the party is over, it will make a great planter or centerpiece.
---
This beautiful handmade table runner would be a great addition to any patriotic table. And it matches the embroidered star place mats from above!
---
I had to add just one more wreath! I love wreaths, and this patriotic wreath is no exception. The saying in the middle makes it a great patriotic message for your front door.
---
Fun Patriotic Decorations For You
I had to throw this super cute and patriotic shirt into the mix. Because if you spend all that time putting patriotic table decoration ideas out around your home, then you need to make sure you look patriotic as well. So buy yourself something cute to where…there are loads of fun tees to choose from on Etsy.
Patriotic Table Decorations Ideas Don't Have To Be Limited To Tables
All of the items you have seen in this list can be used on your table or other places in your home. Decorate your mantel, your end tables, or your entry too. But the most important thing to decorate will be the table where you share a meal with your family and friends.
God Bless The U.S.A.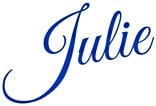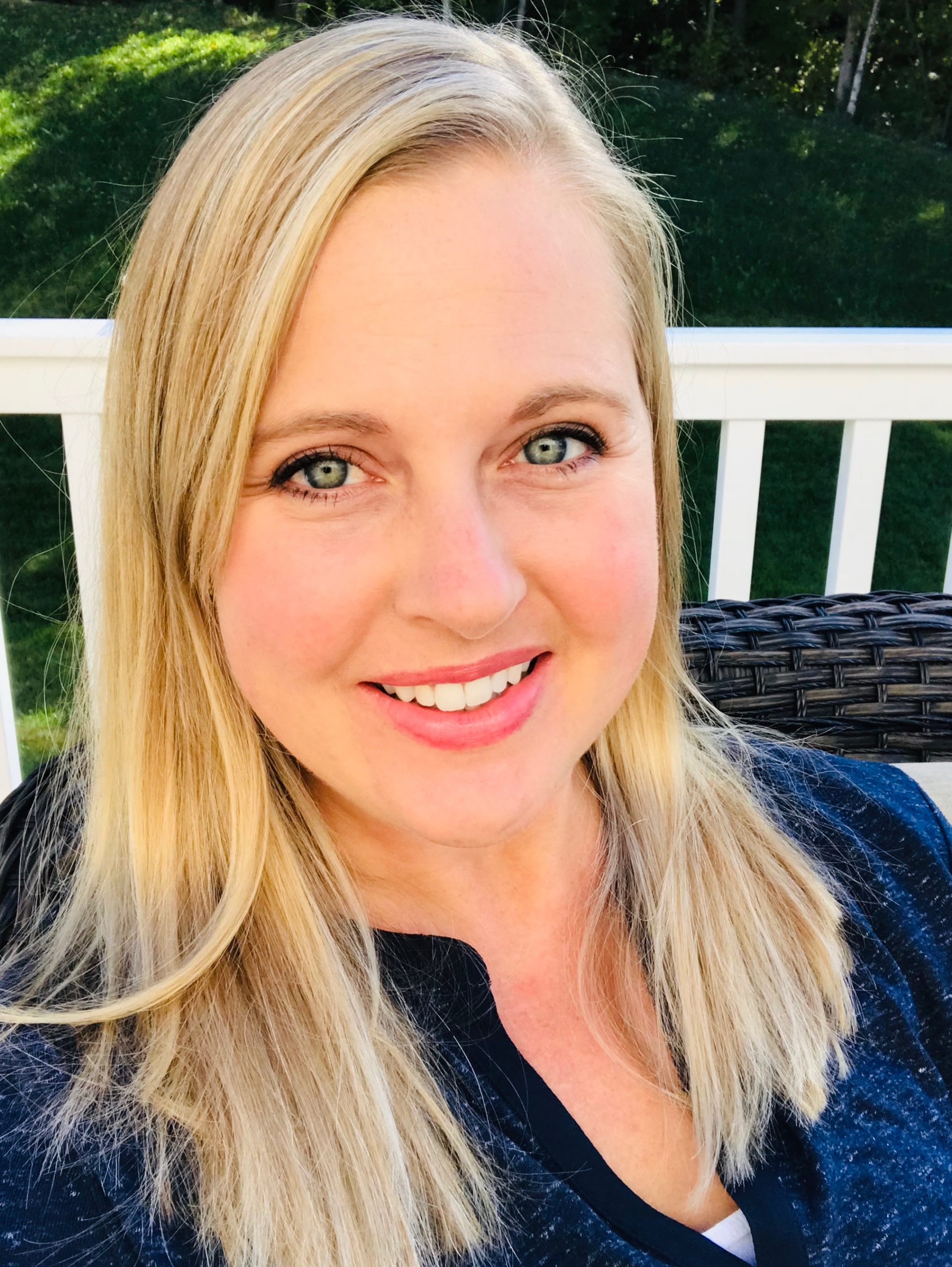 As a stay at home mom myself, I have found ways to keep myself sane and organized while loving what I do …be home with my kids!  After 14 years of being home, I realized other moms may benefit from some of the tips and tricks I have learned over the years.  Join me to learn ways to manage your home and life as a stay at home mom so you can make time to enjoy the best part…family.  Things I love…feeling motivated, Harry Potter, being outside, and digging deeper into my life and my family's life in order to make it better.  I have a Degree in Biology and am also a freelance writer.