15 Easy Post Surgery Meal Ideas To Take Someone After Surgery
After Surgery Help
After my daughter's spinal fusion to correct her scoliosis, we had many friends and family bring us meals to help us through the first few days after we came home.  I found that there were certain things I liked and disliked about the meals we received. This post's goal is to help others by giving post surgery meal ideas and tips to help you better serve your friends and family with meals.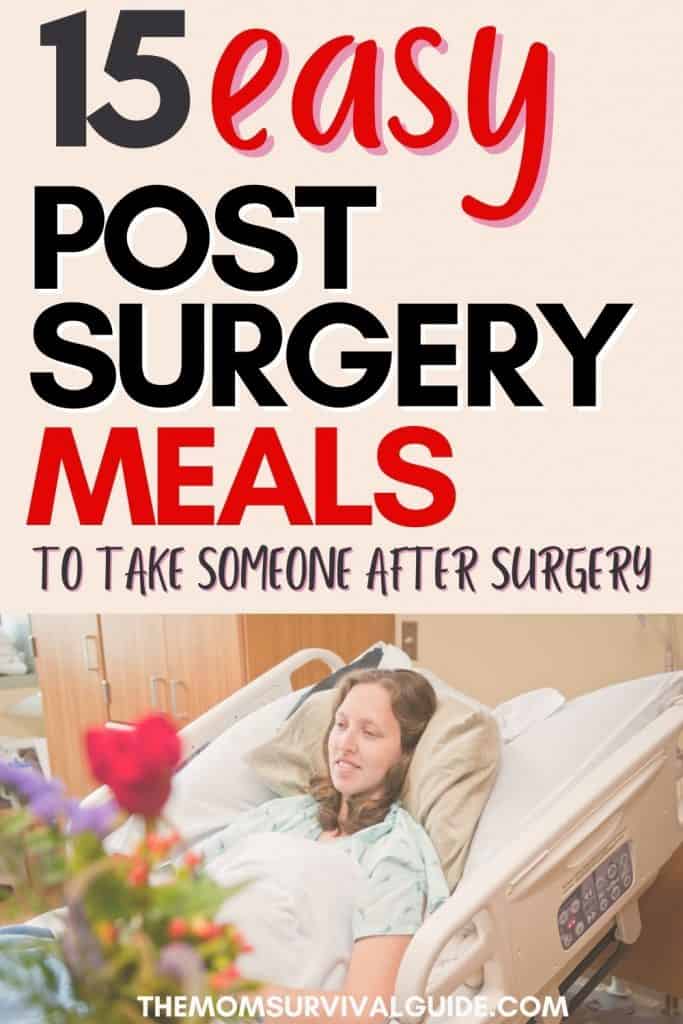 Disclosure
My Post Surgery Meal Experience
After my daughter had back surgery to correct her scoliosis, things were hectic, exhausting, and stressful.  
I had never been through something so difficult myself…and I wasn't the one who had had surgery.  Seeing your child in pain and knowing you can do nothing about it is one of the hardest things emotionally I have ever experienced. 
So with myself and my husband being practically tied to her bedside after the surgery, it helped to have some meals made by our friends and family to help us out while we were helping our daughter recover.
These tips and meal suggestions are to help you help your friends and family to the best of your ability when they need you.
Tips for post surgery meal ideas
When taking someone a meal after a surgery, there are a few things to think about if you want your meal to be a blessing instead of a curse.
Do they have any diet restrictions post-surgery?
Some surgeries may have restrictions on solid food or fat or salt content that the patient can eat after surgery.  Other surgeries just want to make sure the patient is getting plenty of high calorie meals.  So checking on what diet the patient is expected to eat after their surgery can really help make your meal a home run for them.
Do they have any allergies?
As much as you think you are helping, if you give a meal to someone after surgery that is full of dairy products and they are lactose intolerant, then that meal won't do them much good.  So check beforehand if they have any allergies you should avoid.
How many people are you cooking for?
If you are cooking a post surgery meal for someone who has a family, then it can be really helpful to make something the whole family can eat…as long as the patient can also eat that meal with their post surgery diet restrictions.
Do they have body limitations?
If the person you are making post surgery meals for had shoulder surgery that makes it hard for them to lift something that would need two hands for balance…like a heavy casserole, then try opting for something more lightweight.  You can break down a large lasagna into 4 mini- lasagnas using small tins like this.  Or make individual meatloafs in a jumbo muffin tin like this one and then just deliver the "meatloaf muffins" in a disposable tin or gallon size sealable bag that they can pull from easily to warm the muffins up individually.   This will help the patient be able to make their food independent of help from anyone else.
Can they be up long enough to do dishes?
Knee, foot, hip, and back surgery can affect how long a person can stand to do things like dishes over the first few days.  I recommend sending your meal in a container your friend does not have to wash or give back to you.  That way they can just eat it and then rest.  These disposable tin pans are perfect for your post surgery meal ideas.
How complete can you make the meal?
The closer the post surgery meal is to ready to eat without having to cook or make anything additional, the better.  Receiving a meal like beef and noodles but having to actually cook the noodles can be an inconvenience.  Instead, try to find a way to turn it into a casserole that is all cooked, or opt for something different all together.
Comforting Post Surgery Meal Ideas For Dinner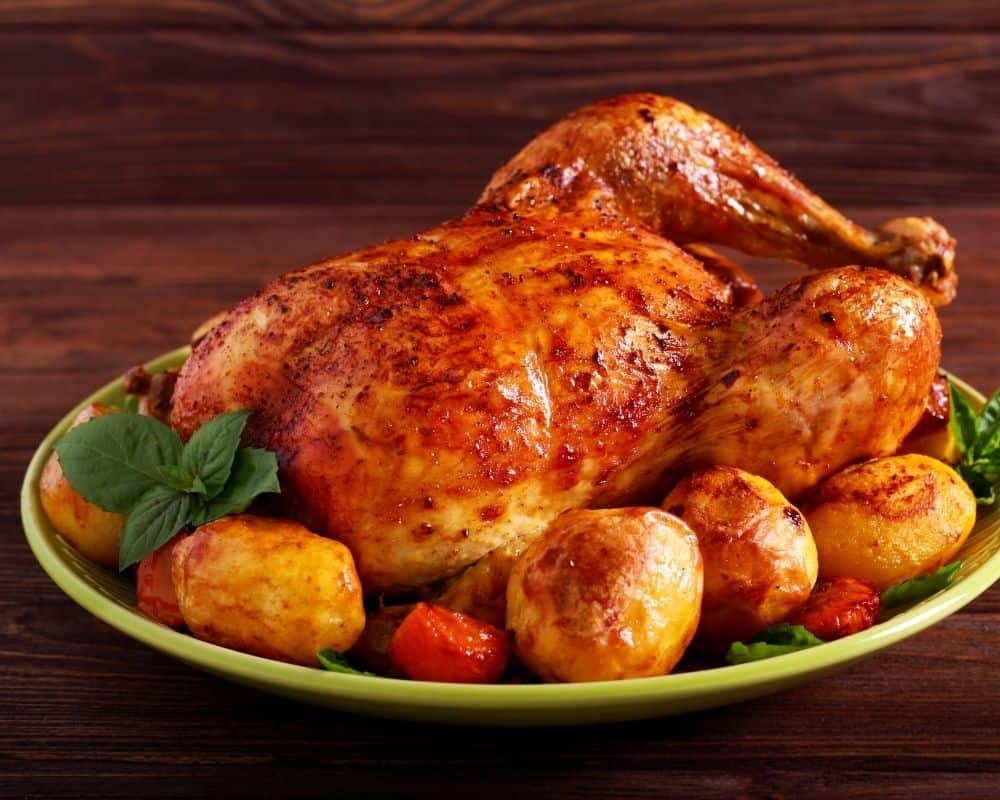 1//  Roast Chicken and Vegetables
The beauty of making a roast chicken meal to take someone after surgery is that it is versatile.  They can eat the chicken and vegetables the first night as they are.  Then maybe the next day for lunch they can make a quick chicken wrap.  It is also easy for the rest of the family to use as a meal without asking for help.
2//  Pot Roast with Potatoes and Carrots
Pot roast is another versatile meal.  It can be eaten 'as is' the day it is received, and then eaten as leftovers or sandwiches in the following days.
3//  Soup
Any soup is a quick and easy post surgery meal idea.  Brothy soups are great for people who had a gastrointestinal surgery.  Thick and hearty soups are perfect for patients who need the calories post surgery.  Just make sure you know how much salt and fat can be used if the surgery has restrictions.
Here are some brothy soup ideas:
Chicken noodle
Vegetable
Chicken tortilla
Here are some hearty soup options:
Beef Stew
Potato and Leek
Creamy Tomato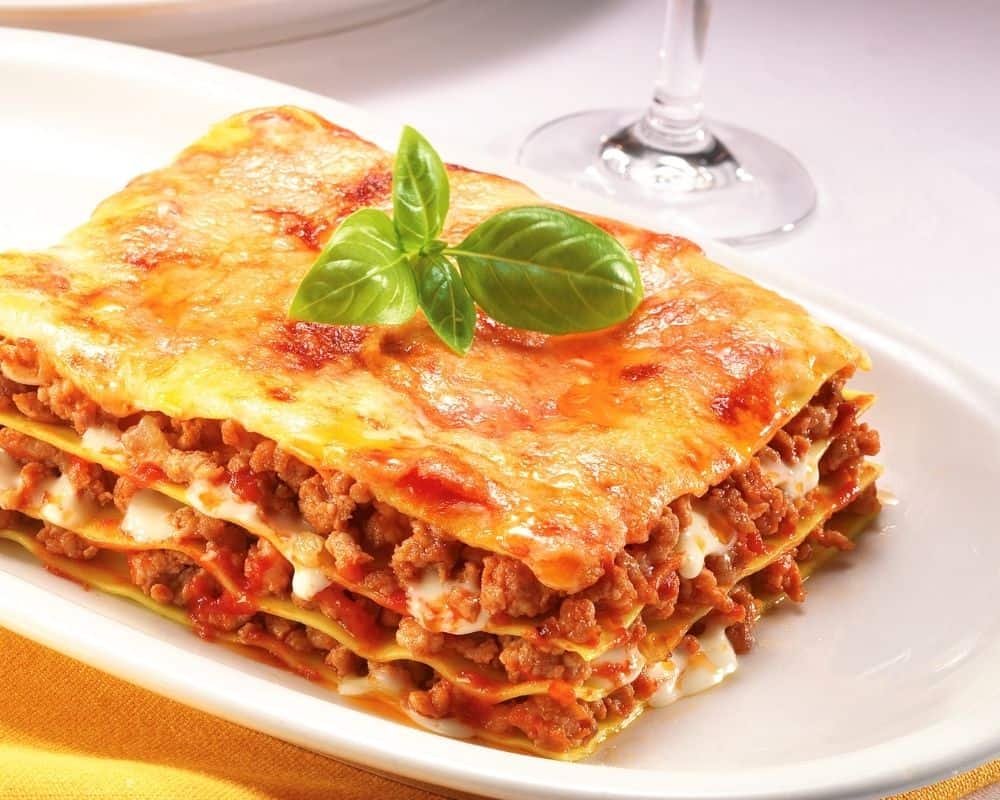 4//  Lasagna
Lasagna is a hearty and comforting meal that can feed a family for a few days on leftovers.  Be sure to check if the patient would prefer meat or cheese lasagna.  You can even make it gluten free with these noodles, or as individual portions that can be frozen with a large muffin tin.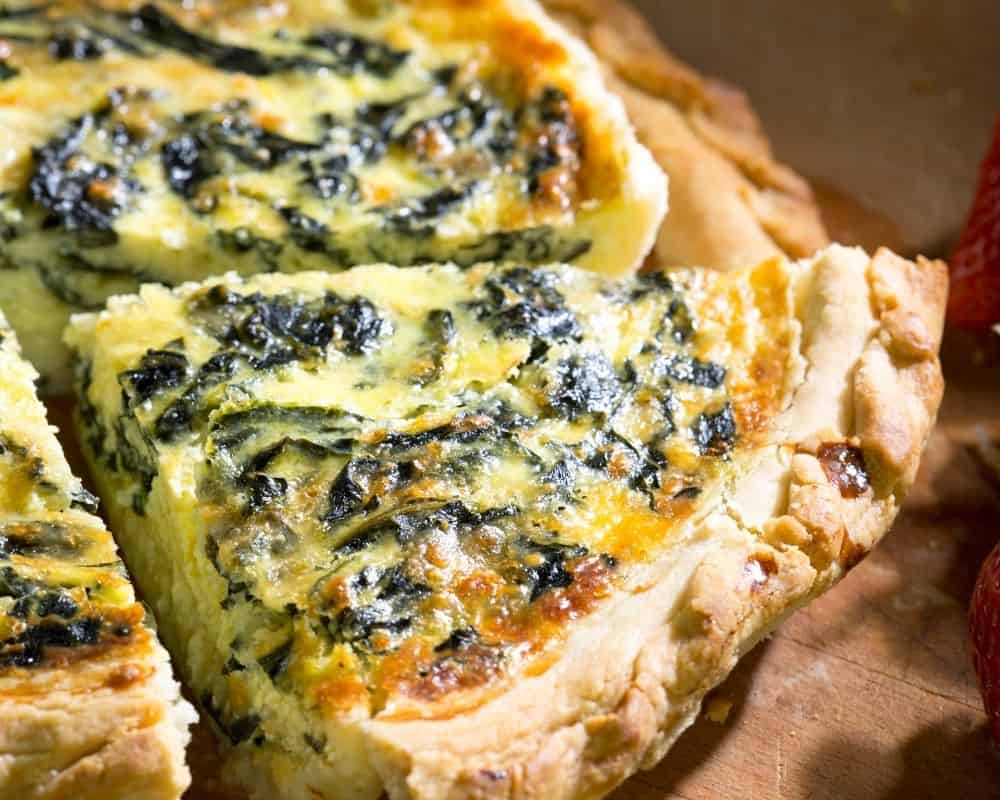 5//  Quiche
A premade quiche can be a quick and easy go-to quick post surgery meal idea.  Not only can you just cut a slice, but you can eat it cold.  So the no cook option makes this post surgery meal idea a great one.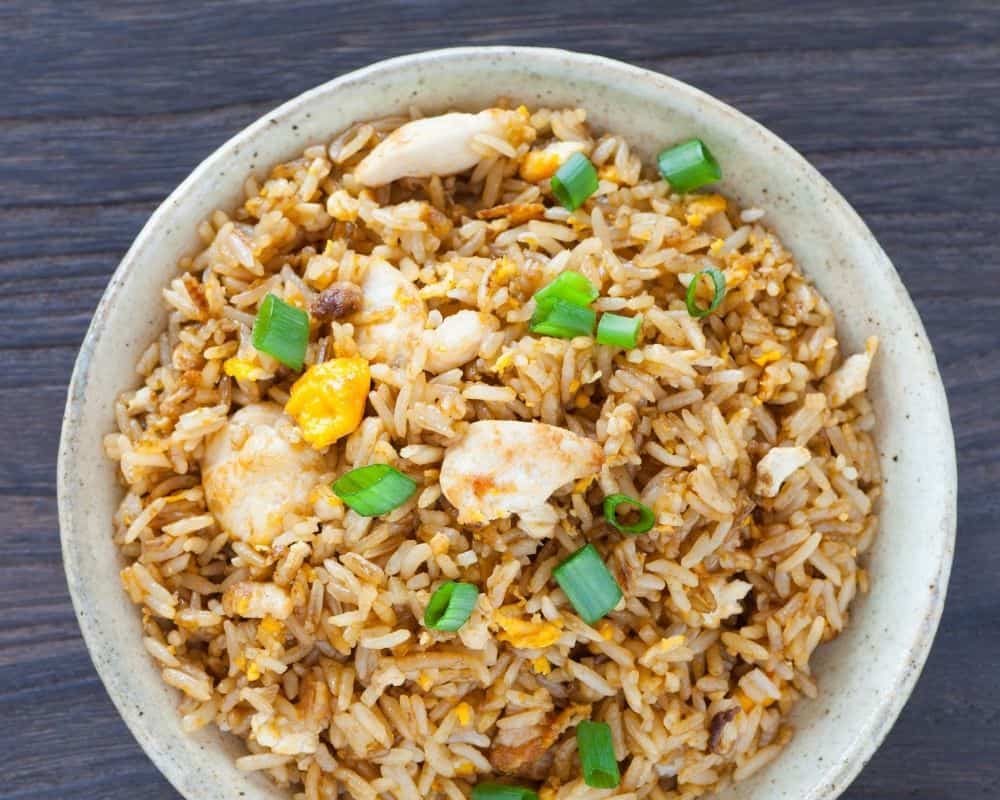 6//  Chicken Fried Rice
Chicken fried rice is quick and easy to make on your end, and is quick and easy to eat on the patient's end.  The fried rice holds up well in the refrigerator and is easy to warm up in single portions without taking the entire dish out.  
7//  Chicken Fajitas Meal Kit
Grill some chicken, steam some peppers and onions and send some flour tortillas.  And don't forget the best part of fajitas…all the 'fixin's'. Make sure you also deliver the guacamole, sour cream, cheese and anything else that sounds good on a fajita.
8//  Cheesy Chicken And Broccoli Casserole
All in one dish meals are easy to make and deliver to friends and family.  One of our family favorites to both eat and deliver to friends and family is this cheesy chicken and broccoli casserole.  To make it a complete meal, add rice or quinoa as a carb.
9//  Chili
The great thing about chili is that it is hearty and filling.  Make a big batch in the crock pot, keep some for yourself, and deliver individual containers to your family and friends who are post op.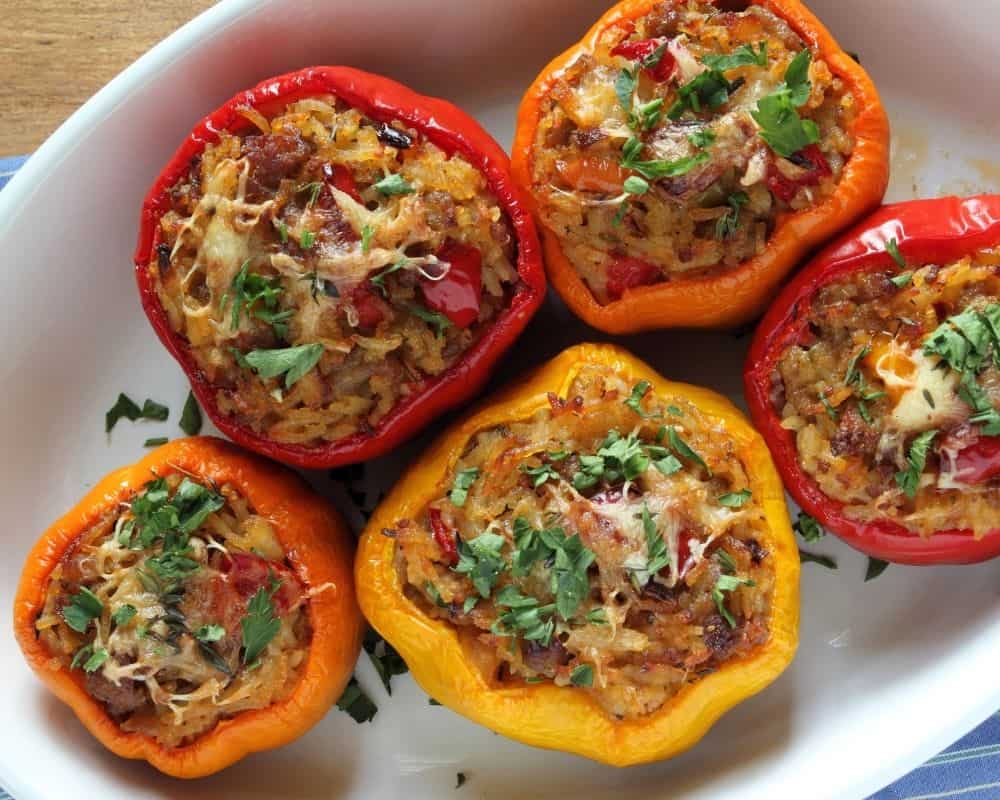 10//  Stuffed Peppers
For a protein and vegetable packed meal that can be warmed up individually, think stuffed peppers.  Stuffed peppers are delicious and easy to make for you.  But they offer versatility as a post surgery meal because they can be warned up individually as needed or as an entire meal.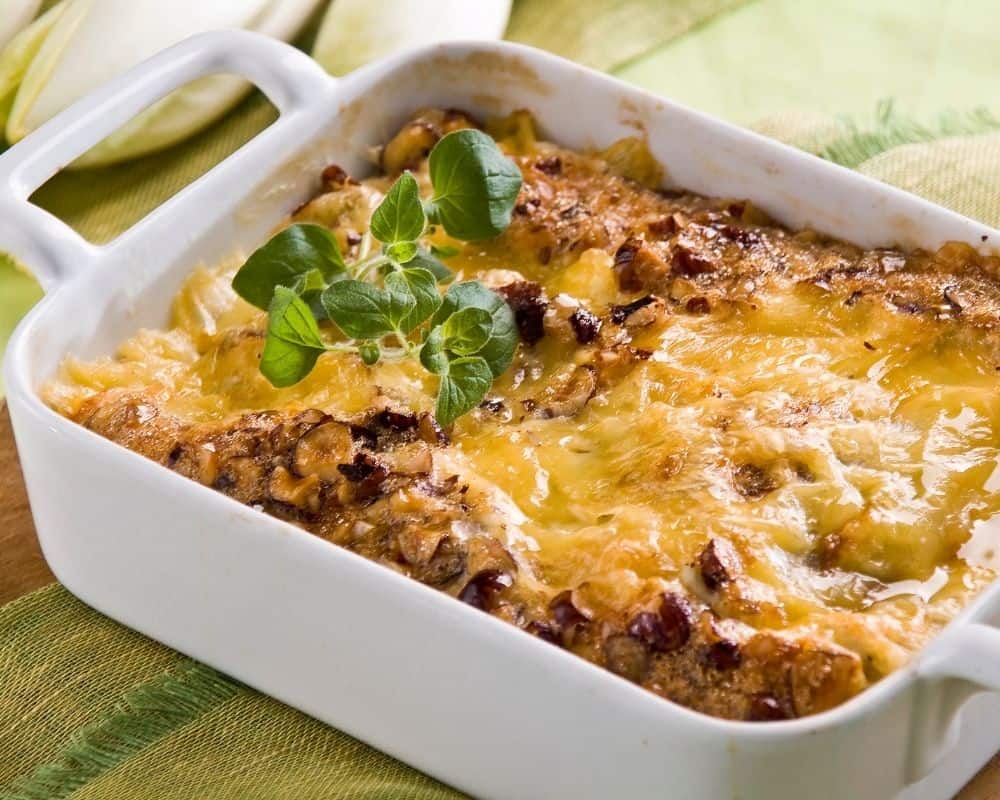 11//  Taco Casserole
An easy alternative to making individual tacos is a taco casserole.  By putting all the ingredients together in the casserole, all the recipient needs is a taco shell or better yet, tortilla chips to spoon the casserole over.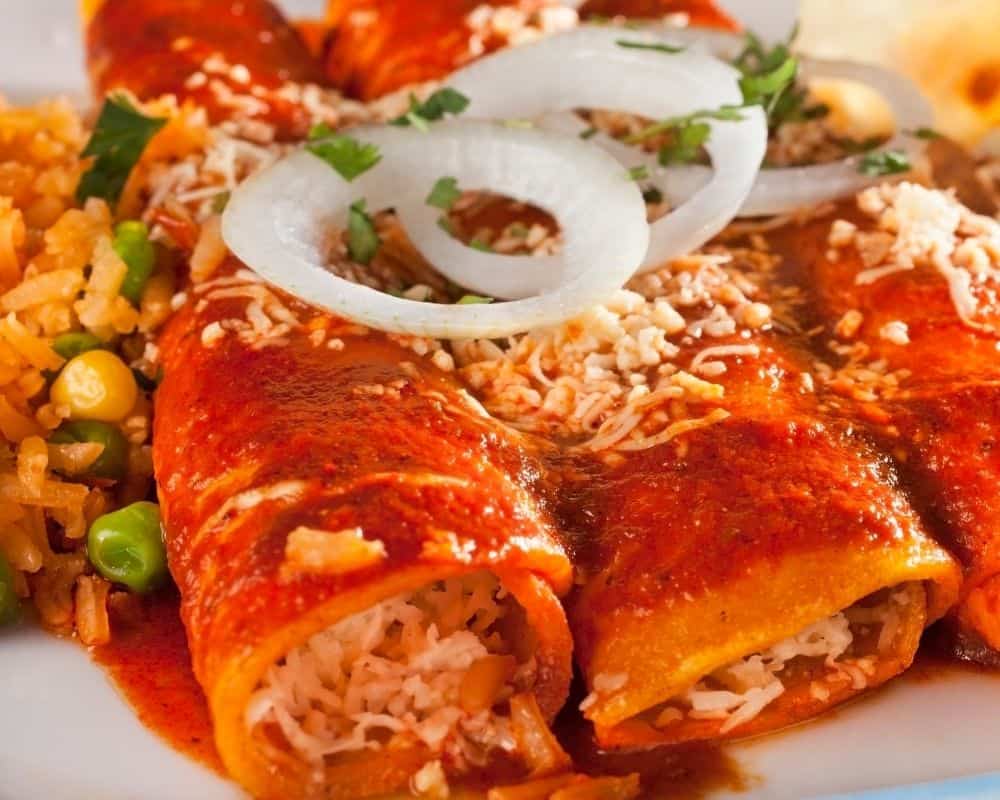 12//  Enchiladas
Enchiladas can be made as a post surgery meal idea or a pre surgery freezer meal.  In other words, you can make, cook and deliver the enchiladas ready to eat, or help out by making, rolling and freezing the enchiladas in a disposable tin that your friend or family member can cook themselves when needed.
13//  Mini Meatloaf
Mini meatloaf can be made ahead and then delivered as a post surgery meal that can be heated up quickly and eaten when short on time and energy.
14//  Baked Ham and Cheese Sandwiches
One of our favorite things to eat is these baked ham and cheese sandwiches.  They are filling and warm, making them perfect as comforting food after surgery.  This is a twist on the traditional ham and cheese sandwich that makes it delicious and loved by all who eat it.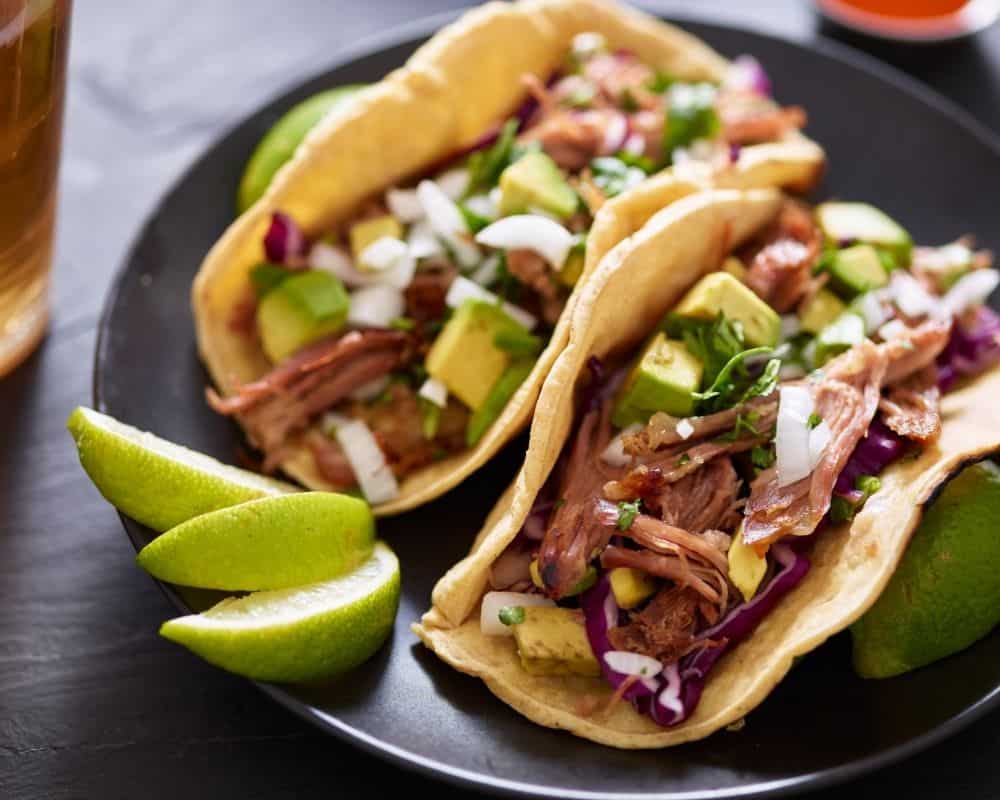 15//  Crockpot Carnitas
A great way to take someone a meal after surgery is to just split your own meal. Carnitas are super easy to make in your crockpot and then divide up to take to your friends and family.  Just don't forget to take them the toppings too:  guacamole, shredded lettuce, salsa, cilantro lime slaw or anything else you think they may like.
Vegetables For Post Surgery Meals
After my daughter's surgery, I can tell you that the one thing we lacked in our diets were vegetables.
We had spent 3 days and nights eating hospital food and whatever we could find or bring from home.  
So when my in-laws brought us a roasted chicken with an extra dish of steamed vegetables and also a salad…I was thrilled.  
Funny thing is, my father-in-law had had a recent surgery, and they said the one thing they missed the most during that time was having some fast vegetables to make.
So insider tip…don't forget to add some vegetables to those post surgery meal ideas above.
Some steamed veggies or a large salad can go a long way to making a complete and healthy meal.
Dessert Ideas To Add To A Post Surgery Meal
Homemade and fresh baked cookies and brownies were our favorites after my daughter's surgery.  My aunt actually made us a strawberry pie, but the strawberries went bad before we even had a chance to make it through a quarter of the pie.
Giving A Meal To Help A Friend
Cooking is a common way to show someone you love them. And what a better way to show your friends and family that you care about what they are going through by making them a meal. Know that the time it takes you to make that one meal is time your friend or family member can spend recuperating.
Happy Cooking!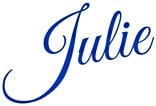 Related Posts:
---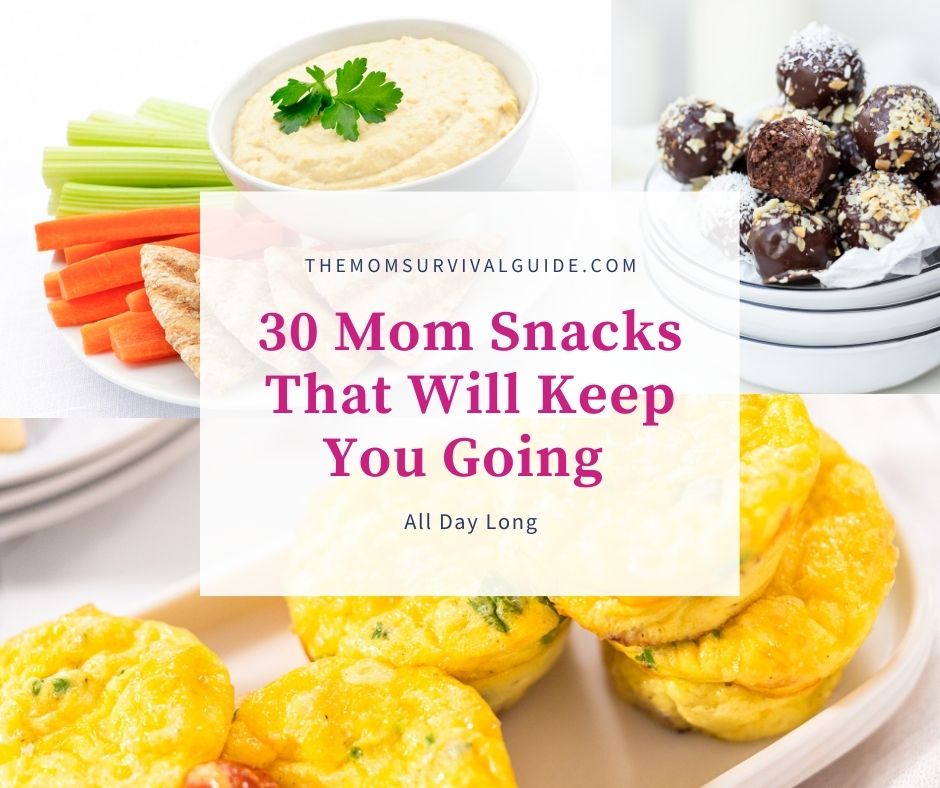 ---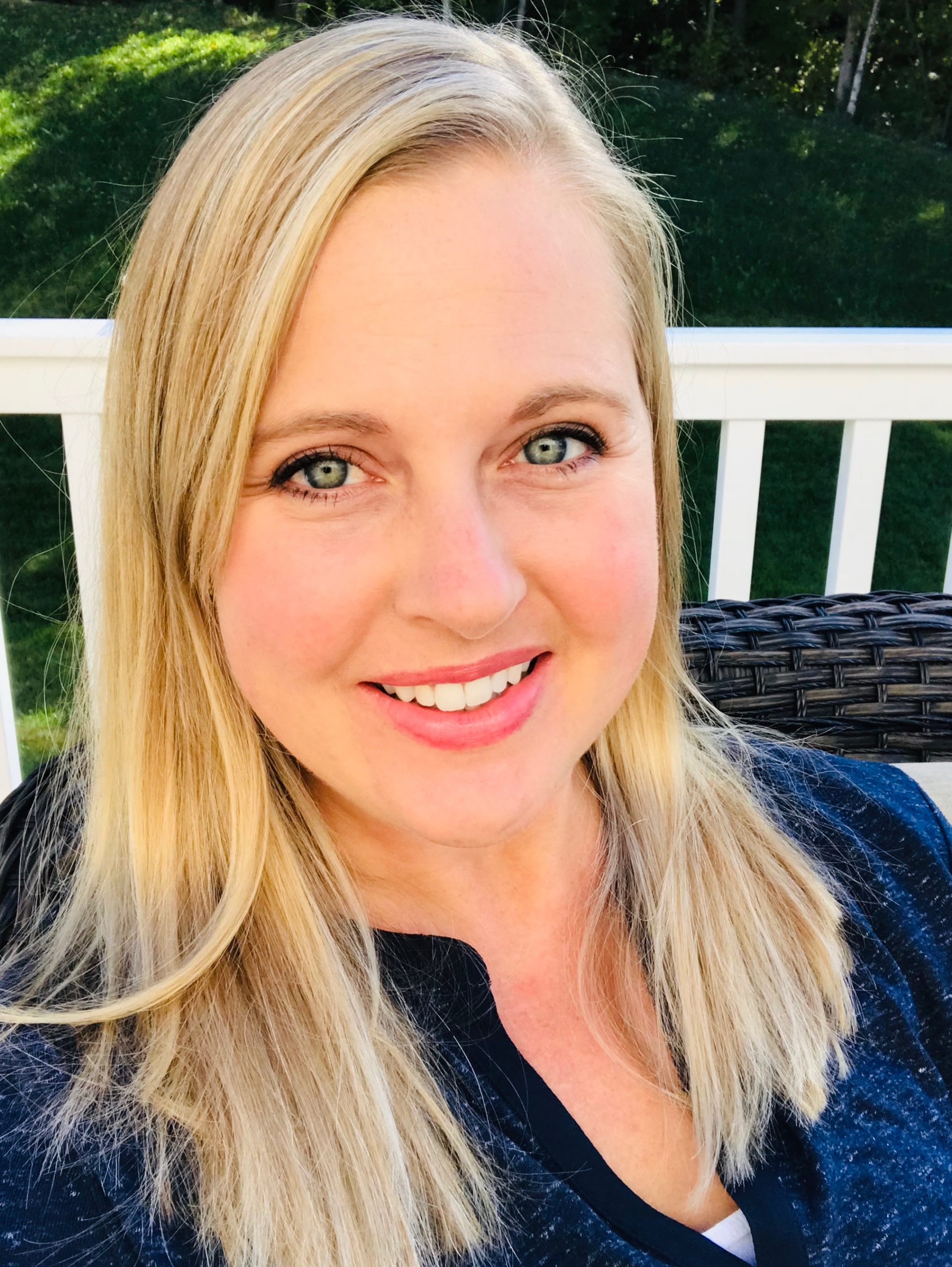 As a stay at home mom myself, I have found ways to keep myself sane and organized while loving what I do …be home with my kids!  After 14 years of being home, I realized other moms may benefit from some of the tips and tricks I have learned over the years.  Join me to learn ways to manage your home and life as a stay at home mom so you can make time to enjoy the best part…family.  Things I love…feeling motivated, Harry Potter, being outside, and digging deeper into my life and my family's life in order to make it better.  I have a Degree in Biology and am also a freelance writer.