The Best Things To Put In A Cleaning Caddy For Quick And Easy Cleaning
I hate cleaning. But I love a clean house. Quite the conundrum isn't it? And since I cannot afford to hire someone to clean for me on my stay at home mom income of …oh nothing…I have had to think of ways to make my cleaning go faster. And a cleaning caddy is definitely one of my go to ways to make cleaning faster.
One of the best ways to start cleaning is to declutter. Grab this checklist of 129 things you can declutter from your home TODAY!
---
Why You Need A Cleaning Caddy
A cleaning caddy is now an essential item in my home for cleaning. It does several things for me that make cleaning a little easier…and faster. And it can do the same for you.
You won't have to run around the house searching for your cleaning items because they are all together, all the time.
Since all cleaning products are together, it will save you time. The toilet bowl cleaner is right there next to the furniture polish.
It carries all of your supplies instead of carrying them in your hands – (Because carrying 7 bottles of cleaner, 5 microfiber cloths, a scrub brush, garbage bags, a squeegee, and a toothbrush around in your hands is a little difficult).
Just ask any cleaning lady or cleaning company. They carry their supplies in some kind of carrying caddy or cart. That way they can get in…and get out, fast. And onto whatever they need to do next.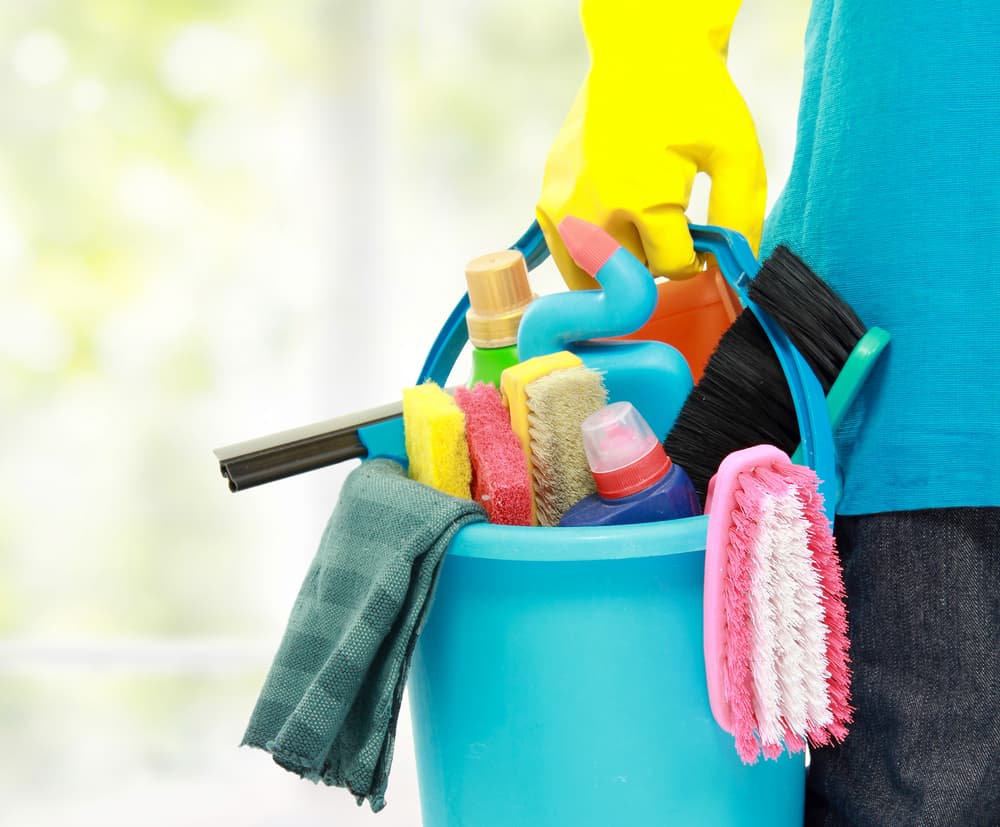 Here Are The Most Important Items To Stock A Cleaning Caddy
Caddy cleaning supplies will vary depending on what you use for cleaning your home. You know how it is, you find a product that you like and that is what you use all the time.
So the suggestions below are just general ideas of some products you can include in your fully stocked and ready to clean caddy.
The items you should keep in your household caddy are the ones that you can use in just about every single room. Which will help lighten the caddy up a bit as well.
---
Cleaning Caddy Item #1: Wand Duster
A wand duster will save you plenty of time while you are zipping through your house with your newly stocked caddy. I like Swiffer dusters, but there are plenty of other brands as well, such as this eco-friendly duster that can be laundered and reused over and over.
Cleaning Caddy Item #2: Scrub Brush
When you come across some tough grime that just won't come off with a little spray and a microfiber cloth, you will need to use some elbow grease. A scrub brush with some stiff bristles will help your elbow grease really dig into the dirt.
These scrub brushes are great because they will easily fit over the side of your cleaning caddy and therefore will not take up one of your cleaning caddy compartments..
Cleaning Caddy Item #3: Microfiber Cloths
Microfiber cloths are great for areas that just need to be dusted or wiped down with a little bit of multipurpose cleaner. They also work really well for drying mirrors and glass so you don't get those dreaded streaks.
You should keep at least 3 microfiber clothes in your cleaning caddy. One for cleaning surfaces you spray with your cleaner, one that is for dusting if you use a spray, and one that is for drying mirrors and glass.
These are the same microfiber clothes I own and I use them for just about everything. They are great for cleaning and drying, but the best part about microfiber is they are washable. So when you are finished cleaning with them, you can just toss them in the washing machine.
Cleaning Caddy Item #4: Disinfecting Spray
When you clean your bathroom, you want to make sure you are using a disinfecting spray. That way you know that when you are done cleaning there are no lingering "gross" things hanging out on your toilet or faucets.
And God knows that there are a lot of gross things that can wind up in your home when you have kids!
The right disinfecting spray can also be used on kitchen countertops and in kitchen sinks to disinfect any bacteria that have contaminated surfaces from food.
And last, any places that there may be bacterial or viral contamination like door handles, light switches, and remotes are also good to clean with a disinfectant.
This is a really good disinfectant spray that kills 99.9% of viruses and bacteria. And it is safe for food contact surfaces and children's toys.
If you prefer disinfecting wipes, those can be used as well just make sure they are safe for your kids' toys and food surfaces.
Cleaning Caddy Item #5: Multipurpose Spray
If you stock a good multipurpose spray, you will be able to clean just about any surface including countertops, mirrors, and even wood without damage.
This is my favorite Multipurpose Solution that I make my multipurpose spray from. Just 1 TBSP into 1 quart of water and you have the perfect spray for granite or laminate countertops, carpet, changing tables, toys, stainless steel, microsuede, toilets, and even wood.
>>>Click Here to see this Multipurpose Concentrate Solution
Cleaning Caddy Item #6: Toothbrush
For small spaces that need to be scrubbed, I like to keep a toothbrush stocked in my cleaning caddy. You can use a toothbrush around sink faucets where gunk and mineral deposits tend to build up and your large scrub brush is too big to fit into the space.
Cleaning Caddy Item #7: Rubber Gloves
When you are cleaning, rubber gloves are a must. They not only protect your hands from the dirt and grime that you are cleaning, but they also protect your hands from the chemicals you are using. So always keep a pair of rubber gloves handy in your cleaning caddy just in case.
Cleaning Caddy Item #8: Toilet Bowl Cleaner
Make sure you have some toilet bowl cleaner in your caddy so when you pass the bathroom you can quickly spray the toilet with cleaner. Then come back to scrub it out when you pass it again 30 minutes later.
>>>This is a great biodegradable toilet cleaner option.
Optional Items To Stock In Your Cleaning Caddy
When I stock my cleaning caddy, I try to keep the most versatile items in my container. So I don't like to stock many extras. But there are some extras that I know other people really like to use. So here are a few additional options you may want in your cleaning caddy…
Furniture Polish
Furniture Polish will condition and shine your real wood surfaces and also help keep dust off the surfaces. Plus, many furniture polishes have a pleasant scent.
Stainless Steel Polish
If you have stainless steel appliances, you know how hard it is to keep them clear of handprints and looking shiny like they should.
If you clean your stainless steel with your multipurpose spray to clean off the grime, then the next best step to make it shine is to polish it with a stainless steel polish.
Squeegee
I love having a squeegee in my cleaning caddy because it is such an easy tool to use on the shower doors in my bathroom.
Another great way to use a squeegee is on windows that need a fast cleaning.
---
The Best Kind Of Cleaning Caddy To Have
You can stock any kind of cleaning caddy that has a handle. It can be anything from a large bucket to a tool box. But I find that the best kind of cleaning caddy to use is one that is both lightweight and has compartments for all of your different cleaning tools and cleaning solutions.
The majority of the compartments in your cleaning caddy should be large enough to hold bottles of cleaners and also scrub brushes.
But you will also want a caddy that has some small compartments to hold your smaller items. Items like the toothbrush you use to clean around the faucets or possibly some small bottles of essential oils.
The reason you should choose a cleaning caddy that is lightweight is due to the fact that you will be placing a few fairly heavy bottles of cleaner in the caddy. If the caddy itself is already really heavy, then you will have a hard time carrying it around your home while you clean.
My Current Cleaning Caddy That I Love
When I bought my cleaning caddy, I had the specifics of what I wanted already in my head. So I was very disappointed when every household caddy I found was completely NOT what I wanted.
But I finally found one that is exactly what I wanted. So I was a little surprised when I realized it was actually this bath caddy.
The reason I decided on this one was because it had both large and small compartments. Which you need when you are cleaning.
So I can stock it with my big bottles, as well as smaller cleaning devices that would otherwise get completely lost if I put them into one of the large compartments.
>>>Click Here To See The Cleaning Caddy I Love
How Much You Should Spend On A Cleaning Caddy
A nice cleaning caddy can be bought at Target or Amazon for around $10.00 or less. That is a great price considering how much you will be using it.
You want it to be well made and sturdy so it can carry your cleaning items and not fall apart.
But you also don't want it to be so expensive that it seems silly to just be carrying cleaning products in it.
Other Cleaning Caddy Options
For an even more affordable option, you can definitely just use something you have in your house. Any kind of bucket you have will work great as a cleaning caddy. A tote made of cloth or another material will work as well. And a sturdy basket will work too.
Essentially, anything that has a handle and is sturdy and lightweight enough to carry your cleaning supplies can work as a cleaning caddy.
How To Keep Your Cleaning Caddy Lightweight
Nobody wants to lug around something that weighs roughly the weight of a floating barge. And just seeing how many cleaning items are essential for a fully stocked cleaning caddy, you know it can probably get heavy.
So how do you carry all of your cleaning supplies in your cleaning caddy without creating something too heavy to carry?
There are a few answers to this question.
The first is to try to use double duty cleaners. Something like this Multipurpose Spray can really lighten your load. It can clean glass, countertops, and even wood furniture without causing any damage. Plus it acts as a mild sanitizer which covers places like sinks too.
Another idea is to use smaller bottles for you cleaners. This works best if you are making your own cleaners, but you can also pour the contents of your regular cleaners into smaller bottles. You can use spray bottles like these mini spray bottles for your homemade cleaners to keep your cleaning caddy lightweight.
The last thing to mention is that not all cleaning caddies are created equal. When you decide on one, make sure it is made of lightweight material and not something too heavy.
Trying to get rid of everything plastic? Try these glass spray bottles.
Where To Store A Stocked Cleaning Caddy
A stocked cleaning caddy can be centrally located in your home or you can stock one for each floor. I like to store mine under the sink in the bathroom on the second floor and in the laundry room on the first floor.
But in reality, all you really need to do is find a space in your home that is large enough to store the cleaning caddy out of sight.
Where I Buy My Cleaning Supplies
When I buy supplies to use when I clean, I normally do a combination of websites like Amazon and Three Main and also brick and mortar stores. Depending on what I am buying and how fast I need it.
I like Amazon because I can get my products in 3 days or sometimes less if they are on Prime and shipping is free. (you can try Prime here).
But sometimes I can't find the eco-friendly, biodegradable, and non-toxic options I want on Amazon, so I look on Three Main.
Grove's mission is to bring healthier essentials into the home. They make sure their products are:
Safe for people, animals, the community, and the planet
Treating the planet with care through reusable packaging and biodegradable ingredients
To plant new trees through the Arbor Day Foundation each and every time a new shipment is sent to you
So all around, when I use this company, I feel good about my purchase. I know that the products I buy are not harming me, my pets, or the planet.
And I am supporting a company that cares enough to make these things available to me.
Want to find out more about Three Main's mission? Just click here.
Recap Of What To Put In Your Cleaning Caddy
I love finding ways to make my life easier as a stay at home mom. And I love even more to share those ideas with you.
So remember that you should stock your cleaning caddy with:
Items that are versatile in multiple rooms.
Products that are light weight.
Supplies you use all the time.
I hope you decide to use a cleaning caddy to help you clean quicker and easier!
Happy Cleaning!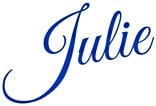 P.S. – If you want to be able to refer back to this post or share it with your friends, remember to PIN IT!
Related Posts: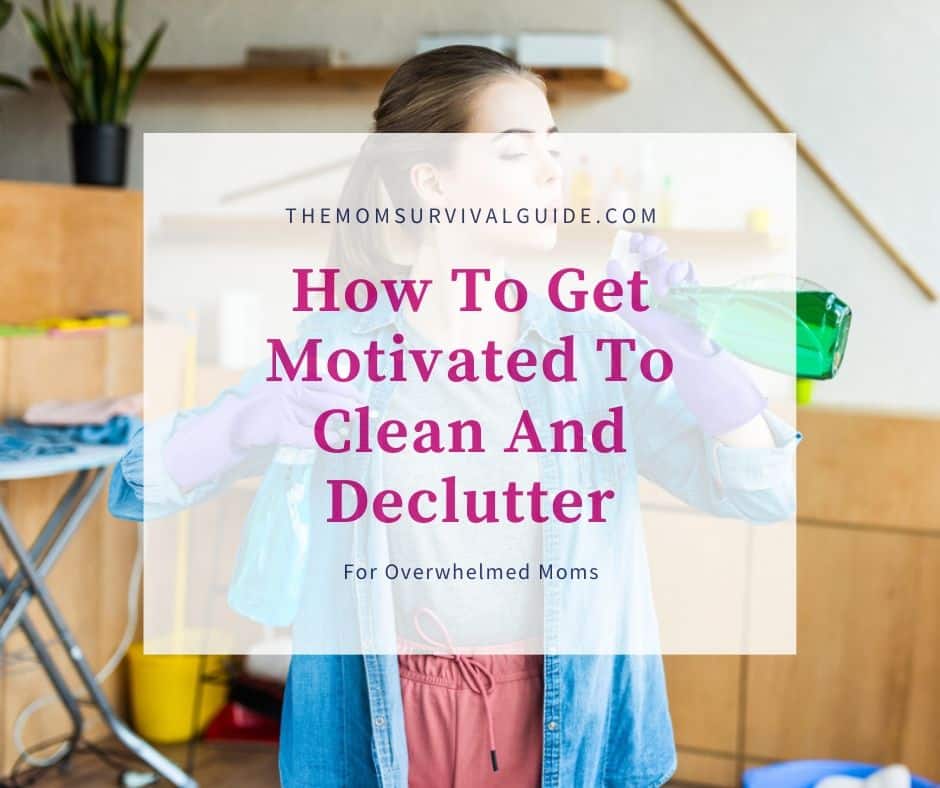 How To Get Motivated To Clean And Declutter
---
How To Clean A Filthy House When You Don't Know Where To Start
---
How To Clean When You Are Crippled By The Mess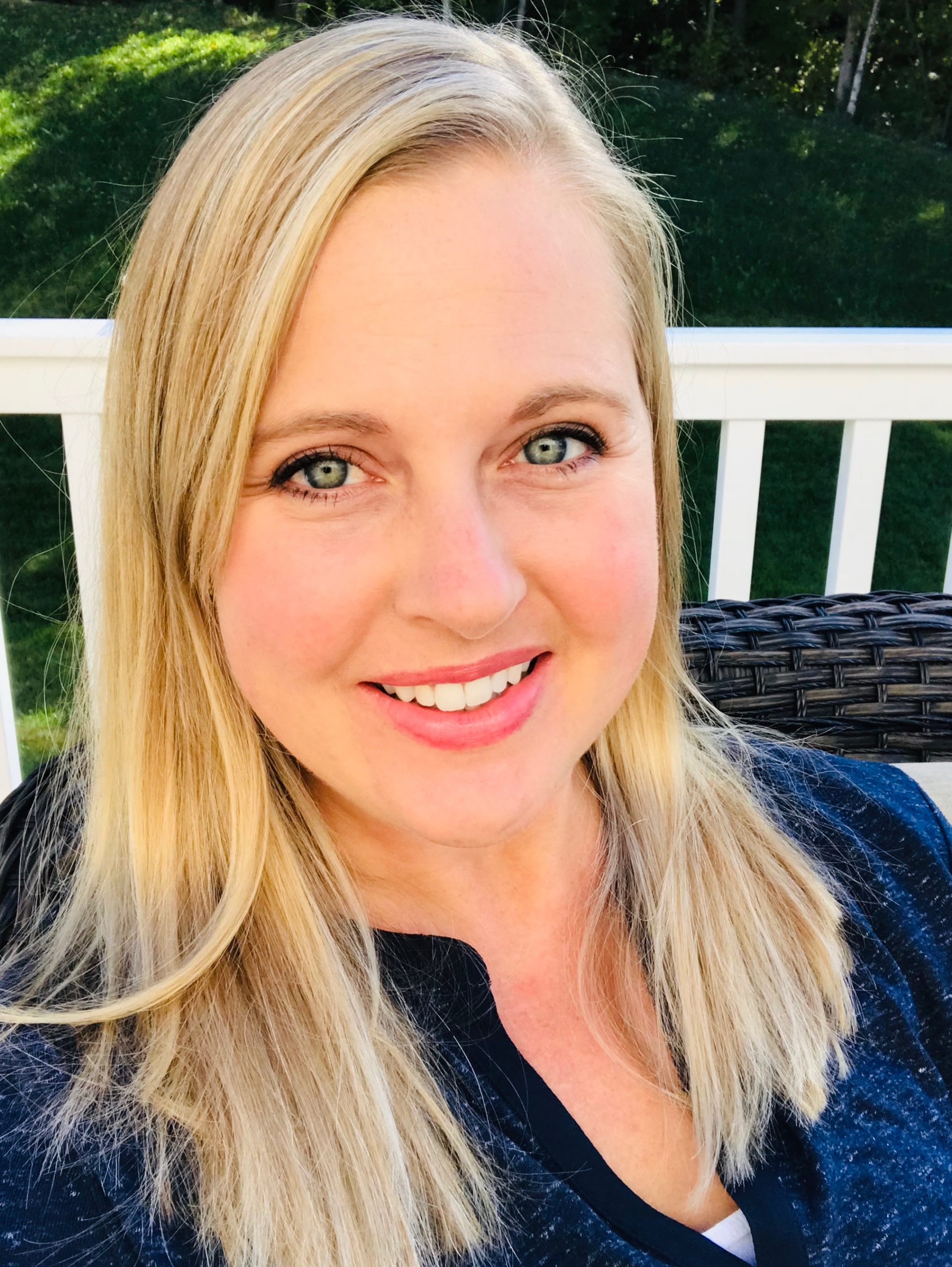 As a stay at home mom myself, I have found ways to keep myself sane and organized while loving what I do …be home with my kids! After 14 years of being home, I realized other moms may benefit from some of the tips and tricks I have learned over the years. Join me to learn ways to manage your home and life as a stay at home mom so you can make time to enjoy the best part…family. Things I love…feeling motivated, Harry Potter, being outside, and digging deeper into my life and my family's life in order to make it better. I have a Degree in Biology and am also a freelance writer.