Are Your Goals To Be Successful? Then You Need This Planner!
* There are affiliate links in this post that help keep this blog running.
How successful are you at planning and carrying out your plans every day? Do you need a better plan? How about a better planner?
I am exactly 52 weeks into using my Day Designer and let me tell you, I am so happy I upgraded this year from just the basic old "run-of-the-mill" planner. Let's face it, all of us have goals to be successful, so we need something better! This is the best planner for moms for 2021!
Click Here To see NEW DESIGNS for 2022!
There are sponsored links on this page from which I may get a commission at no added cost to you. For more information, please read my Privacy Statement.
Now that I am blogging full time, my days are crazy and chaotic. I have to find time to think up ideas for posts, do the research needed to write a great post, actually write content for my post ideas, create all of my fantastic social media graphics using Canva, and then schedule out and implement my marketing plan for each post!
But I am not just a blogger! I am first and foremost a MOM! So I also have to incorporate cleaning, cooking, sports schedules, grocery shopping, choir concerts…I know you get it! You're a mom too!

And BOY can it be a lot to remember!
I use a lot of checklists and To-Do lists! Here are some that may be useful to you.
The Day Designer has made my life so much easier.
And, the only reason I decided to write this post is that I bought the Day Designer, started using it, and realized how much it could help other moms out there who have busy schedules!
What is the BEST Planner for Moms?
For a busy mom, the Day Designer offers so many great categories to help you streamline your goals for the year.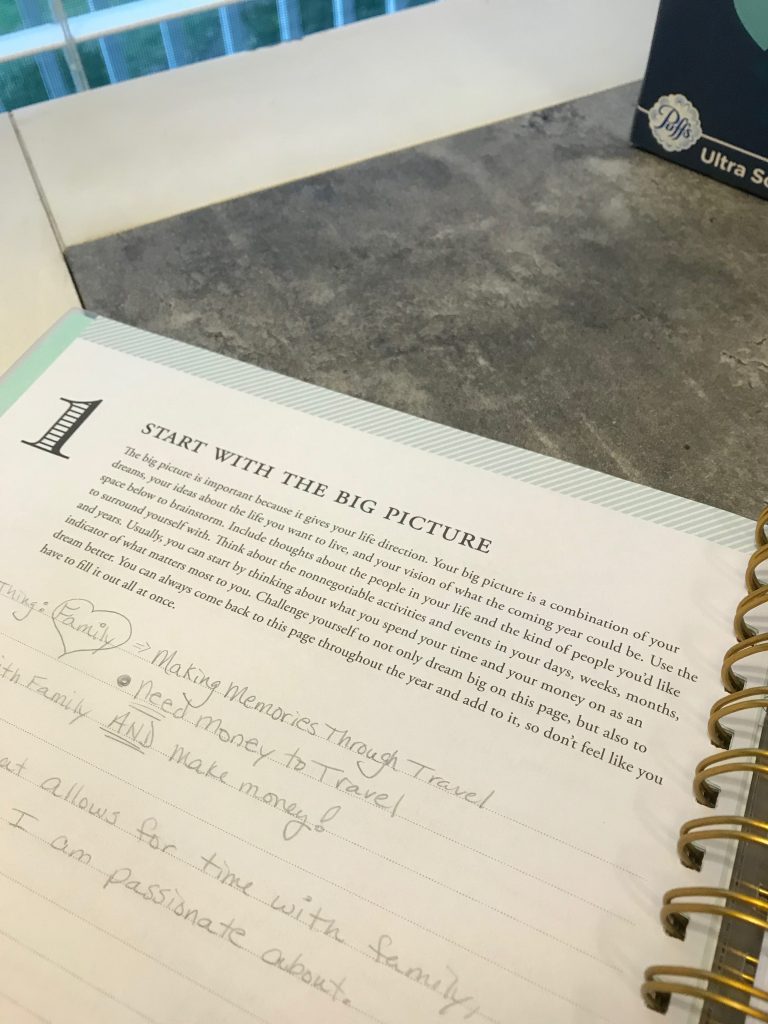 Starting With The Big Picture
This is where you list out the things in your life that are most important to you. And also what is important for the year. Some examples of life goals are spending more time with family, traveling more often, or retiring early.
There is no real format in this section, you are just brain dumping. You can color, write, scribble, or anything else you want to do in this section to get an idea of the important things in your life.
Goal Setting
This "set your goals" section wants you to look at the things you want to accomplish for the year and the things that are most important in your life from page one. Then you can create goals for the year that align with those goals you want to achieve in your life.
For me, the most important thing in my life is my family. If any of you have been reading my posts, you know that I have been a Stay At Home Mom for the last 12 years.
Now that my kids are in school, I don't want to take on a full time job where I am never around for the summer fun, sick days, snow days, and when they get off the bus.
So I began blogging to be able to make money and also be home with my kids.
On the second page of my own Day Designer, I was able to take my business desires and my personal desires and put them together to create my goals for the year.
Design Your Day
Page three is what sold me when I was standing in Office Depot looking for the "perfect" planner.
I preach about designing a space in your home that is conducive for success. One of the tips I give as a successful mom is to create daily routines.
And that is exactly what was on page 3 of the Day Designer!
It was love at 1st sight!
Page three of the day designer helps you create routines for the morning and evening to keep you productive.
How To Stay On Course in 2020
Again, I love being organized and planning. So checklists are my JAM!
On page 4 of the Day Designer, you are prompted to make a list of the items on the page.
Some examples are:
Important Birthdays
Trips and Travel
Anniversaries
Family Schedules
Class Schedules
I'm not going to write them all out, but you get the idea.
Just to prove to you that I love checklists, I am going to share the three I just made for anyone trying to be a mom and get organized!
If you love checklists, I am excited to be working on a new Command Center Binder Kit that will help you keep all of your important information organized and just where you need it.
Monthly Calendar
This is the section I use a lot for my business because I can plan out a whole month of posts and due dates to increase my productivity and hold myself accountable.
But once I see what is going on for the month, I get to move into the next section of the Day Designer which is my absolute favorite part of this planner!
The Actual DAY DESIGNER!
So what do I mean by "The Actual Day Designer"?
I mean that the best part of this day designer is where you get to go day by day and really pare down the big ideas and goals into day by day and hour by hour tasks.
As you can see in the picture above, the pages have half-hour increment time slots, priority lists, a place for notes, a 'what you're doing tonight' section, and a gratitude section.
This is where you truly get to design your day so your goals to be successful can be achieved.
The Overall Design
I'm not sure if you can visualize what has been happening as we have gone through this planner, so I am going to show you.
Can you see how this planner is creating a funnel for your life? How it takes all of your biggest ideas for life and creates a system for you to really think about how you can get everything you want out of life!
I cannot wait to get to the end of the year so I can look back at everything I have accomplished because this planner helped me realize my goals.

Now, I am just going to show you a few pictures of what my planner looks like. You have seen the first 6 pics, but I added the Gratitude Section, and what the stickers look like!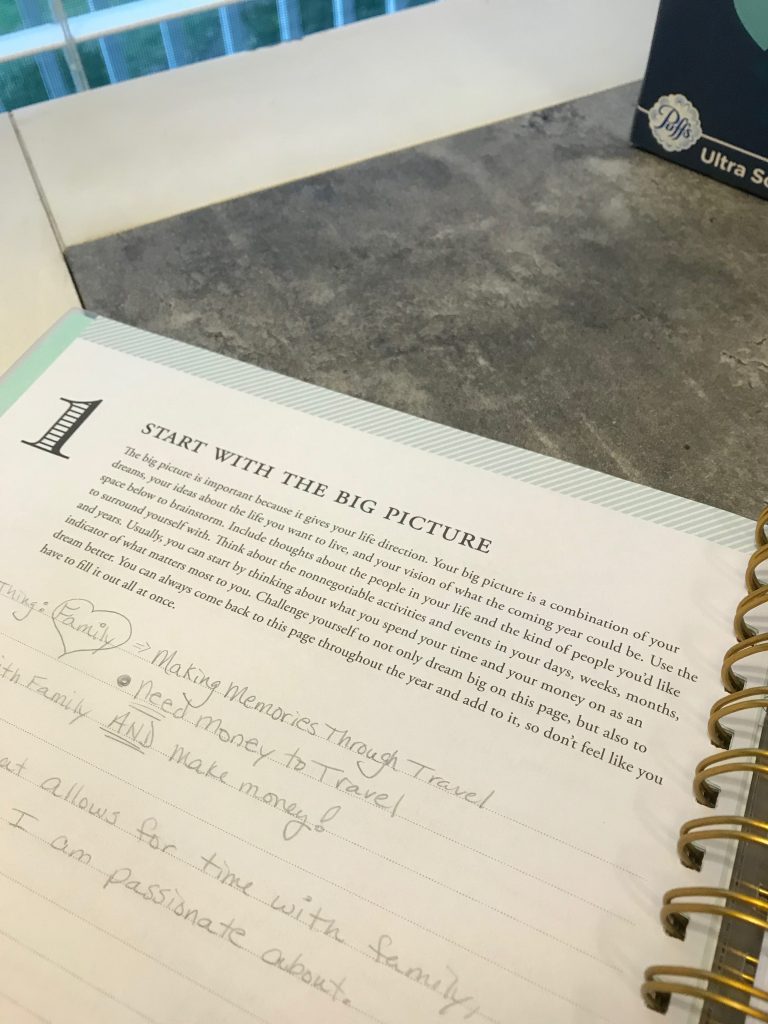 The stickers are there so you can give your own flare to the important events in your calendar.
But what is really great about this planner is that it has a section for gratitude. I couldn't show you my filled-in gratitude sections because most of them have names in them. But I can tell you that this section really does it's job to keep me grounded and grateful for the people and things in my life.
Disappointment
I know right! There had to be a disappointment section so I can tell you what I don't like about this planner, but I think you may be disappointed by my disappointment section…did that make sense?
You see, I am not disappointed with the functionality of this planner at all. The only thing I am upset about is that someone didn't tell me I could go online and find loads of different designs.
I bought my Day Designer at Office Depot in my home town. When I finally found this planner, I had looked at about 20 other planners in Office Depot and they were all terrible.
The Day Designer was actually not even with the planners in the "planners section" of the store. It was on the opposite side by the school supplies.
So my biggest disappointment doesn't even really have to do with the planner itself. It has to do with the fact that Office Depot only stocked one kind and one color of this planner.
If you go on the Day Designer website, you will find loads of different cover designs and internal designs to find the one that works best for you!
I know I'll never make that mistake again!
Once I actually started using the planner…and loved it… I decided to visit the site and that is when I saw all the different designs.
There Are Printables Too!
I also found loads of other great products they offer. Things like a little Note Set to place by the phone, Non-dated Planners, mini-planners, and Washi Tape to customize your planner.
Their site also has TONS of FREE printables! And as a busy mom who is working all day, I love, love, love me some printables! I can't even list them all because there are so many, so make sure you head over to Day Designer and check them all out!
Overall, the fact that I have this much to say about how great a product is, is kind of crazy because I am usually fairly critical and quick to give ideas on how to make a product better.
I would say that the only thing that might make this product better is if it had a feature where you could speak to it and it would write everything down for you.
But I guess that would be an assistant, not a planner. 😉
Let's Sum It Up!
Okay, to sum up here are the top reasons I think the Day Designer is a great planner:
The Day Designer helped me take my ideas and turn them into goals.
This fantastic planner keeps me on track for better productivity planning during my day, week, and month.
Using the "Priority To-Do" section and "Regular To-Do" section really keeps me focused on the tasks I need to complete for the day and which tasks are the most important so I do them first.
Day Designer's schedule on each day is in 30-minute increments so I can keep track of all of my business and personal appointments.
The notes section helps me to integrate anything that pops into my head during the day into my plan for the next day or week.
Most important, the gratitude section keeps me grounded and appreciative of all that I have and am able to do.
The price is better than others in its category.
Would I recommend this planner to others? The answer is yes. I feel like people…well women at least… really want something more than just the typical monthly calendar grid to write on.
This planner dives so much deeper into the spirit of who we are and forces us to take our dreams and ideas to the next level. To use them to carve out what we want to accomplish for the year and in our lives.
Even if you don't buy one of their planners, I would definitely head over there and print off some of their printables.
As a matter of fact, I may head over there myself right after I finish this post!

If you want to start getting your life under control and achieving your goals, you have to create a method that works! And the Day Designer can do that for you.
People who are organized in their lives are more productive in their lives. If it is time to get your life organized, check out the Day Designer.
I would also love it if you would sign up for my weekly newsletter! Right now you will get 3 awesome checklists to help you on your way to organizational success!

Related Posts:
I hope you begin your journey today and start getting more organized!
Remember! Stay Home. Stay Happy.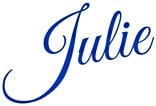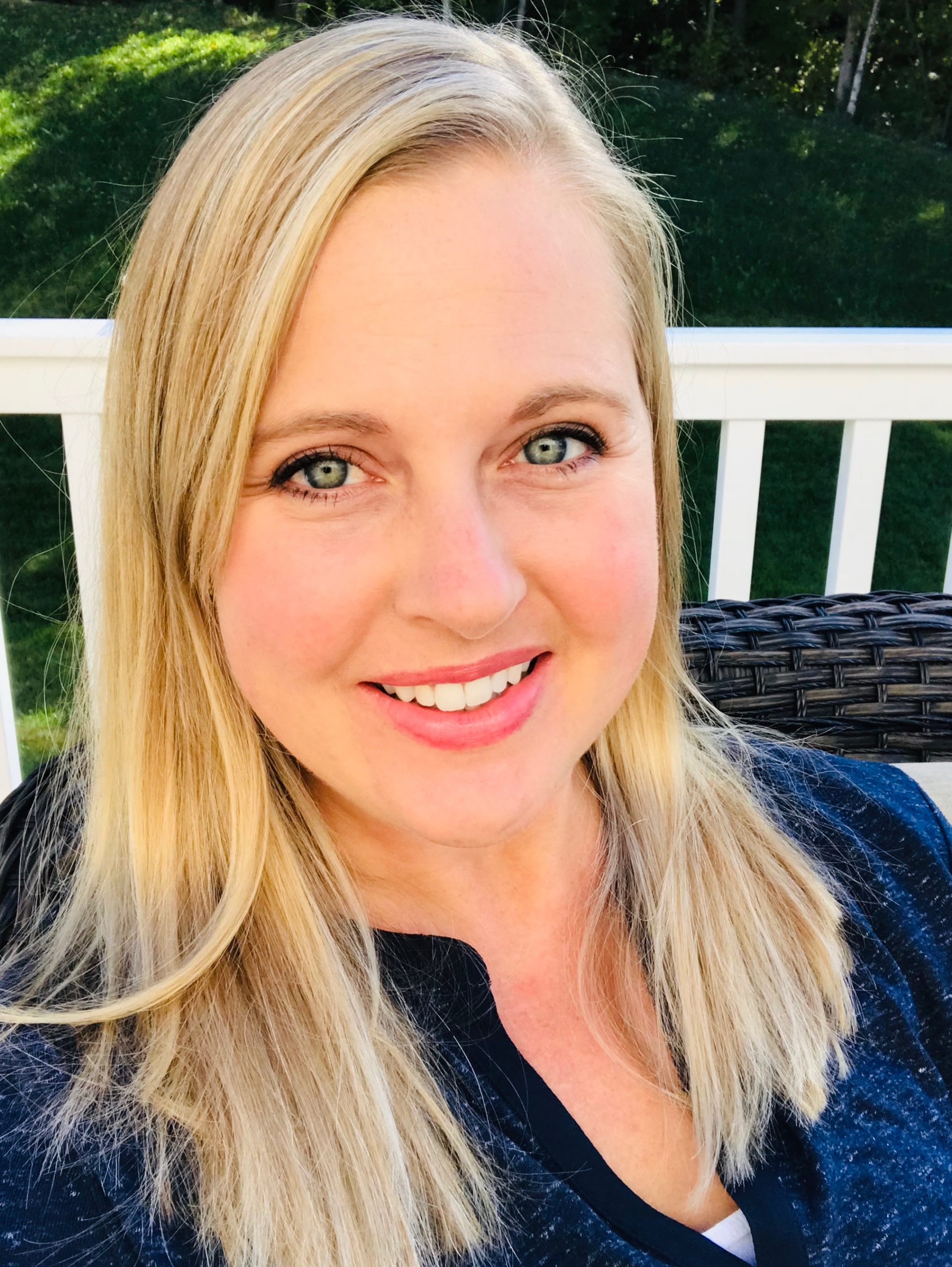 As a stay at home mom myself, I have found ways to keep myself sane and organized while loving what I do …be home with my kids! After 14 years of being home, I realized other moms may benefit from some of the tips and tricks I have learned over the years. Join me to learn ways to manage your home and life as a stay at home mom so you can make time to enjoy the best part…family. Things I love…feeling motivated, Harry Potter, being outside, and digging deeper into my life and my family's life in order to make it better. I have a Degree in Biology and am also a freelance writer.