Stay at home moms are tired all the time!  We run around chasing kids all day long and wake up with the kids all night long. 
So when it comes to getting organized, many of us just "brush it under the rug".  But I am here to show you how to start organizing a messy house even when you are tired and worn out.
It will only take 5 easy steps for you to learn how to organize any room in your house!
There are affiliate links on this page.  Please see my Privacy and Disclosure Statement for more details.
---
>>PRO TIP:

  When you don't know how to do something, learn it.  Taking an online organization class  can help you learn from the comfort of your own couch. 

---
How To Get Organized in 5 Steps:
To answer the question of how to get organized in 5 easy steps right away, I have listed the steps below.  But you are welcome to read further into these steps to find out why they are important, or use the Table of Contents below to jump to the step that you are struggling with.
1// Get in the right mindset
2// Start Small
3//  Purge with Purpose
4//  Categorize
5//  Contain
A Little About My Journey
My years with infants and toddlers are not too far behind me.  I can remember the exhaustion vividly.  All I ever wanted to do was take a nap.
But at some point, I got tired of thinking, "I can't have anyone over because my house is always a mess"!
It took me a while to find my mojo, but once I did, I didn't let it go.  And I want that for you.  I know how overwhelming it can be to live in a messy home. 
When you are constantly stepping over a cluttered mess of toys to get into a room. 
Or you are digging through drawers and shelves trying to find that one thing that you know you bought a few weeks ago!
I get it, believe me I do.  So it is time to stop the stress of living in the chaos and reclaim your house!  It is time to start making your home a sanctuary again! 
Nobody wants a messy home, so let's start getting organized!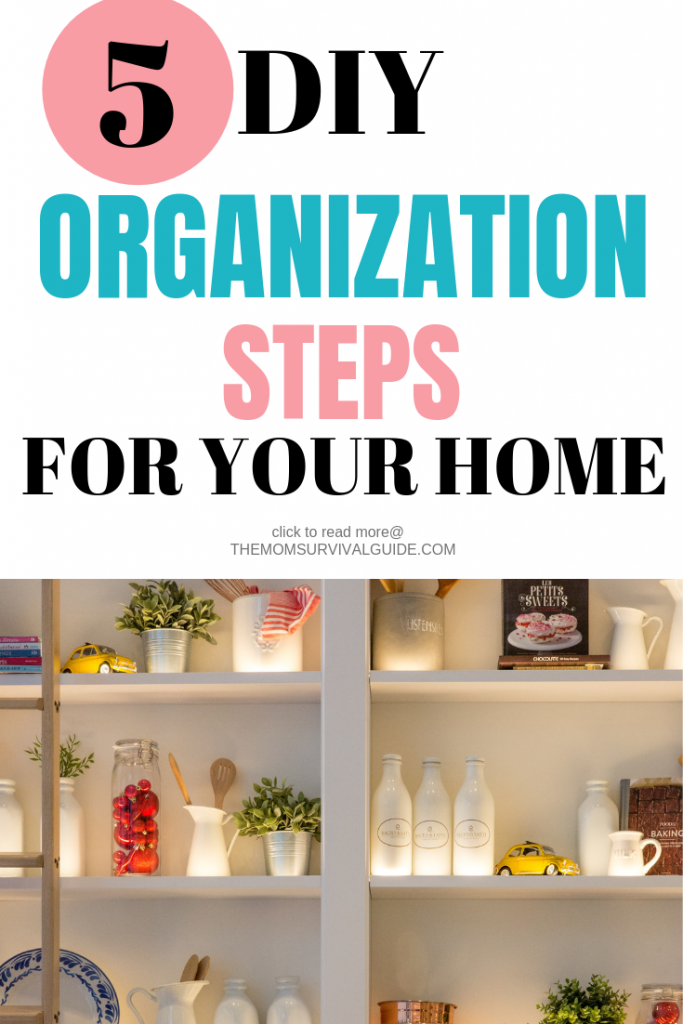 How To Start Organizing a Messy House
When you first start organizing your home, it is normal to feel a little overwhelmed.  I've been there, but figuring out how to clean when you are crippled by the mess one step at a time, will help you become more confident.
Though, it is hard to just dive straight into organizing.  So instead, I recommend starting by getting rid of the unnecessary things in your home. 
Don't freak out!  I am going to give you some step by steps so you don't get overwhelmed!
Many times, the reason we cannot get organized is because there is just too much stuff to fit into our homes. If that is the case for you, then go to 7 tips to declutter your home without making a bigger mess, first.
So the best advice that I can give you to get organized at home and stay organized is to follow the steps below!
Step 1:  Get In The Right Mindset
I want you to realize that jumping into any full home organization or decluttering plan is not the right mindset. 
I know you want it done NOW and don't want to have to work on it for more than one day, but that will just succeed in burning your out.
Instead, know that this is a project that will take some time.  Be sure to celebrate your wins and forget about anything you don't finish.
Step 2:  Small Bite-Sized Pieces
Starting to organize a messy home is overwhelming, but part of getting organized is learning the process. 
You should already be in the right mindset from step 1.  This is going to take some time.  So when you start to organize any space, I want you to make sure it is small and can be finished within 20 minutes or less.
If you are at home alone with the kids all day, you are going to want it to be less or your household clutter may skyrocket in a different room!
Step 3:  Purge It With Purpose
So now you are ready to take some action.  Where to start is to purge the area you are about to organize.  Why?  Because before you can fit the items of your home into smaller spaces like shelves, cabinets, and bins, you have to get rid of the extra stuff.
The trick I learned over the years is to purge with purpose!
PURGING WITH PURPOSE means that you go through your items one at a time, only keeping what you actually use, in or around, the space you are purging.

When you start to purge any area, whether it is one bathroom drawer or an entire closet, make sure you are storing the right items in that space.
For a more thorough step by step guide to purging, read 7 Tips To Declutter Your Home Without Making A Bigger Mess.
Purging the contents will allow you to get everything out of the space so you can see what you actually have to work with.  Then you can decide what kinds of organizational equipment will work in that space. 
Purging is where you need to started on the journey to organizing your home.
Step 4:  Categorize Your Things
Next, you want to divide the items that you want to keep in this space and place them into relevant categories.
This is an essential step.  You want to make sure that you know exactly what you have you store like items together.
Here is an example.  If you are organizing your bathroom drawer, you would place the lipsticks together, the eyeliners together, the foundation together, and the hair accessories together.
Step 5:  Contain Small Items
Not every item that you try to organize is going to need a container. 
But when you organize small items inside a large space, a great container can do WONDERS at keeping the space how you want it!
These clear bins are my absolute favorite for keeping things clean and visible.
Bonus Step 1:  Visualization…for Ultimate Accessibility
I say this is the bonus step because it is not truly necessary to be organized. 
BUT…  If you want your organization to REALLY WORK FOR YOU… then this is a very important thing to do. 
By putting some thought into how you want the space to function you can create Ultimate Accessibility!
Visualize the space that you just emptied out.
Think of the categories that you just divided your keep pile into.
And think about how your containers can fit and work in the space.
Examples Questions To Ask Yourself…
Say you are visualizing your closet…
What do you use most often?
Would you rather fold your sweaters or hang them?
Do you need some shelves in the closet?
Would it be better to use this space for something completely different than you have been?
If it is a drawer you are organizing…same concept.
What do you use most often?
Maybe your favorite lip gloss, mascara, and powder are the things you wear most so you want them to be the easiest to get to — A.K.A the front of the drawer.
Making things accessible is incredibly important when you are organizing your home. 
It is the one thing that will save you time in the long run and benefit you the most!
If you wear t-shirts and sweatpants every day, don't put them in the back of the closet or in a bottom drawer.
Keep the things you love and use often in easily accessible spaces—A.K.A. in the front of the closet or in the most accessible drawer of the dresser.
That way when it is time to throw on your clothes… on that ONE morning that everyone slept in… and then you realize that little Jimmy has a doctor's appointment in 30 minutes across town!! 
You can get to what you need to get out the door faster with kids.
And hopefully, you won't be quite as late as you would have been
!
Bonus Step 2:  Keep it all Organized
That's right, it is time to put your favorite items away!
And while it would feel really great to stop here, I want you to do something for yourself. 
Something that is going to KEEP all that hard work you just did in order.
I want you to label.  this may not be possible in a small little drawer, but it is definitely possible in a pantry or a linen closet.
You can buy sticker labels or use a label maker  to make the labels you need quickly and easily. 
Either way, labeling is what will help everyone in your house know exactly where things go.
Related Post:  5 Reasons To Label Your Kitchen Plus 9 Free Pantry Labels
You Are All Finished!
When you use the process of creating categories and a system to keep those categories separated, you will find that your organized home actually stays organized! 
And when you put everything back in the drawer or the closet I bet you will notice three things.
First, how much less stuff you have…which is always a fantastic feeling! 
Second, how nice and neat everything looks.
And third, how Empowered you feel!
You just took control of your clutter and figured out where to start organizing your messy home! 
You showed it who was boss and told it that it wasn't going to slow you down or make you unhappy any longer!
Pat yourself on the back!  You did it!  It was a big job, but look how incredible it looks now!  Look how incredibly FUNCTIONAL it is now!
You can use these 5 basic steps to organize any space in your home!
>>>This is one of my favorite affordable items for getting a really organized home.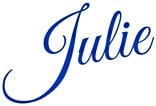 P.S.~Want to refer back to this post or know someone who could use this advice?  Remember to pin it so you can find it anytime!
You Will Also Like:
How To Get Motivated To Clean And Declutter
---
---
How To Clean A Messy House When You Are Crippled By The Mess
---