Plan a Trip to Universal Studios Orlando
Have you ever wanted to surprise your kids with a trip to Universal Studios!?
Just to see the looks on their faces when you get there!
My husband and I just did it and it was the best feeling!
Take advantage of this packing checklist for your next trip!
The form you have selected does not exist.
For months we had been wanting to get away, but it was February and the kids were in school so we hadn't put much thought into anything more.
But one day we just decided…Let's do it!
We decided not to tell the kids, because how cool would it be to see their faces when we woke them up in the morning and said,
"Hey Guys! You're not going to school today! Get in the car because we are going on an adventure instead!"
There are sponsored links on this page from which I may get a commission at no added cost to you.  For more information, please read my Privacy Statement.
The Decision
My husband and I got to talking back in January and realized that our daughter is going into Junior High next year!
When I truly thought about how old she has gotten, I just wanted to cry! 
And then I just wanted to keep her young as long as I could.
We knew we would never take her out of school once she was in the Junior High. There would just be too much going on with homework, sports, and all the other extracurriculars our social butterfly will most definitely sign up for.
So we decided that if we were going to do it, now was the time.
I know what you are thinking…Why wouldn't we just wait until summer?
Well, because everyone else waits until summer and that is when it becomes a trip we just don't want to do for several reasons.
Winter Specials
The several reasons that we decided to go to Universal Orlando in the winter instead of the summer are:
Less Crowds
Off-Season Deals
Better Weather
Better Flight Prices
Shorter Lines
More Park Incentives
The Planning
Planning this trip to Universal Studios was done quickly because it was already the last week of January and we had to go before Volleyball camp started up on February 20th.
But you know what we found out when we started researching deals! There are soooo many in the winter!
And guess what, you really do have to be quick because so many other people know that there are great deals this time of year as well and things book up fast!
Because it is "off-season" for places like theme parks in Orlando, we could go for a great price!
Universal Studios was having a deal where if you buy 2 day tickets at the parks, then you get 2 days free! Score!
If we stayed at the Hard Rock Hotel, which is a Universal Studios Resort, we could get FREE Express Passes! Another Score!
Who knew we would find these great deals in Frebruary!
Flight
Allegiant was around $44 there and $64 back per person which was another great deal.
Frontier also had really good prices, but Allegiant flew out in the mornings and Frontier flew out in the evenings.
Of course we wanted to get to Orlando and start our trip super early on Monday, right!?
So we literally booked a hotel room and a flight on January 28th and left for our trip one week later on February 4th!
Planning and Packing While Keeping A Secret!
Once we booked everything, we were planning to take our kids out of school for 5 days…and we were not telling the kids…so this created some problems.
I had to email the teachers and make sure they knew not to say anything to my kids.
I had to tell the kid's friends parents because a few of the kids come to our house before or after the bus each week.
I had to pack for my kids … and myself…that is not easy. When they are older, like my daughter, they are so much more particular about what they wear and use!
And last and most difficult, I had to lie to my kids so they would do their homework before we left! 
I hate lying to my kids!  Even for something fun!
How I Made it Happen
As for the packing, I "nonchalantly" asked my daughter things like, "so, what are your favorite leggins to wear?" "I love all of these shirts, which do you like."
Yeah like I was fooling anyone! But she didn't seem to notice my questions were intentional!
You know why I asked her these? Because she is 12 going on 16 and she has so many pairs of leggings that I didn't want to choose the one pair that she hated and have it be the downfall of the trip!
And do you know the kind of responses I got in return, "Um, why?" "That's weird that your asking me what leggings I like Mom."
So it was a challenge. But through my ninja-like slyness, I figured out what I needed to pack for her.
Oh yeah, my son! He's easy right now! He doesn't care what he wears!
The Homework
As a second grader, my son just has to read.
But my daughter…sixth grader…they do a lot of work.
Thank goodness we had 3 snow days the week before we left. That gave me the idea to say, "Hey guys, you have some make-up homework from the snow days that you have to do!"
It gave us the perfect homework cover for our trip and why they had to do so much of it!
The Morning We Left for Our Trip!
This was the morning my husband and I had been waiting for! The moment we had anticipated since we decided to keep the trip a secret! We couldn't wait to wake the kids up and see their excitement!
My husband woke my son and I woke my daughter.

Unfortunately, we had to wake them up at 3:30 in the morning for our 6:30 a.m. flight, so we didn't quite get the reaction that we were hoping for.
I went in to my daughter's room, rubbed her arm gently and when she had barely opened her eyes I said, "Honey, I need you to get up so we can go on an adventure together!"
Here is what I expected her to say!
"THIS IS THE BEST DAY EVER!  THANK YOU SO MUCH MOM AND DAD! YOU ARE THE GREATEST!"
And here is what we got instead, "No." As she rolled back over and went back to sleep…uggh!
But I tried again, this time saying, "Well, you can either go to school today or you can go on this adventure with us."
That got her out of bed!
We got the kids in the car and we were off with a thousand questions coming out of their mouths as they tried to figure out what was going on.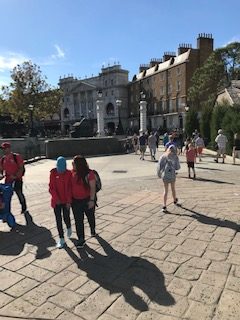 Arrival at Universal Studios!
According to our Uber driver, weather in Orlando in January and February is pretty unpredictable, so hurray for the good weather we had!
We lucked out on the week that we went to Universal Studios, or God was with us, because we had weather in the mid 70's and 80's everyday. And it was sunny too!
We decided to stay at the Hard Rock Hotel in Orlando for two reasons. One, it was one of the only hotels left that had a vacancy, and two, because it was on the Universal Resort, we got Express Passes for FREE!
If you don't know what an Express Pass is, let me just tell you. It is the most essential part of your visit to the Universal Studios theme parks because it decreases your wait time for rides.
The average wait for the normal line for each ride was around 45 minutes long…and remember we were there during the "off-season". So who knows what the waits are during the "on-season".
But with the Express Pass, we were able to bypass the normal 45-minute wait and go in the Express Line! I think the longest we waited was 20 minutes, but most of the rides were around a 10 minute wait since we had the Express Passes.
10 Minutes! That's it! We were at the park for 4 days and we rode every ride that we wanted to ride in the Universal Studios Park and the Islands of Adventure Park (both parks are owned by Universal).
The other thing that the Express Passes do for you is get you into The Wizarding World of Harry Potter 1 hour earlier than guests that don't have the Express Pass!
I don't know about you, but I am a HUGE Harry Potter Fan, so that would have sold me on the passes right there!
And then we got to ride al of the rides again and again. As many times as the kids wanted to ride we could do it because our wait time was only 10 minutes long!
I am talking about the Minion ride, Simpsons, Spiderman, Escape From Gringotts, and The Forbidden Journey! We rode them all more than once because they were our favorites and we didn't have to wait long!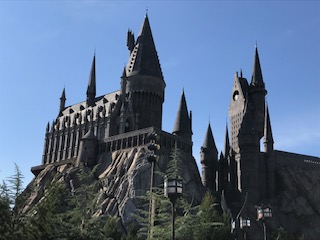 Our Excellent Trip To Universal Studios!
My family loves anything fantastical including wizards, Superheros, dinosaurs coming back to life, King Kong, and aliens. So our trip to Universal Studios was just what we all wanted!
When we go to Universal, we are immersed in the wonder and awe of the park, the rides, and the food!
Universal Studios
The park at Universal Studios was created to feel like a city. You can find many great rides in this park such as Despicable Me Minion Mayhem (one of our favorites), Transformers, The Simpson Ride (another favorite), Men In Black, and the new Jimmy Fallon: Race Through New York ride.
All of the rides I mentioned are 3D or 4D experience rides meaning that you go into a room with a big screen and chairs that move. When the ride begins, most of the time you don't actually go anywhere, you just feel like you are.
I say most of the time because some of the 4D rides are on tracks and your car actually moves.
This is the case on The Harry Potter Escape From Gringotts Ride. You are in a big car with other people and the car follows a track. You go along the track and the car spins and goes backward and things like that, but most of the ride sensations come from the screen you are watching.
Escape From Gringotts is another favorite!
Islands of Adventure
Islands of Adventure is the other Universal Park. The park was created to have more of an island feel.
This side of Universal has rides like The Amazing Adventures of Spiderman Ride, Skull Island: Reign Of Kong, and our favorite, Harry Potter Forbidden Journey.
Again, the rides I listed are are 4D, but most of the rides on this side actually have a car that moves. Though, they all still utilize the screen as well.
Our favorite ride in the Islands of Adventure Park was the Forbidden Journey in the Wizarding World of Harry Potter. You play a little Quiddach, escape some Dementors, and eventually save the day! All while following Harry on a broomstick!
The Wizarding World of Harry Potter
The best part of Both Universal Parks (Universal Studios and Universal Islands of Adventure) is The Wizarding World of Harry Potter!
Harry Potter World is the MAIN reason we took this trip to Universal Studios.
This area of the two parks is a complete immersion experience. On the Universal Studios Side, you are taken into London where you can talk to the shrunken head on the Night Bus, get your picture taken on the doorstep of Number 12 Grimwald Place, and shop in Diagon Alley.
You will actually walk through the wall into Diagon Alley where you can buy a working wand at Ollivanders or Gregorovich's wand shop (Gregorovich's usually has a shorter line), buy a Butterbeer, and be sneaky in the secret Knockturn Alley.
We bought a working wand for our kids so they could go around and perform actual spells at different locations in both Diagon Alley and Hogsmead.
Traveling to Different Worlds
During your Universal trip, if you are wondering how to get from Diagon Alley in London to Hogsmeade in Scottland, then you just hop on board the Hogwarts Express in London Station Platform 9 3/4! (But make sure you have a ticket that allows you to park hop before you try to get of the train!)
Hogsmeade Village is another full immersion setting where you can buy Every-flavor Beans at HoneyDukes, eat lunch at the Leaky Culdron, and grab a real beer at the HogsHead Pub. They also have Butterbeer on this side if you missed it in Diagon Alley.
By the way, Butterbeer has no alcohol in it, so it is safe for you kids!
At dusk you can watch a music and light show on the Hogwarts Castle that is pretty spectacular! But get there early because it is standing room only and it fills up fast!
The Benefits of Our Trip
I know you are wondering why we were at just Universal Studios for four days when we could have gone to loads of other parks around the Orlando area.
One reason is that we did a Disney trip 4 years ago when the kids were little. So this time, with the kids being a little older, we thought we would spend our time at Universal. But that was not the only reason.
Universal was running a special that was buy two days at the park and get two days free. (I mentioned this above) So of course, I was going to take the four days of tickets!
If you do the math for the two days of free tickets and the free Express Passes, here is how it breaks down. . .
We saved about $130 per person per day for the Express passes. And the 2 free days of park tickets saved us $138 dollars per person per day.
So the total savings just for tickets and express passes was $3184 for the four days we were there. WOO HOO! What a deal!
Not to mention that because we stayed at the Hard Rock Hotel, we had a 5-minute walk to the parks each day. Therefore we didn't rent a car this vacation. We walked to the parks and Ubered to and from the airport. That saved us around another $300.
Also, because we stayed at a Universal Resort Hotel and walked to the parks every day, we had our own security entrance that never had a line, unlike the public entrance where you would be waiting a long time to get through security.
We also had the option to go back to our room anytime throughout the day and come back to the parks when we wanted to.
There was one day when my son got a little sick after riding too many rides and drinking too much Butterbeer, so we walked back to our room. We all laid down for a while, rested and then after about 2 hours, decided to go back and ride more rides.
On another day, we went to the parks early in the morning, then came back to swim most of the afternoon, and then went back to the parks for dinner and the park closing shows.

But money and a short walk were not the only benefits we got from this trip. We also got to spend some quality time as a family just laughing and having fun instead of keeping up with life!
Additional Costs
The only additional costs we had on this particular vacation versus one of our normal vacations was food.
On the normal vacations we take, we stay in a condo where we have a kitchen and can eat some of our meals in, which saves us money.
Unfortunately at Hard Rock, since it was a standard hotel room with 2 beds and a mini fridge, we didn't have that luxury of eating in. So food cost us a little more this trip, but considering we saved around $3000 dollars on our park visits, it was justified.
Then it ended…

Yup, like everyone who takes a one week vacation, we had to come back to our good old home town. It has rained and been cold since we have been back. But we have our memories!
Why Am I Telling You About This Trip?
Last week I was in sunny Florida, spending time laughing with my kids, riding rides, eating ice cream, and swimming.
This week I am typing at my computer again. I guess part of the reason I wanted to write this post was so I could relive it!
But more importantly, I wanted to help you find the opportunity to do something fun with your family.
If you have never been to Universal Studios or Disney because of money or being too busy or crowds, then maybe you and your family could stand to go in the winter.
A winter trip will save you money, time in lines, and it will help you reconnect with what is important!

My husband always gets a lot of time off through the year because he has been with his company for a long time.
And because I am a blogger and run my own business, I don't have to ever ask for time off from my boss!
I am the boss!
Blogging can help you find more time in your life too! If you are interested in reading more about blogging, check out these posts!:
How To Start Your Own Blog – Step By Step
Have you been on a trip lately? Whether it was a trip where you saved money, had to plan last minute, or just planned to reconnect with your family, I would love to hear about it in the comments!
I hope you enjoyed this post and it spurs you to book a trip with your family! Thanks for reading!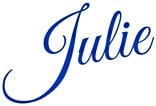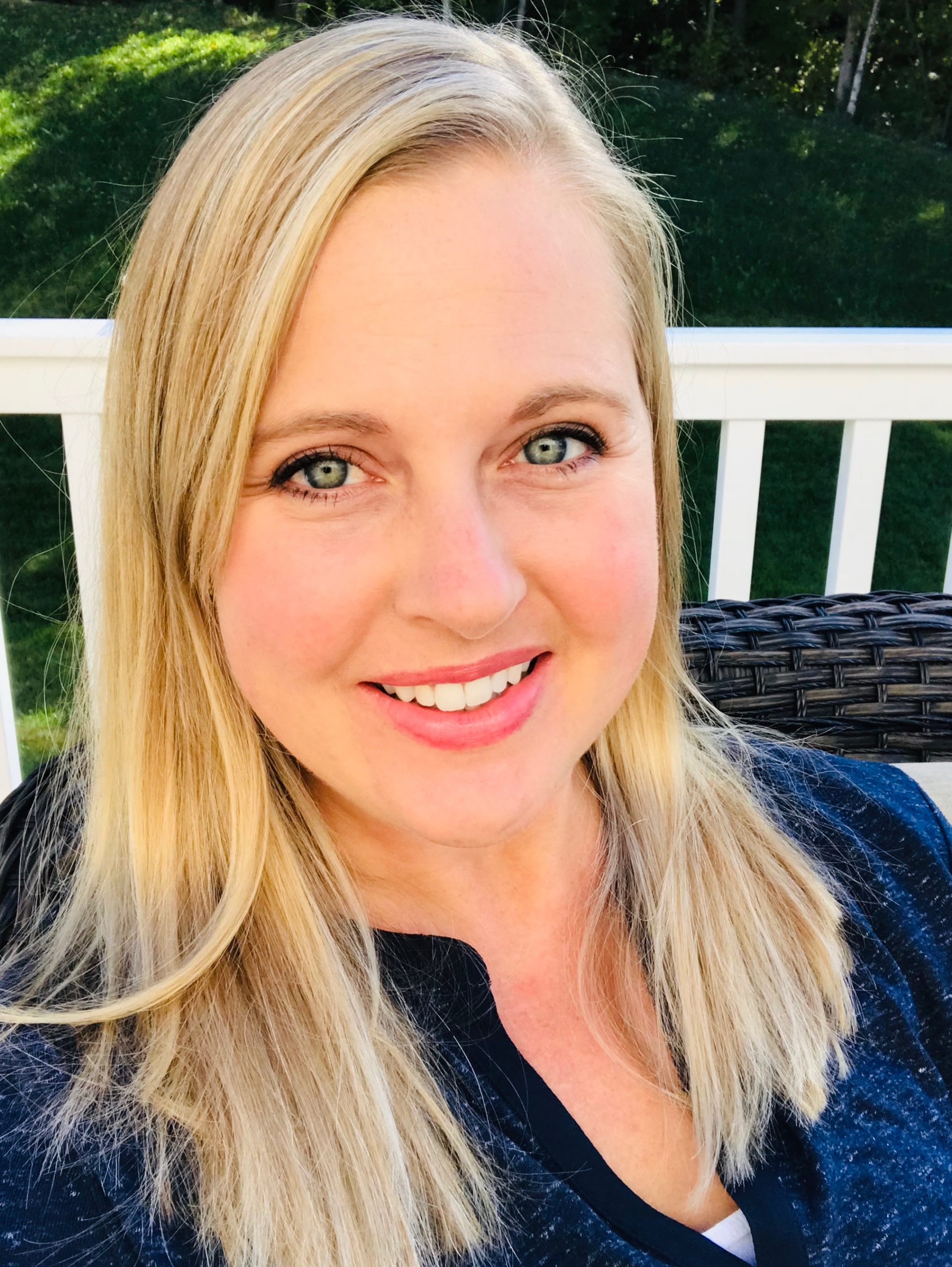 As a stay at home mom myself, I have found ways to keep myself sane and organized while loving what I do …be home with my kids!  After 14 years of being home, I realized other moms may benefit from some of the tips and tricks I have learned over the years.  Join me to learn ways to manage your home and life as a stay at home mom so you can make time to enjoy the best part…family.  Things I love…feeling motivated, Harry Potter, being outside, and digging deeper into my life and my family's life in order to make it better.  I have a Degree in Biology and am also a freelance writer.