14 Best Acrylic Drawers To Use For Your Home Organization
How To Use Acrylic Drawers For Organization In Your Home
Acrylic drawers and drawer organizers are used by all of your favorite makeup chains. Why? Because they make things easy to find, accessible, and pretty. Find out how you can use acrylic drawers in your own home to get the same effect.
Here are 12 FREE motivation tips just for you…so you can start cleaning TODAY!
There are sponsored links on this page from which I may get a commission at no added cost to you. For more information, please read my Privacy Statement.
Why Use Acrylic Drawers?
Using acrylic drawers has many advantages. First and foremost, they are clear. Which if you love organizing like I do, you know is a huge benefit when you are trying to find things.
Second, drawers (acrylic or not) allow you to access space in deep cabinets or even blind cabinets. Making them great for places like under the sink or deep shelves.
And third, acrylic drawers are pretty. They have a streamline, clean look that makes any space not only functional, but also elegant.
What Acrylic Drawers Can Be Used For
Clear Plastic drawers have so many functions in the home. They can be used in the bathroom for makeup, which is how I see them used a lot. But they can also be used in many other areas such as the closet, the office, the refrigerator, and even the pantry.
Items that can be stored in acrylic drawers range from small items like paper clips to larger items like shoes. The ideas for using drawers made of acrylic are as endless as your imagination.
Types of Acrylic Drawers
Clear plastic drawers come in many different shapes, sizes, and sometimes even color.
You can choose from small, skinny, tall, wide, or large acrylic drawers that can fit just about any space.
Colors range from the most common clear and smoke, to pink and purple if you want a little pizzazz in your space.
Some also come with a little extra elegance like silver drawer pulls or gold edging.
There are also options for buying one drawer, stackable acrylic drawers, or drawer tiers that have already been put together for you. This set is BY FAR the best for stackable drawers you can customize to your own needs.
Acrylic Drawers Ideas For Bathroom
Makeup is what I most commonly see these fancy glasslike drawers used for. Which makes sense. Being clear, the acrylic makes it easy to see what you want. The drawers come in different sizes making it easy to store different size makeup. And things remain contained instead of rolling around a wide open vanity drawer. Plus, if you buy a pretty set, you can keep it out on the vanity for easy access each morning.
This is by far the Best Stackable Acrylic Makeup Organizer because it allows you to customize the acrylic drawers to what you need and there are loads of options. But for a similar but cheaper option, I also like this one on Amazon.
Also in the bathroom, you can use an Acrylic Jewelry Organizer with drawers. There are many to choose from. The main thing to look for is that the set has a velvet material that is on the bottom of the drawers or comes as inserts.
In this acrylic jewelry organizer you will find places to store your stud earrings, rings, necklaces and more.
Having drawers under your bathroom sink can really help you wrangle all those lose products you have under there. Things like tampons, pads, small paper cups, small hair and skin products, and nail polish can all fit into a few stackable acrylic containers like these to keep things tidy under the sink.
Ways To Use Acrylic Drawers In The Closet
You can use acrylic drawers in your closet for so many things. Store shoes in an acrylic drawer organizer, t-shirts also do well because they are easy to see, and even things like scarves and belts can be wound tight and stored in an acrylic drawer.
The beauty of using acrylic drawers in the closet is that you are able to see through the clear acrylic in order to quickly see what you want to pull from the drawer.
These drawers are easy to see through so you know exactly what shoes are inside. They are also stackable so you can stack as many pairs of shoes on top of each other as you want without them getting piled up and messy. Stacking these drawers along an empty wall in the closet or on a shelf is ideal.
Just imagine if you didn't have to dig through your nicely folded shirts and sweaters in order to find the one you want to wear. These drawers are large enough to store folded sweaters or shirts for easy clothing decisions anytime you get dressed.
Acrylic Drawers Ideas For The Kitchen
Acrylic drawers are perfect for the kitchen. Use them under the sink, in your pantry, and even in your refrigerator.
Under the kitchen sink can get super messy with cleaners, dishwasher tabs, sponges, brushes and plastic bags. So adding a few drawers can really help you stay organized as long as they are the right size for your 'under the sink contents'. I also find that having dividers helps keep things tidy. These drawers for the kitchen can work wonders under your sink because they come with dividers.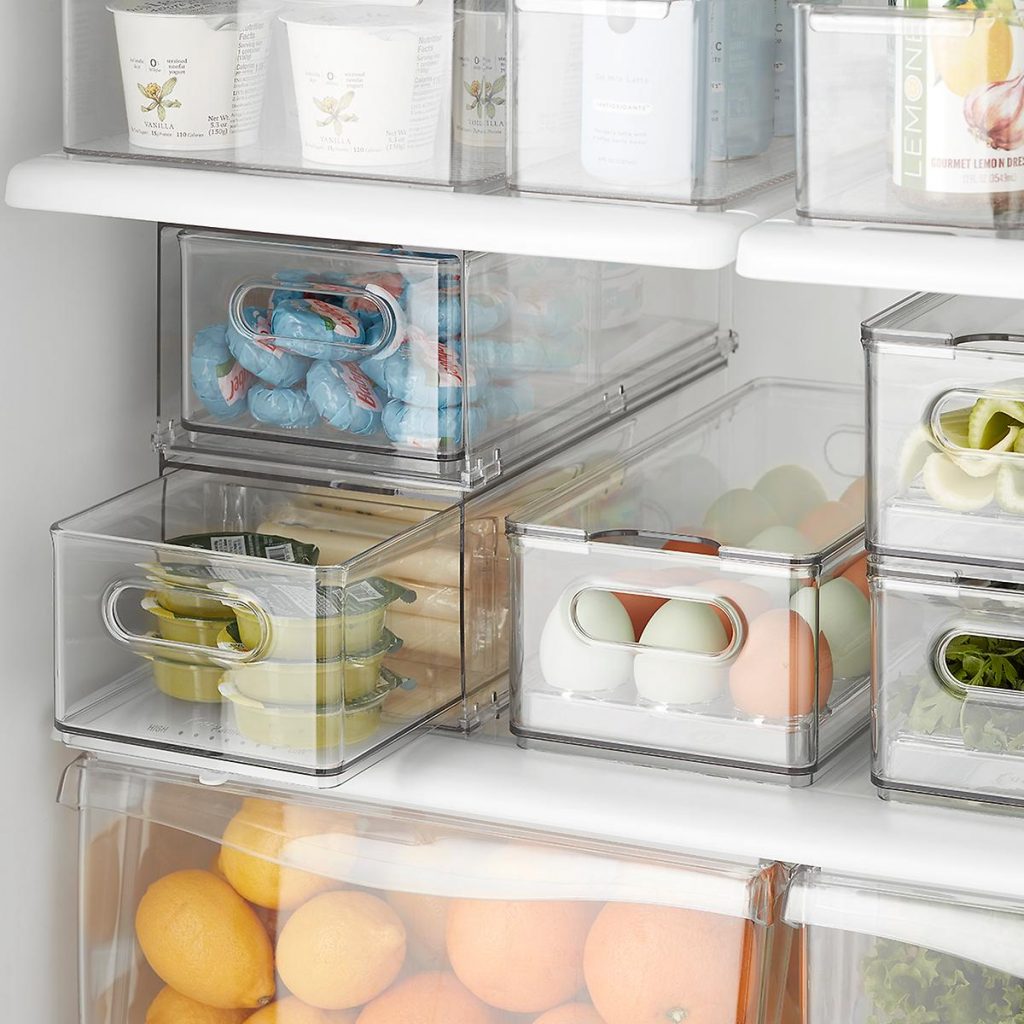 In the panty, use acrylic drawers to contain small items that may get lost or pushed to the back otherwise. I love using these drawers for kids' snacks so they all stay together.
Most refrigerators already have a few drawers, but I have found that a few extra never hurt. As a matter of fact I love having two drawers on the bottom shelf of my refrigerator because I got tired of food getting lost at the back of the shelf and never found. Now, I can see all the way to the back of the shelf by pulling the drawer out.
I chose these drawers because they are 13″ long and therefore go almost all the way to the back of my bottom refrigerator shelf. Be sure to measure your shelf before you buy.
Other Ideas For Clear Plastic Drawers
Acrylic drawers can be used for so many different things that you want to be able to see easily. Here are just a few more ideas you may like to try out.
9// Craft supplies
10// Store different types of paper
11// Cutting tools
Office Organization With Clear Plastic
12// Paper drawers
13// Pens, highlighters and markers
14// Office supplies
Other Acrylic Organizers Available
Not all acrylic organizers are drawers. There are many options out there, you just have to find what you need. You can shop all kinds of acrylic organizers on Amazon and The Container Store.
Happy Organizing!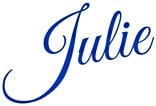 P.S. – Want to refer back to this post? Remember to Pin it!
Related Posts: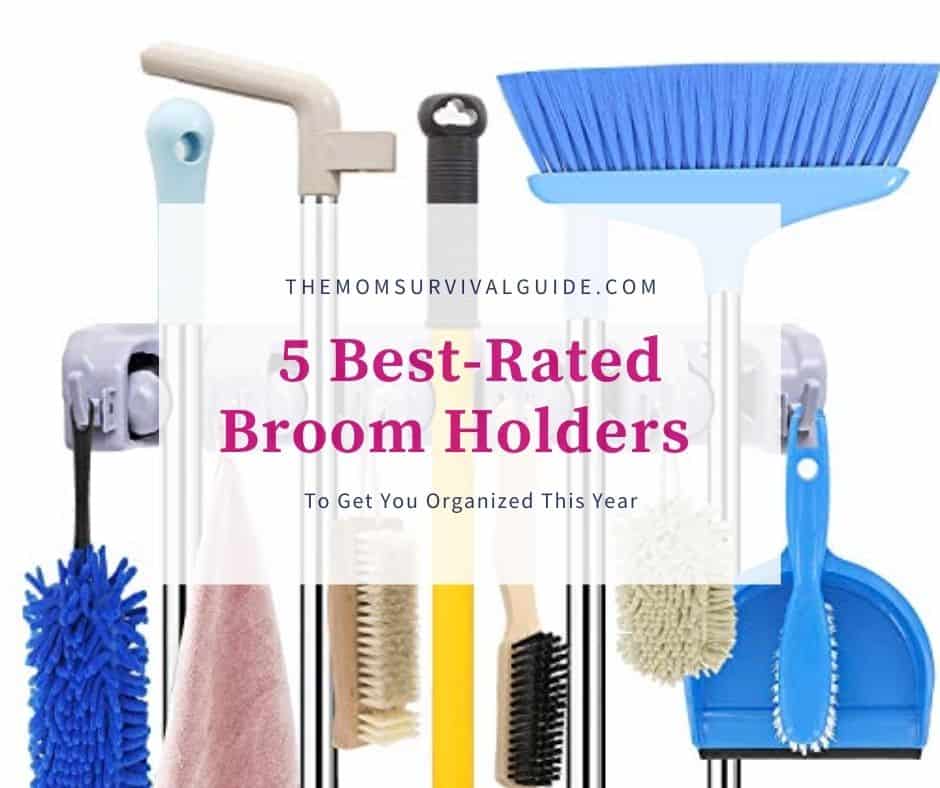 ---
---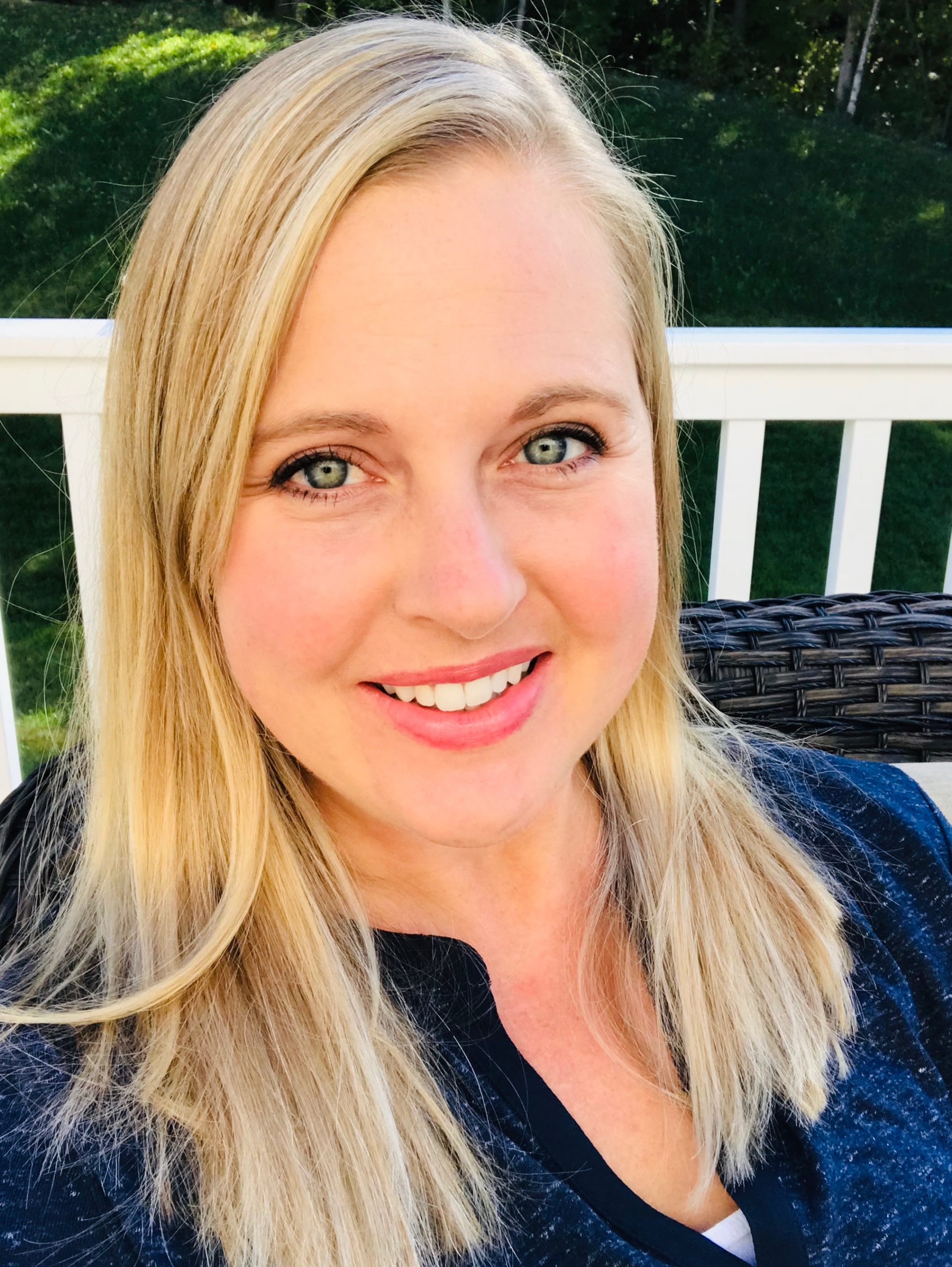 As a stay at home mom myself, I have found ways to keep myself sane and organized while loving what I do …be home with my kids! After 14 years of being home, I realized other moms may benefit from some of the tips and tricks I have learned over the years. Join me to learn ways to manage your home and life as a stay at home mom so you can make time to enjoy the best part…family. Things I love…feeling motivated, Harry Potter, being outside, and digging deeper into my life and my family's life in order to make it better. I have a Degree in Biology and am also a freelance writer.