Finding Christmas dresses for tweens can be such a headache! Their bodies are changing, their taste in clothing is changing and not just once in a while. I could swear my daughter liked purple clothes last week and now this week she likes blue. For my daughter at least, she wants everything to be soft and comfortable. She wears leggings anywhere and everywhere and I truly believe she would even wear her pajama pants out… if I let her!
Christmas Dresses for Tweens
So my daughter and I decided to look at some choices for Christmas dresses that would suit a lot of different personalities.
All of the choices on this post range from simple to fancy, but they all were chosen with tween individuality in mind. The tween years are a time when your daughter is starting to express her own style and wants to be an individual. The dresses on this page either come in many colors, are a different color than red altogether, or are able to be individualized for your daughter's tastes and personal comfort zone.
Affiliate Disclaimer:
There may be affiliate links on this page. That means that if you click on a link there is a chance that I will get a small amount of money for that click. I do not endorse any products that I have not used myself and believe in.

The Mom Survival Guide is a participant in the Amazon Services LLC Associates Program, an affiliate advertising program designed to provide a means for sites to earn advertising fees by advertising and linking to Amazon .com. You can read more in my privacy and disclosure agreement.
Amazon:
The reason we liked this dress in our Christmas Dresses for Tweens list is that it comes in 11 different colors. Colors ranging from red, black, and white, to blush, champagne, and royal blue. Not only does it come in just about every color, but it also has a little bit of sequins to make it sparkle. For a tween who is trying to express their own style, this could be the perfect fit. If your daughter is into sparkle, which I know mine is, then this is a great pick. Finish it off with the fact that the lace gives it a nice sophisticated look and she can choose about any color, and you and your daughter may actually be on the same page for once! The price on Amazon varies depending on the size you choose.
Gymboree
Get 30% off Dressy and Holiday 1 items at Gymboree. Valid 10/26-11/14.
This dress is simple and understated, which may be the perfect christmas dress for your tween. They will have a chance to put their own spin on it. Pair it with some simple leggings (black, snowflake, Santa) to give it some unique flair. Then add some converse or uggs and a denim jacket, and this outfit could be the one for your tween has been looking for.
Should this skirt be part of our Christmas Dresses for Tweens list? Well, if your daughter won't even acknowledge that there are dresses in the world, then a skirt may be the next best thing! Your daughter could pair this with any printed Christmas tee that she wants. It would make the perfect outfit for Christmas and still be in her comfort zone. Some black or grey sneakers would go nicely with that casual Chrismas Tee.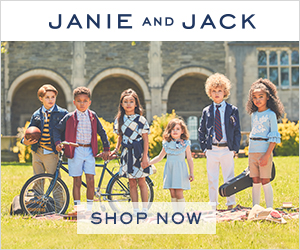 Crazy 8
There is Up to 75% Off Entire Store with code BOOYAH at Crazy8. Valid 10/26-11/1.
I love that this dress made our Christmas Dresses for Tweens list for 2 reasons. One, it is black instead of red. And two, it is covered with sequins. What a way for a young girl to make a statement. This is a great dress for a tween who is just starting to get away from the traditional little girl clothes but still likes the sparkle. This can definitely be worn as is with some tights and dress shoes. Or it can be made over with some legging flair and cute boots. Either way, it is a sparkly winner!
Again with the skirts! I put these two skirts (above and below this section of writing) in the post specifically because they are not red. The blue skirt can be dressed up or down. Pair it with a cute tee (winter or Christmas) and some cute boots and you've got an outfit. As for the silver skirt below, it is so neutral, that it could pair with just about anything. If your tween wanted to go Christmasy, they could pair it with a red top or blouse. If they want to dress it down, it could pair with a tee. Either way, the options are pretty endless.
Macy's
Macy's has some really great traditional Christmas Dresses for Tweens options this year for, the tween that is still into looking pretty, girly, and traditional.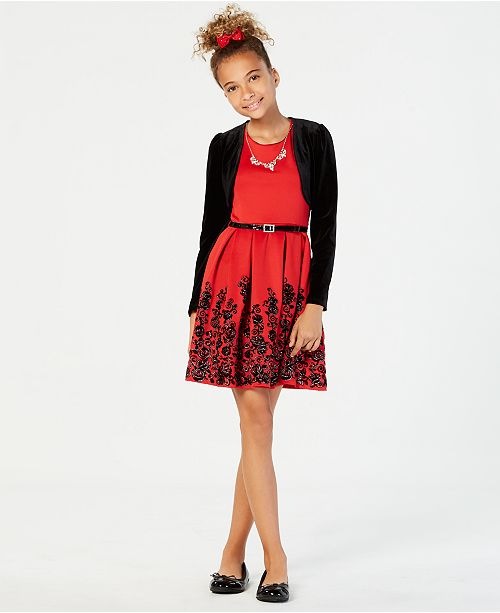 On our Christmas Dresses for Tweens list this year, we had to add some red for the traditional tween! This dress is traditional red with black embroidered flowers, black belt, and black sweater. The contrast is dramatic and makes this tween dress choice an obvious one. The cut is elegantly fitted at the top and belled at the bottom. The great thing about this dress is that the sweater comes with the dress, so no running around looking for a way to stay warm.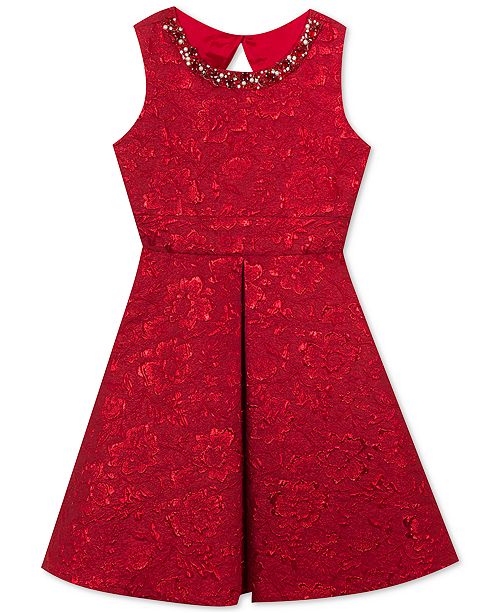 This tween dress choice is only traditional because of the color. The rest of the dress reminds me of an Audrey Hepburn style. The cut and the fabric is elegant with a form-fitting top, pleated bottom, and a little bit of sheen. The jeweled neckline sets the whole style off. What a fantastic sophisticated look!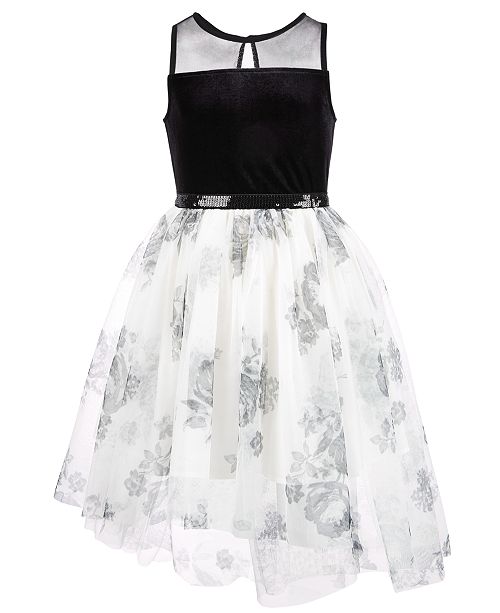 An unsymmetrical hemline is very "in" right now according to my daughter. This tween dress choice is great because it doesn't scream "CHRISTMAS"! It would be dressy enough for Christmas, but also many other formal parties your tween may be headed to, like New Years with friends, Valentine's dinner with Dad, or maybe a winter father-daughter dance. If your daughter likes to have a "favorite" dress that she wears everywhere, this may be the one.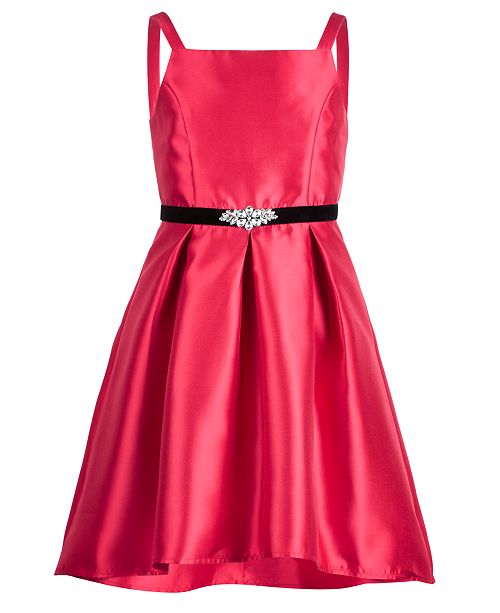 Nothing says Chrismas louder than bright red satin. This dress choice is for the tween that is all about the Christmas Spirit. As a matter of fact, add a Santa hat and some cute stockings and boots and this could be the perfect dress for Santa lovers everywhere! Just because our little girls are growing up, doesn't mean they can't still love Christmas!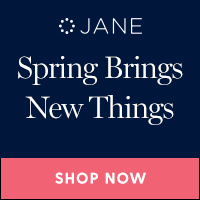 Justice
Aww Justice, a favorite of my daughter's! They always have the best styles of the year for our tweens! And this year, their christmas dresses for tweens are exceptional as always! My daughter had a hard time choosing her favorites!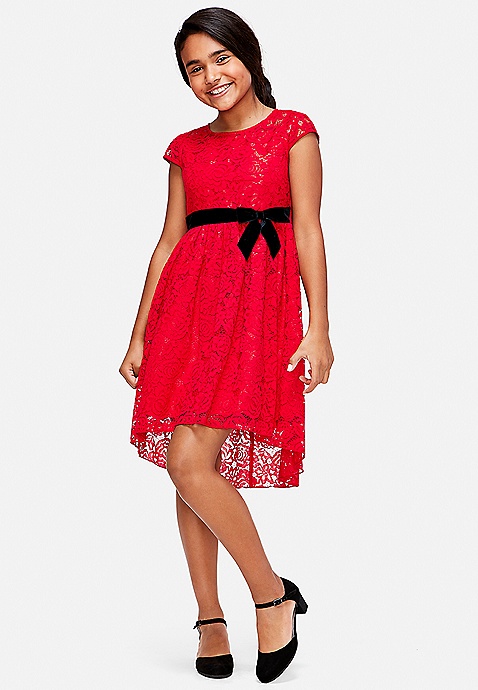 Traditional red and black for the festive tween. But what sets this dress apart is the lace, the asymmetrical hemline, and the cap sleeve. This dress screams fashion while screaming Christmas festive at the same time.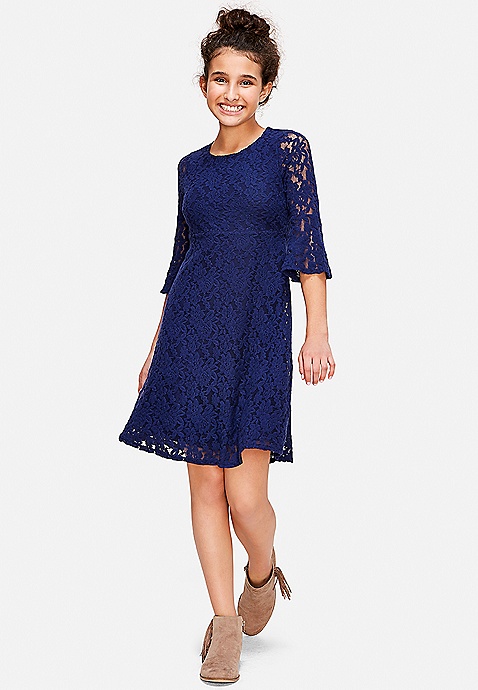 What a great choice for a tween who does not want to wear red…again! The lace and the bell sleeves make this dress a little more fun, giving it a trendy style as well as a sophisticated look.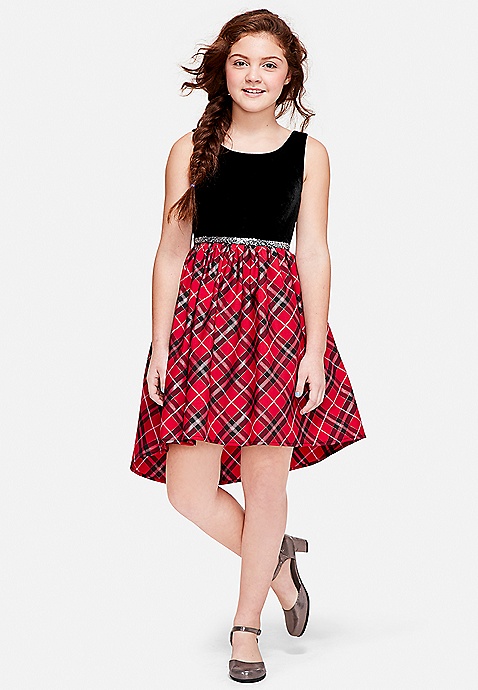 The traditional red plaid and black. A style we have seen for years, and dressed our little girls in for years. But here you see the fitted top, the belted waistline, and the flared bottom to give this dress the more mature feel that our tweens want. Add in that asymmetrical hemline, and I think my daughter is in LOVE!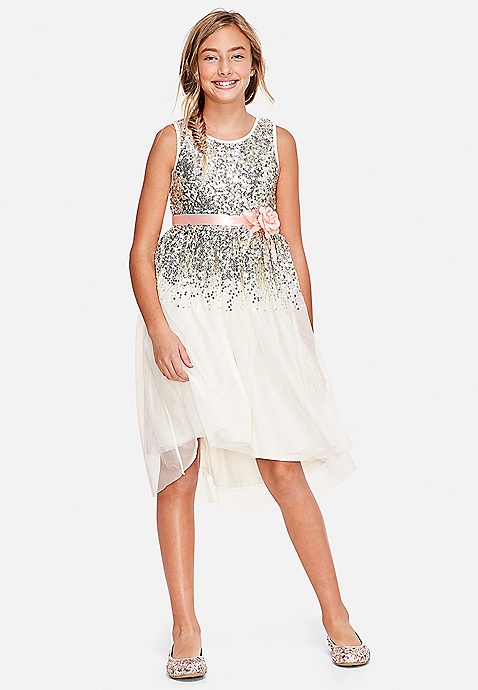 I think this is my absolute most favorite dress on the post. The sequins, the pink ribbon, the cream tulle. This is a mother's dream! But we are talking about what our daughters like…that's right! So this dress is for the tween that is cool but still has the need to feel like a girl. The girl who just can't give up the pink, cream and sparkle even though she is getting older! This dress would be great for lots of different occasions, not just Christmas, so she may even get some extra use out of it! SCORE!
This is the ultimate choice for the tween that HATES dresses! Why not go with pants instead! This jumpsuit is the perfect choice for the tween that doesn't want to be underdressed, but also doesn't want her legs to freeze. Comfortable fashion!
Right now, Children's Place is offereing FREE SHIPPING EVERYDAY!!
Children's place usually has a younger look to their clothing, which is perfect if you little girl is just starting the transition into tweenhood! The have 2 great options for Christmas Dresses for Tweens that have a slightly more mature look but also still have fun colors and fits for the little girl at heart.
How many times do we see red dresses at Christmas time? Well, here is a green dress that I felt actually did green dresses some justice. Instead of the velvety green that we usually see, this fashionable dress is satiny and fresh. The addition of gold flowers on the dress give it an elegant feel and the belt accents that tiny tween waistline. Whether you pair it with the shoes that are shown or a different pair of dress shoes, this dress is a great choice if you want to feel Christmasy without the red.
Finally a purple dress! I love that this dress is on our Christmas Dresses for Tweens list! Purple is such a great color for the holidays and I feel that it is so underused. It is a color that can make a huge impression when everyone else has on red and green. The belted waist and black details help this dress look like a dress an older girl would wear. It is more sophisticated and fun, not just "cute".
Tweens can be difficult, but hopefully, this post of dresses will help you get your shopping finished faster this year. Show her the post, click on the one you want and buy it…BOOM! You're done with that! Check it off your list!
Hope you have a Merry Christmas and a Happy Holiday Season!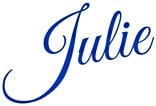 P.S. I would love it if you would share my post using my social share buttons at the top and bottom of this post.
P.S.S. Some other articles you may like from my site…
As a Stay At Home Mom… parenting, organization, money matters and blogging have all become my passion and I want to share what I have learned with you! Browse my site or follow me on social media!