A Room By Room Guide To Help You Declutter 10 Different Rooms In Your House
How To Declutter A Room
Decluttering your entire house can be so overwhelming. Whether you are getting lost in the details, getting distracted by the mess, or are just not sure where to start, decluttering can be immensely overwhelming. But believe it or not, learning how to declutter a room at a time does not have to be difficult. Sometimes you just need to break it down into smaller tasks.
Take the guesswork out of how to get motivated…
There are sponsored links on this page from which I may get a commission at no added cost to you. For more information, please read my Privacy Statement.
Click Here to find a Professional Home Organizer near you
So often I get asked for help decluttering specific rooms. How do you declutter a living room, how do you declutter a bathroom, how do you declutter a bedroom?
But the truth is, how you declutter a room is the same in any room, with the exception of maybe the office.
I think where people are getting confused is more about what to KEEP and what to GET RID OF in a particular room or space.
So if you are getting confused or overwhelmed with your decluttering strategies, then I am happy you are here! You are definitely in the right place.
I created this guide to help you determine exactly what to keep and what to toss.
This guide comes complete with a list of rooms, their different parts (i.e. – cabinets, drawers, under sink…), and exactly what you should be throwing out or keeping in that area.
But before you dive into decluttering your home room by room, you really need to know the basic steps of decluttering. You will be using these steps in every room you declutter.
Quick Review of Steps For How To Declutter A Room
1// Plan
To declutter a room, first figure out where you will start, how long you have to work, and what you want to get accomplished first in that space.
2// Visualize
Visualize what the space is going to be used for…some things are obvious like a bathroom. But sometimes, they are not as simple. For instance, maybe you have an office space in your bedroom. Knowing what the space will be used for will help you know what to keep, move, donate, or trash.
3// Sort
When you declutter a room, use these categories to sort the items in the room:
keep
move
donate
trash piles.
4// Move
Move things out of the space that do not need to be there (trash, donate, items that should be stored in a different room or area).
5// Replace
When you are finished decluttering the room, replace items that will remain in the space in a neat and orderly fashion by following these 6 easy steps to organizing a messy house.
How To Declutter A Room In Your Home
When you want to declutter your entire home room by room, the best place to start is where you will see the most benefit for you and your family.
First thing is first…how you declutter a room in one area of your home will be the same as it is in another area of your home.
Maybe where you start is an entry way that will help you get out the door faster with your kids in tow. Or maybe the place you should start decluttering is the disaster of a dining room that is piled high with items you have forgotten about.
Regardless of which room you decide to start with, make sure it is a room that will make you feel like you have accomplished something great…that way, you will have the good feelings and motivation to keep going on to the next room you want to declutter.
One area of the home this post does not cover is the Entryway…that is because I have a whole post just dedicated to the Entryway of your home. You can read it by clicking the link below:
Don't Get Discouraged When You Are Decluttering A Room
I want to make sure I state this comment in bold…We are not trying to create perfection!
So, "Do your best. Forget the rest."
I want you to do what you can in the time you have, and then move on and do other things that make you happy.
This guide is also going to give you some great ideas about how to organize a cluttered room so you don't get discouraged by areas getting cluttered again after your hard work.
That way you can spend your time doing the things you love in life instead of searching for things you need in the clutter.
A Room By Room Decluttering Guide: How To Declutter A Room
I created this room by room declutter guide to help you get started decluttering your house.
Many times, decluttering can get confusing once you get started.
This guide will help you stay on track in each room. Giving you the exact information you need to declutter everything in your house from top to bottom.
Let's get started!
How To Declutter A Room: Bathroom
When you start to declutter a room, even a bathroom, you should have an idea of how much time you can spend decluttering and how much you want to get done.
So how do you declutter a room when it is a bathroom? Well, keep reading.
In the bathroom, start by cleaning up anything you find on the floor and putting it where it needs to go.
Dirty clothes get put in the laundry hamper, and clean clothes get put away.
That way, you will have space to work on the rest of the bathroom.
Once you get started, a good rule of thumb is to start with a small area like a drawer or one small area of countertop.
That way if you run out of time, you have not torn the entire room apart and have to leave it that way until you get back to working on the decluttering you started.
How To Declutter Bathroom Counters
If you want to know how to declutter a room, I like to always start with the surfaces like I said above.
But another surface in your bathroom is the countertop.
When you start decluttering your countertops, the first thing you are going to do is remove anything that is expired, you no longer use, is trash, that is empty, or that doesn't work the way it is supposed to.
Essential, sort the items on the countertop in your bathroom into the basic decluttering categories that are stated at the beginning of this post (keep, move, donate, and trash).
When you put your keep pile back, only place items that you use daily or more than once a day on the counter top. Remember, the less items you have on the counter top, the easier it will be to clean it in the future.
If you have many items, such as your makeup or makeup brushes on the counter, then try using a container to keep them in a designated space. Containers are a great option if you like to keep things like makeup or jewelry on your bathroom countertops.
Here are some great options I like for corralling your makeup or other items on your countertops:
>> Click Here To Shop Handmade Etsy Products
Declutter The Bathroom Drawers
The second place I like to declutter is the drawers in the bathroom. Why? Because they are the second most used space in the bathroom right behind the countertops.
I know that when you are figuring out how to declutter a room, you don't really think about the drawers, but they are very important.
The drawers are where we store things that we use daily or at least weekly. So let's talk about how to declutter the bathroom drawers.
First thing is first, follow the decluttering steps to clean out and sort the items into the appropriate declutter piles.
When thinking about what you are going to keep in the drawers, think about it like this…
Items that you use most often should be the easiest to access. Therefore, the drawer that is closest to you while you are at your sink or vanity, will hold the most used and important items.
Items you use every day are items like:
Makeup
Lotions
Creams
Tweezers
Scissors
If your drawers are shallow, you will only be able to lay things down in the drawers. Your stand up items like large bottles of lotion and even maybe deodorant will have to be placed somewhere else close by like a linen closet shelf or under the sink.
Prioritize the items you want to keep in your drawers and store them accordingly using containers like these to keep items from getting mixed up.
Contain tiny objects such as bobby pins and small earrings using appropriate sized containers like these.
Here are some great containers to use in drawers depending what you are storing:
Under The Bathroom Sink Decluttering
Many times we store things under the bathroom sink, and it can become cluttered and disorganized.
Often this happens because we use under the sink storage for items of odd size and shape or items we have no idea where to store or what to do with.
So let's address what should be stored under the bathroom sink as well as how you can utilize that large open space better.
First, let's clean it all out using the declutter sorting method from the beginning of this post. Get rid of or move anything that is expired, doesn't work, is empty, or doesn't belong in the space.
When creating your keep pile, think about how you would like your under the sink area to function for you.
Do you need to store cleaning supplies there or do you have them somewhere else that works for you?
What about hair styling products that are often large and an awkward shape?
Do you keep extra bags for the garbage can under there?
I like to store a few different things in the space below the sink. Because it is so large, I can fit large items in there like tall bottles of hairspray, my curling iron or flat iron, and also some supplies I need for cleaning.
You need to do what works for you, but I recommend storing things under your sink that you use regularly, since it is fairly easy to access.
Now you need to replace all of your keep items under the sink in a way that allows you to access them easily. Place your most used items up front or all in a line where you can reach them without too much trouble or knocking other items over.
Use containers to help contain and sort products that are different kinds or shapes of products…such as a container for cleaning products and a container for hair products.
Here are some organization products that can help you organize under your sink:
Space under the sink can be prime storage real estate, so be sure not to waste it.
Declutter The Linen Closet In The Bathroom
Decluttering your linen closet is not quite as difficult as going through all of your personal care products…unless you keep some of them in the linen closet.
I would start decluttering your linen closet one shelf at a time and one item at a time until you have everything removed.
Go through each item in the closet and sort it into the decluttering sort piles from the beginning of this post. Remove anything that is holey, discolored, expired, or no longer used.
As for the keep pile, you want to keep often used items in the linen closet. Many are going to be linens like towels and washcloths. But if your closet is a good size, you will also be able to use it for personal care items or cleaning products if you need to.
Remember that the middle, easiest to reach, shelves are your prime real estate in the linen closet.
So when you replace the items you are not going to declutter from the linen closet, replace them in a way that allows the easiest access to the most used items.
If you have kids, a good place to store cleaning supplies may be the top shelf of your linen closet so they do not have access.
Pro Tip: A problem many people have with linens is that when they stack them, they fall over.
A great example of this is wash clothes. Many times, there are a lot of wash clothes folded and stacked together. If your linen closet is anything like mine (with wire racks) those tall stacks don't like to stay up. Use a shoe box for your wash clothes so they remain stacked nice and neat.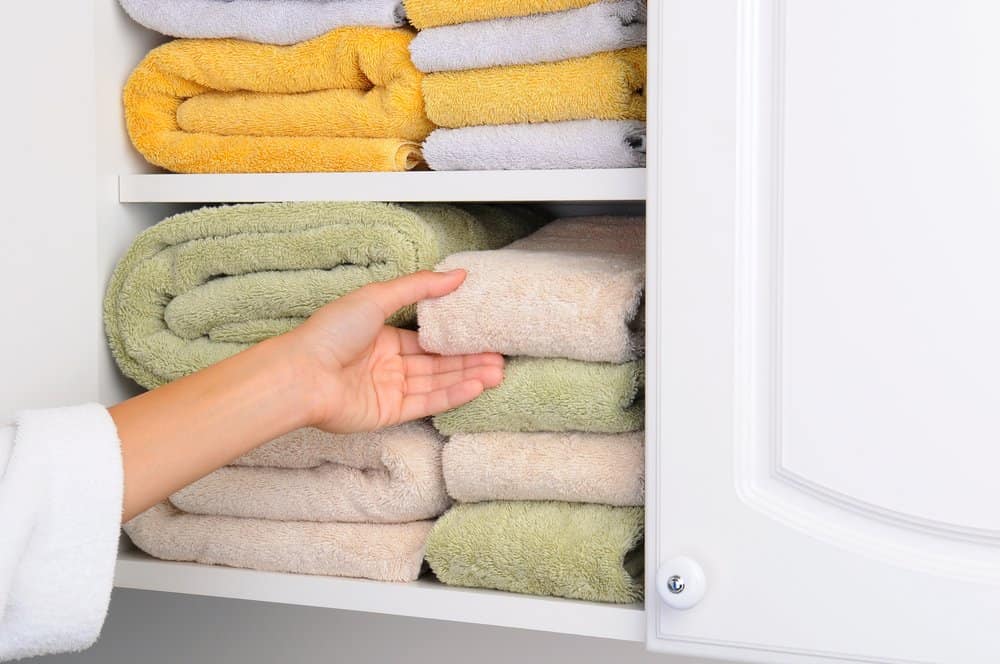 Keep you stacks standing and your products separated with these useful products:
Shoe box
Containers
Shelf dividers
Shower Decluttering
You would be surprised how many people need help decluttering their showers! That is why I added this section.
So many of us love our shower products. Shampoos, conditioners, body washes, loofahs, shave creams, exfoliators…and so much more.
And if you are anything like me, you like to try different products…sometimes even before you have finished the first product (don't tell my husband ;))
In the end we wind up with loads of products cluttering the floor and even the shelves of our shower. And if you have kids sharing that shower, things can get even more out of control.
So let me give you some good rules to try to follow for not only the shower, but also keeping clutter at bay in the other areas of your bathroom:
Containers…even in the shower…help you know when you have too much. When the container can no longer hold your products, it is time to go through them and get rid of a few. This container works really well.
The one in, one out rule. If you bring in a new product, take the other out of the space at least until you have decided which product you like better. Discard the one you don't like because odds are you are never going to use it again.
Have each person use a product caddy for the shower. Each person can stock their caddy with however many products they want, but when they are finished showering, they must remove the caddy with all of their products from the shower. This method would require a place to let the products in the caddy dry after the shower so they don't get mildewy.
(This may help your bathroom clutter problem as well.)
Items every bathroom should have to help cut down on clutter:
How To Declutter A Room: Bedroom
In this section we are not just talking about how to declutter a room…we are talking about how to declutter your room.
Our bedrooms are one of the easiest rooms to clutter up.
Our bodies change, so we buy new clothes.
Styles change so we buy new shoes and clothes.
We feel depressed, so we buy new clothes and shoes.
We have somewhere to go so we buy new clothes and shoes.
As a consumer nation, most of us fall into this trap of buy buy buy.
And before you know it, your drawers and closets are so stuffed, you can't add any more. So you start stacking clothes on the dresser, on the floor, and on the nightstand. And before you know it, your room is a cluttered mess.
Pro Tip: I am going to let you in on a little secret…if you have too much stuff, no matter how much you try, your room will remain cluttered.
I'm not saying you need to become a minimalist or anything, but trying to pare back by decluttering is definitely a good idea once in a while. That is, if you want a decluttered, peaceful room to sleep in each night.
A good rule of thumb is to go through your clothing and shoes each season to get rid of items you no longer want or need.
Declutter Surfaces In Your Bedroom
Start by decluttering the surfaces in your room. Clean up the floor, the dresser surface, and the nightstand surface by sorting objects into the keep, move, donate, and trash piles.
Put dirty laundry in the hamper (yes, you should have a dirty clothes hamper!) You can find one that matches just about any decor...take a look at one of my favorite woven hampers.
And fold any clothing that is not dirty and you want to keep.
Declutter Clothes Drawers In Your Bedroom
If you have drawers in your bedroom, you can declutter them by going through and getting rid of any clothes you don't need or no longer want. Such as items that are damaged, don't fit, are out of style, or you just don't like anymore and will never wear again.
Sort the items into the appropriate piles from the beginning of this post…keep, move, donate, or trash.
When returning your keep items to the drawer, try considering a new way of storing your clothes. I am talking about file folding like Mari Kondo. I started this and it has changed how my drawers look and function completely!
No longer do my stacks of clothes get messy because I am trying to see what is on the bottom or find that one pair of black leggings that I love in a stack of 8 pairs of dark colored leggings.
Check out my related post to see how I keep my file folded clothes from mixing or falling over.
Declutter Your Nightstand Drawers
The nightstand is an essential piece of furniture for most bedrooms. Also known as a bedside table, it is the perfect spot to keep all of the items you use at or around bedtime or in the morning. From books to cell phone chargers to docking stations, the tops of our nightstands can become seriously cluttered.
Then there are the other parts of the nightstand. Maybe you have nightstand shelves, or maybe you have drawers, either way, they tend to become a 'catch all' for items in our room that really have no other home.
So how do you declutter your nightstand?
First of all, clean off the top, sort the items into the decluttering categories and only replace keep items that you use EVERY single night and/or morning.
(Like whatever you use for your alarm, a book you are reading, and a lamp.)
Then clean out the drawers or clean off the shelves and sort those items.
If there are other important items you want to keep near your bedside but you do not necessarily use them often (like a flashlight for power outages, another book, or items you pull out of your pocket right before climbing into bed), they can be placed in the drawers or on the shelves that are lower than the surface of the nightstand.
Use containers in drawers to keep things from moving around inside. Use decorative containers and trays for nightstands with shelves so they double as storage and decoration.
Here are some great options for drawers:
Here are some great options for shelves:
How To Declutter A Clothes Closet
Closets are where many of us store the bulk of our clothing and shoes. When you start to declutter a clothes closet, since most closets are initially designed to hang your clothes up, unless you are planning a major closet renovation, I recommend going through the clothes in your closet first. That way you will see what kind of space you have left for other items after decluttering your clothing.
For instance, you may find you have room to push all of your clothing to one side so you can add this shoe organizer on the other side. Or maybe you want to add this hanging set of shelves in one area to hold your folded sweaters.
These are the things you want to think about when you are decluttering clothes from a clothes closet:
Is it out of style?
Is it outdated?
Is it torn, stained, or discolored? (not on purpose or for style purposes)
Does it fit?
Do you like it?
Will you wear it?
Sort the clothing into items you can donate… (these clothes should still be in good shape, just not something you are going to wear again for one reason or another)
Sort some clothing into the garbage pile. The garbage pile will be items that can no longer be used at all or are broken. Items with broken zippers, missing buttons, large holes, etc.
And last, sort some clothes into the 'Move' pile. If your closet is crammed with clothing and other items consider doing one of the following things…
If you currently store coats or jackets in your bedroom closet, consider moving them to a hallway or entryway closet.
Do a seasonal rotation with your clothing. In the summer, move fall and winter clothing to a different closet or storage area of your home. In the winter, move your spring and summer wardrobe to a different location.
How To Declutter Shoes In A Closet
Now that you have all those clothes decluttered that have been taking up space, it is time to tackle your shoes. Here are some questions to ask yourself as you start decluttering your shoes:
Are the old?
Are they outdated?
Are they no longer in style?
Do you just not wear them anymore?
Do they fit?
And as you answer these questions, decide if they need to be in the keep pile, if they are in good enough shape to donate, or if they need to go straight into the trash.
You can also move any out of season shoes into a different area of the house if you need more space in your closet.
When you put back the shoes you decide to keep, try one of these organizing tools:
Other Items For Your Closet That Will Help With Clutter:
Pro Tip: Keep a Donation Bin in your closet so you can add clothes and shoes to it as you go through the year. This will help you do a little at a time instead of a lot at a time.
How To Declutter A Room: Living Room
A living room tends to become cluttered with things like blankets, toys, furniture, remotes, video games, books, clothes, photographs, trinkets, and more depending one how many people are using the space and their ages.
Since the living room is used every day by every family member, the clutter in this room can build up fast.
The trick to decluttering this room, is to start with making sure you know what is supposed to be in that room…and what is not.
Let's start with what the living room is not. The living room is not a place to take off clothes and leave them. It is not a place to leave dirty dishes, it is not a place to leave toys out.
What the living room is, is a room where the entire family can come together and relax, watch a little tv, and talk.
So let's lay out some tips for decluttering the living room:
First, follow the tips for decluttering at the beginning of this post.
Sort items into their appropriate categories.
Clear out anything that does not belong. Here is a list to get you started:
Garbage
Dirty dishes
Extra Toys
Clothing
Excess amounts of collectibles
Excess amounts of pictures
Games that can be stored elsewhere
DVD cases
Old DVD players
Organize what does belong and try to refrain from keeping too many of one thing in the space (such as picture frames or collectables). Here are some ways to organize your living room and keep it nice looking:
How To Declutter A Room: Dining Room
Dining rooms can be tricky. The original purpose of a dining room was to be a place where families gather for meals.
But in our current times, most people are doing away with rooms like dining rooms in favor of finding a way to create more useful spaces.
That being said, because many of us do not use our current dining rooms for …well, dining…we start using them for other things instead.
My own dining room has become a place to do crafts, to put my sewing machine, and to store clothes that will be taken to the donation center.
And I think all of this is fine, as long as you clean up when you are finished and turn your cluttered dining room back into a dining room.
I believe the dining room clutter problem can start, though, when we start using that room as a "dumping ground". The dining room becomes a sort of extra storage room where we put things that we don't know what to do with.
At first, you think you will just put that item here and get back to dealing with it later. But before you know it, your dining room has become the "storage" center of your home. And the clutter is overwhelming.
Where to start decluttering a dining room
If your dining room is piled high with clutter, I want you to start off decluttering the dining room by choosing just a small area in which to begin.
I also need you to get into the right mindset if there is a lot of clutter in this particular room. Because this task will most likely take a little more time than you want it to. Just remember progress over perfection.
Pro Tip: Take a picture of the room when you begin the project. Then take a picture each day when you end. Looking at these pictures and comparing them to the first picture you took will help you realize the progress you are making.
So now, you are going to use the decluttering steps to start working your way through the mess in your dining room.
In reality, the only things that should STAY in your dining room are items you use for entertaining purposes. Things like dishes, glasses, serving platters, cloth napkins, table clothes, etc.
When you go to put away your keep pile, decide if you need some other storage items in that room to help you organize.
Do you keep your fancy dishes in the dining room? Do they need a place they can be stored or on display? Possibly think about investing in an armoire or china cabinet.
Do you have fancy glasses like wine, and margarita glasses? Possibly consider these shelves that can hold the glasses until you have your next gathering.
How To Declutter A Room: Playroom
Toys, books, games, and more! When we have children, all of a sudden our homes become cluttered with all of the items our kids want, need, and well, other people give them.
The thing I found out was that our kids do not need EVERY toy, book, or game. As a matter of fact, have you ever noticed that they normally gravitate toward the same few toys, the same few books, and the same few games?
Well, it turns out that there are a lot of ways to declutter a playroom leaving your playroom safer, and more functional for both you and your children.
To start, I want you to use the decluttering steps that this post is all about. You can find them at the very beginning of this post.
Once you have sorted and are ready to put your keep pile away, think about what kind of storage you can use to keep your playroom from becoming cluttered again.
Now, I know how hard it is to get rid of your kids things. You don't know if they will become interested in a different toy eventually, or remember that you have gotten rid of something.
Possibly they will one day have a sibling that will be interested in the toy…a mom's worries are endless.
And then there is the money that you or a friend or family member spent on the item, making it hard to part with.
Keep your playroom decluttered with these rules!
#1 One In One Out Rule
#2 Toy Rotation
#3 Toy Trade
#4 Set A Limit
#5 Stop Buying Everything
You can read more about how to declutter toys and keep your playroom declutter in a related post.
How To Declutter A Room: Basement
There are two types of basement that I want to talk about decluttering. One is how to declutter an unfinished basement and the other is how to declutter a finished basement.
I am going to separate out these two spaces because both are used for completely different purposes and therefore have different rules. Let's get started on our basement decluttering.
How To Declutter An Unfinished Basement
At first I was thinking I should start by telling you what should be in an unfinished basement. But then I realized that there was a really big thing that I needed to address with you to make sure you are NOT storing something in the unfinished area of the basement.
So I decided to start like this. Here are the things you should definitely NOT keep in your unfinished basement, so start decluttering!:
Do NOT keep items that are broken.
Do NOT keep items that have not been used in 5 or more years.
Do NOT keep other people's items for over a year.
Do NOT keep items that you have decluttered from the rest of the house and were too afraid to get rid of.
That last bullet point was the one point I wanted to make sure I told you. If you are going to declutter your house, you need to be willing to actually REMOVE all of the items from your home that you are decluttering.
Do NOT just move the items from one part of the house to another.
Okay, so now let's talk about what to keep in your unfinished basement. The unfinished basement is generally used for storage purposes. Here are a few items you may want to store there:
Storage for seasonal decor and other seasonal use items.
Keepsakes from children or family members
overstock items such as extra toilet paper, paper towels, napkins, etc.
Tools
Luggage
Once a year use kitchen items
Gift wrap
What to declutter from an unfinished basement:
Anything broken.
Anything you have not used in over 5 years that you stored thinking you would use.
Anything outdated (pictures, old toys, clothes).
Items you use on a regular basis that should be stored in an actual room of your home.
Use the decluttering steps to sort and declutter the items in your unfinished basement.
When you replace your keep items, think about storing them by category, and in labeled bins so they are easy to find and access. For instance, have a section of the basement just for your overstock items. Another section just for seasonal decor, and another section for Keepsakes…and so on.
Within each section use a large clear bin (these are my favorite) and label them with what is inside.
How To Declutter A Finished Basement
Most people like to use their finished basement for something completely different than an unfinished basement. Like for an extra family area or play space for the kids. But often times, our finished basement can start looking more and more like the unfinished side if we are not careful.
So what are some things NOT to keep in the finished are of your basement? Let's start with these:
Do NOT keep large storage bins of items that should be stored in the unfinished side of the basement.
Well, that is pretty much it for the DO NOT's of the finished basement, but what if you area is still super cluttered?
Well, you need a clear idea of what you want to use this space for if you want to keep the right items in it.
As of right now, we know it is NOT a storage area? But is it a living space? A play area? Or possibly a combination of several things?
Here are some items you can declutter right away from your finished basement:
Anything broken.
Anything that you have not used in more than a year.
Anything you just hate and want to get rid of.
Any trash
Use the declutter rules from the beginning of this post to finish up this decluttering project.
When you are thinking about what to keep in the finished area of the basement, consider these items:
Kids toys
Games
Fun things
Movies
Video Games
Video Game Consoles
Workout equipment
Essentially, this space can function as a fun family room that is a little more laid back than the upstairs living room that guests see.
Keep in mind, that just because not as many people see this area, that does not mean you can let it get messy. You need to clean and declutter the basement just as often as the rest of the rooms in your house.
How To Declutter A Room: Teenager's Room
Whether you have a teenage boy or a teenage girl's room to declutter, it can always be difficult. Your teenager is going through A LOT of changes and for some reason, their room just will NOT stay clean.
Literally, their hormones are raging, they now want to sleep during the day instead of at night, and everything is way more dramatic than it was a few years ago.
So first thing's first…MAKE SURE they declutter WITH you! Otherwise, your emotional teenager may decide to say some very unkind words to you. And we don't want that.
So my suggestion is to get their help and start off the decluttering of your teenager's room by going through all of the items they believe are "too young" to be in their rooms.
You may be surprised to find that the 200 hundred stuffed animals or 300 action figures your teen has held onto are now something they are willing to get rid of…making their room SO much less cluttered!
Decluttering Surfaces In A Teenager's Room
Once the initial declutter of "too young" items is over, then, you will want to tackle the surfaces. This will allow you to make room for the piles you need as you sort, and also to explain to them how to use the easily accessed space for priority items only.
Go through the decluttering steps of keep, move, donate, and trash. And then teach this principle of decluttering to your kids.
And, don't forget to talk to them about the "prime real estate" of a dresser surface and how using that surface only for things you use every day or more than once a day go there.
Everything else either gets moved out or put away into a drawer or bin.
I love these containers in my teenage girl's room. They are perfect to allow her to see the items on her dresser and access them easily, while still containing them.
To help keep clothes off the floor, make sure there is a laundry hamper in the room. I like this one for my teen because it is lightweight and she can easily bring it downstairs on laundry days.
Here are some other items that can help you keep the clutter from coming back in your teenager's room: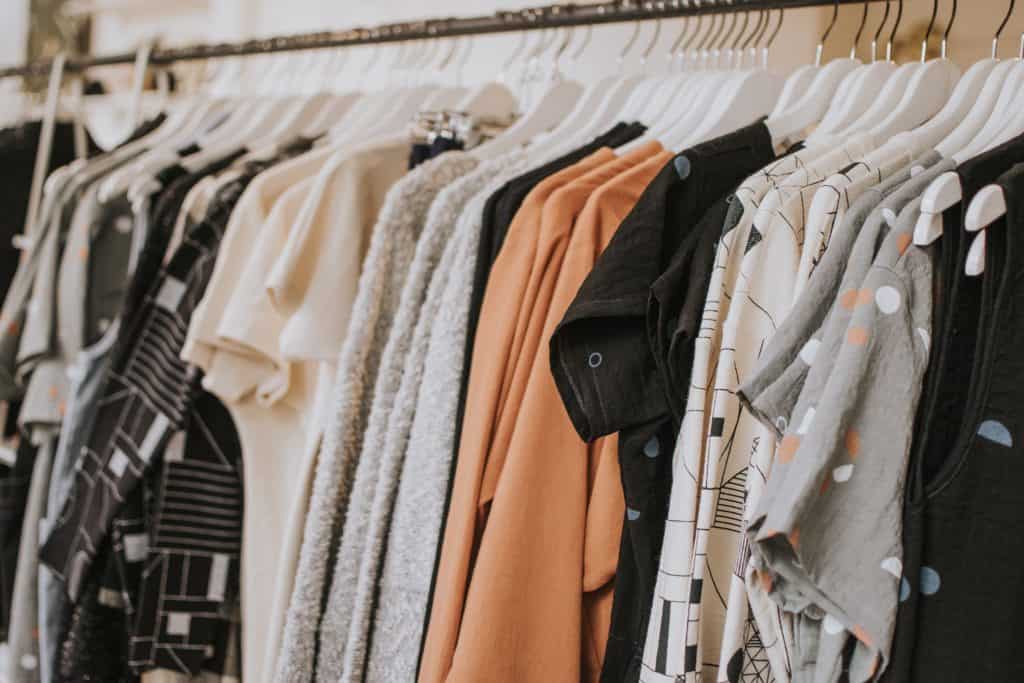 Teenager Closet Declutter
Is your teenager anything like mine? I tell her to clean up her room and guess where it all ends up…in the closet. To this day, when I open her closet, I will find a mess in there because… what she cannot fit in her laundry hamper, she will just shove into the closet.
So, decluttering a teenagers closet is essential so that they have plenty of room to shove in all their stuff! NO! That was totally a joke!
Will decluttering the closet help with the aforementioned problem? Probably not, but you still need to declutter their closet now and again because they are going to be outgrowing things often and changing their taste in clothes often as well. So you need to make room for the new.
So, again, start by asking for their help so you don't get rid of anything they LOVE by accident! Then start going through the items that are in there and sorting them into the decluttering piles.
Go through the sorting process and get rid of the following:
Items that don't fit
Items they will never wear again
Items that are stained or destroyed (not on purpose)
Items that have been in there for years
Items that are not clothes they no longer use
Do the same for shoes that you did for clothes
The only items left in their closet should be clothes and shoes that fit and they actually wear.
You will probably have to do this decluttering session each year since their tastes will be changing a lot in the next few.
Here are some ideas to help keep their 'keep' items organized in their closet:
Teenager Bedroom Drawers
In a teenager's drawers, they will store things like undergarments, pants, shirts, leggings, shorts, tees, bathing suits, and sweatshirts.
And because they are still growing and changing their taste in clothes each year, you will probably want to declutter their drawers often to make sure they stay organized.
Sort the clothing items the same way you sorted the clothing in the closet. Use the decluttering steps to place items into their keep, move, donate, or trash piles.
Then figure out a better way of organizing their keep items in their drawers.
One way I accomplished this is my using the file folding method. You can read more about it here.
Related Post: Why You Should Be File Folding Your Clothes
How To Declutter A Room: Kid's Room
Kids rooms are difficult to declutter for many reasons. One, their rooms serve multiple purposes for them as they grow up, and two, it really depends on the age of your child what they will need to keep or get rid of.
But there are a few rules you can follow about what to get rid of for sure:
Anything broken
Items that no longer fit
Things they don't like and will not use/wear again
Items they have outgrown (this can be mentally or physically)
Anything they do not need to keep in their room…like a toothbrush, food…etc.
Go through all the items in your child's room and sort the items into the decluttering piles outlined at the beginning of this post.
Then think about what to keep in the space. Do they need to keep toys in their room or do they keep them in the playroom? Do you want them to have books in their room? What about video games and other games?
I tend to lean toward the fact that a kid's bedroom…and any bedroom for that matter, should be a place that is quiet and relaxing. It is a good sleeping environment, and it also helps teach them good habits now for when they are adults.
So in my house, there are no electronics in their rooms at night.
Here are some great storage options for items they do keep in their rooms:
How To Declutter A Room: Kitchen
The kitchen is considered the heart of the home. It is where we gather with family and friends, prepare and eat meals, do crafts,do homework, and so many other things that bring us together in a joyful way.
So if our kitchens are cluttered, it can really put a lot of stress on our happiness.
So let's learn how to declutter a kitchen so we can have better time management when making meals and be able to gather there for joyous occasions again!
Related Post: How Going To Bed With A Messy House Can Ruin Your Sleep
Start By Decluttering Your Kitchen Surfaces
When starting to declutter a kitchen, the very best place to start is with the surfaces of the kitchen. That includes the floors and the countertops.
The reason starting with the surfaces of the kitchen is a good idea is that it 1) will create instant visual gratification and the feeling that you have accomplished a lot in a little amount of time. And 2) it will create the space you will need to declutter the rest of the kitchen using the categories from above.
Clean off the surface of your floor and your countertops by dividing items into the categories from the beginning of this post.
For items that you need to keep in the kitchen, but find a way to store in a place other than the countertops, place them in a pile off to the side to replace in the kitchen after we have decluttered the rest of the kitchen space.
Some items that may wind up on your kitchen counters after you declutter are things like mail and work your kids bring home from school
Be prepared to handle those items by going through them immediately when they enter the kitchen space, and by creating a designated space to place them once you have dealt with them.
Remember that your countertops are "prime real estate" in your kitchen. The only things that should sit out on them are items you use on a daily basis. This will help keep clutter from coming back and also make cleaning a cinch.
Here are some items that may be helpful on your kitchen countertops:
Plastic bins to immediately collect school papers as they come into the house.
Mail sorter that separates your bills from other items.
Decorative containers and jars for items that sit on your countertop can make them seem less like clutter.
Here are some examples:
These baking containers are some of my favorites for your flour, sugar, and other items you use regularly.
An Olive oil decanter if you cook often with olive oil (like I do every night) is one of the only items I use to replace the original container since I buy in bulk.
I love this dish soap dispenser so you don't have to look at the dish soap manufacturer's bottle.
How To Declutter A Pantry
A pantry is a necessity in any kitchen. But it does not necessarily have to be a large area or closet. Some may use a cabinet or an area located slightly outside of the kitchen.
The point is, that a pantry is needed to store the boxed and canned items that you use on a daily or weekly basis. It allows quick access to foods like cereal for breakfast or rice you need for dinner. It should store quick meal prep items and quick snacks.
If your pantry is large enough, you can also store some larger items inside like extra bottles of juice, paper towels, or cleaning products. Then they are handy whenever you need them.
If you do not have the space in your pantry to store any extra overstock items or larger items, you could always put those items in a designated location in the basement.
When you begin decluttering your pantry, use the categories you use to declutter all rooms that are listed at the beginning of this post and ask yourself some of the following questions:
Is the product expired?
Will it be eaten?
Is it used often?
Does it need to be stored here?
Is there a better place to put it?
I do not believe in emptying items out of one container to put them into another. That seems like a huge waste of time to me.
Instead, if something is already in a box, I line it up neatly with other similar items…like snack crackers or cereal boxes.
If something is in a bag, I find a bin to contain the similar bags. I have a bin for chips, and a bin for baking items that are in bags like chocolate chips and coconut flakes.
The only exception is if you buy in bulk. Then it would make sense to have containers for your bulk items that are nicely square or rectangular so they don't fall over.
When you put the items you are keeping in the kitchen away, keep in mind that the point of organizing is not to make the space look perfectly uniform to the point that it will make you crazy to keep it up.
The point of organization after decluttering your kitchen, is to make it more functional and make better use of your time when you are in the kitchen trying to prep a meal or find a snack for your kids.
If you have items that need containers, here are some of my favorites for the pantry: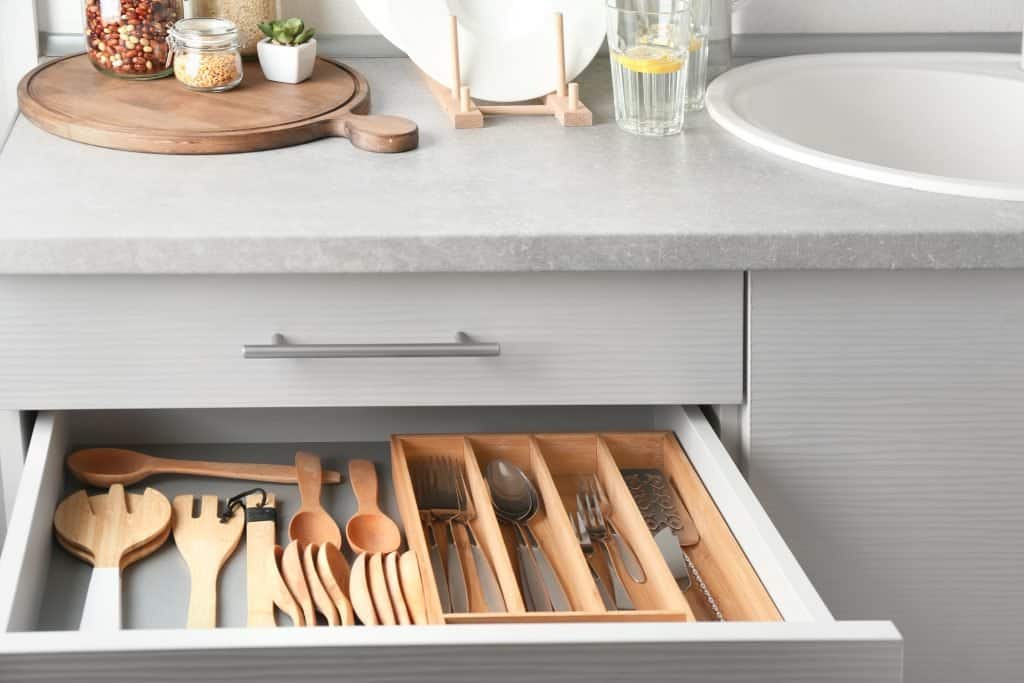 How To Declutter A Kitchen Drawer
Once you have decluttered your kitchen surfaces and pantry, you are well on your way to having a decluttered kitchen. You really only have a few areas left to declutter. One of those areas is the drawers.
So what should be in the drawers in your kitchen? Well, things like mixing bowls, spatulas, frying pans, and silverware.
Essentially, the items you want to store in your kitchen drawers are items that you use in your kitchen. (I also have a drawer just for me where I put my keys and items I use often)
The drawers in your kitchen should be decluttered using the decluttering steps at the beginning of this post. Also keep these things in mind as you declutter:
Get rid of anything you have two of.
Purge items that are broken.
Declutter items you never use.
Store items elsewhere that you use only on special occasions or seasonally.
When replacing items you are planning to keep in the kitchen, organize your kitchen into zones before deciding where everything should go. You can read more about creating zones in the post below…
Here are some items you can use in kitchen drawers to keep them organized after decluttering the kitchen:
These expandable trays are a favorite of mine. They are great for large, deep drawers or any drawers that house many different things and easily become messy. They are not just for silverware and will keep your drawers nice and orderly.
These shallow bins can be used in shallow drawers for things like cooking utensils that are laying flat. These bins will keep your utensils from sliding around inside the drawer and becoming disorganized.
One other thing that can really help keep items from moving around inside drawers is a layer of drawer liner that has a no slip surface. (This is my favorite and it comes in lots of colors.)
Related Post: 8 Reasons Why Clutter Causes More Stress In Your Life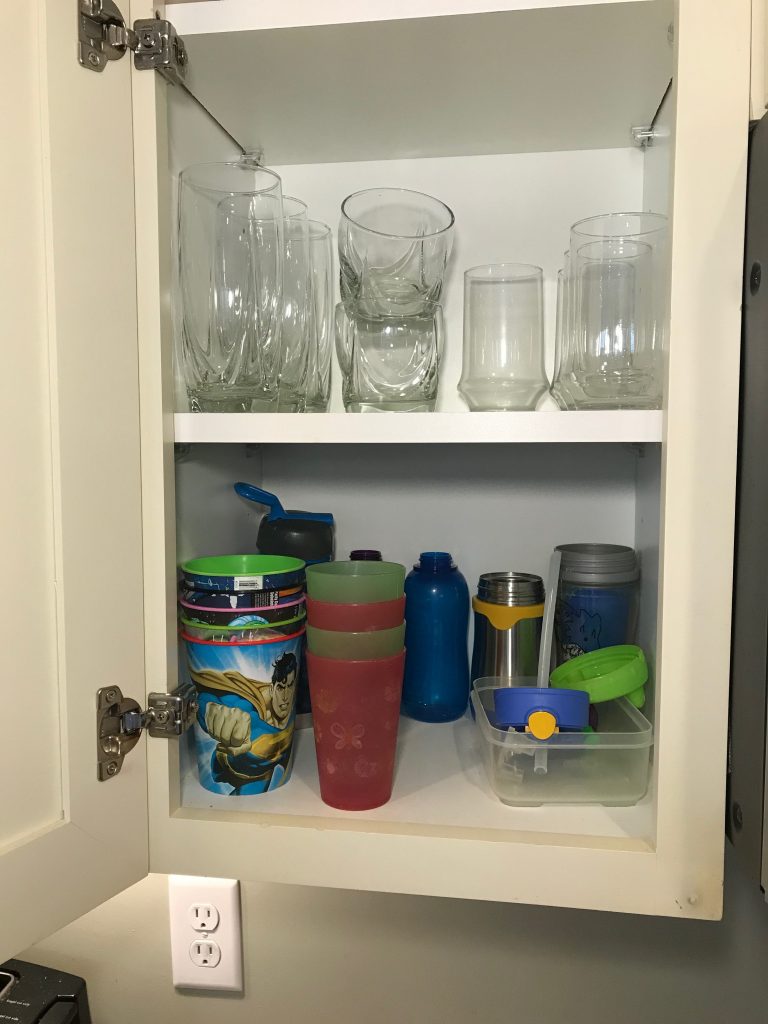 How To Declutter Kitchen Cabinets
Lower Cabinets:
Now onto decluttering the cabinets in the kitchen. Decluttering kitchen cabinets allows you to keep only the items you need for cooking and cleaning in the kitchen storage areas.
This is important for the same reasons that the other areas of your kitchen are important to declutter. Because decluttering helps you focus on only the items that are needed there to help you manage your time better and create the space you want.
But the odd shape and cavernous space of most cabinets can make it difficult to figure out how to put your items inside without them getting cluttered.
Not to mention that many items you use in the kitchen are not necessarily a uniform shape or size. Instead it is quite the contrary.
If you have a lot of skillets, you are more likely to have many that are all different sizes and serve different purposes.
So how are you supposed to use the large space of a cabinet to store items efficiently.
Well, the first thing you need to do is declutter using the steps for decluttering outlined in the first part of this post. While you are working, think about these questions:
Do you use this every day or weekly?
Do you have more than one of the same size or shape?
Do you have more than one item like this that serves the same purpose? (such as…you have 15 platters but you only really need one)
Does it still work?
Does it still look good?
Does it belong in this space?
Can I use the space for something more critical to my everyday meal planning and prep?
Now for putting the items you plan to keep in your kitchen cabinets away. Before deciding where things are going to go, please read another post of mine called How To Create Kitchen Zones For Better Flow In The Kitchen.
Here are some items that can help you organize your kitchen cabinets:
Upper Cabinets:
When it comes to upper cabinets, you are going to follow the same advice as above that was laid out for decluttering the lower cabinets.
The difference is, that most upper cabinets are more shallow, and they also have shelving. So organizing your keep items in the upper cabinets is a little easier.
Here are some items that may help you organize your upper cabinets:
A stepped organizer like this one can help you organize your spices so you can see them all on an upper cabinet shelf. (another great way to organize spices is with one of these.)
I like to use little tiny bins on my shelves next to the sippy cups to keep the lids and straws all contained. These are my favorite.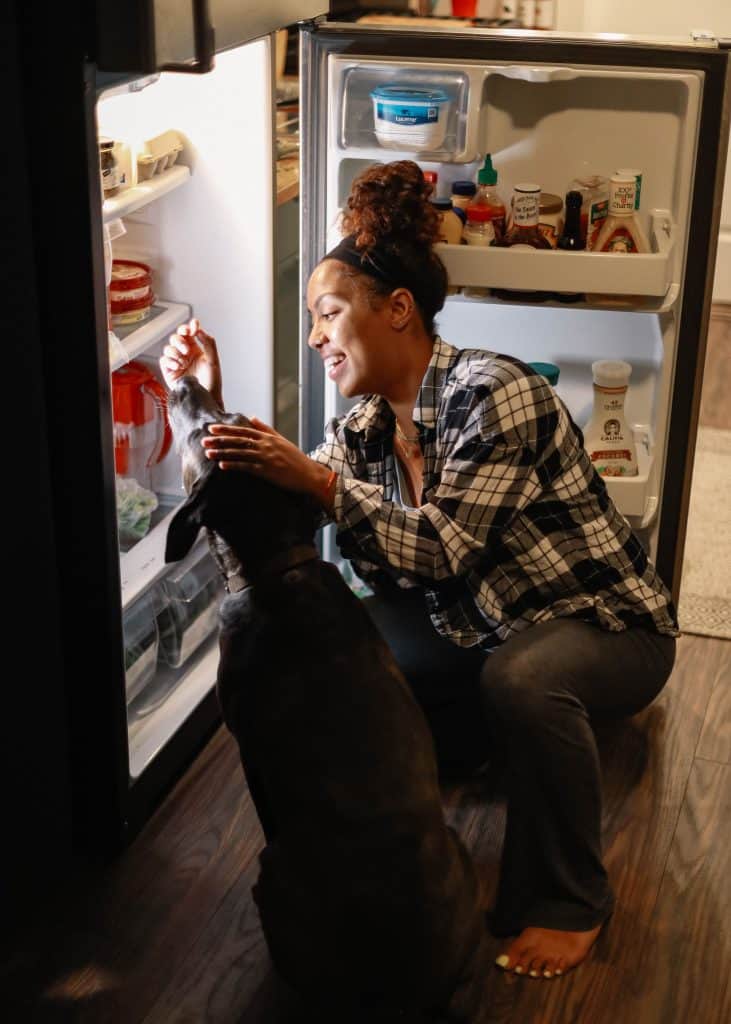 How To Declutter The Refrigerator
The refrigerator is a space in the kitchen that really needs to be cleaned out about once a week in order to keep it from becoming cluttered…and disgusting.
The food items we keep in the refrigerator are all perishable, which is why we keep them cold in the fridge in the first place. So if you go too long without cleaning it out, you could wind up finding something your child could use as a science project shoved somewhere behind the mayonnaise and the mustard.
I like to clean my refrigerator out each week right before I go to the grocery so I have room to put new items in.
But clutter in a fridge could actually be coming not from the food we are taking out and putting away each week, but the items we do not replace each week.
Things like ketchup, mustard, and salad dressing can start to clutter up your fridge if you are not throwing out old bottles or if you are buying too many bottles at the store.
So here are some questions to ask yourself as you use the rules above to separate items into the decluttering piles"
Will this be eaten?
Is it still good? (no funny color or smell?
Is it expired?
How many do I really need? (salad dressing or different kinds of other items like spicy, plain and dijon mustard.
Is it empty?
The best way to keep your fridge from getting cluttered again is to clean it out once a week. But sometimes products can help keep things more organized in the refrigerator too:
I like to use these clear bins in my deli meat and cheese drawer to keep the two items separated and easier to find (we eat a lot of cheese and deli meat!)
I like these bins in my veggie drawer because they keep my fruits and veggies from rolling all over the place.
And last, I love using these drawers (YES! I said drawers!) in the fridge because they allow us all easier access to the items that normally get pushed to the back of the fridge.
How To Declutter A Room: Office
Decluttering an office is the one and only space that uses different steps to declutter. The steps are similar, but because the items in an office are normally paper clutter and that paper clutter is many times important, we must take great care when decluttering this room.
For that reason, I wrote an entirely different post just about how to declutter your office. Click the link below to read it now.
When You Are Finished Decluttering All the Rooms
Finsihed decluttering? it is time to start the organization process so all that clutter doesn't come back. You can get some great tips in this related post:
Get Started Today And Declutter A Room In Your Home
There is a lot of information in this guide about how to declutter a room. So if you are interested in having this guide in your hand, you can buy it here.
Get started decluttering your home today!
I would love to hear your tips and tricks for keeping a tidy home as a mom. And if you need more tips and tricks yourself, you can follow me on Facebook or Instagram.
Happy Decluttering!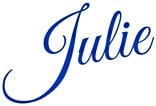 Related Posts: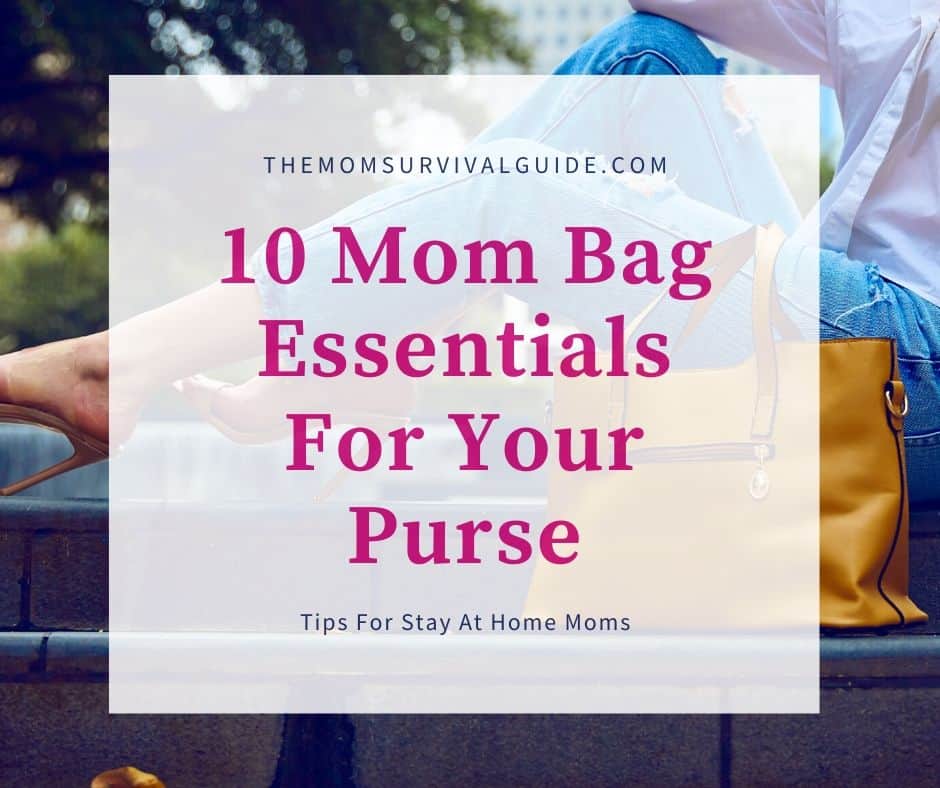 ---
---
---
---
---
---
How To Clean When You Are Crippled By The Mess
---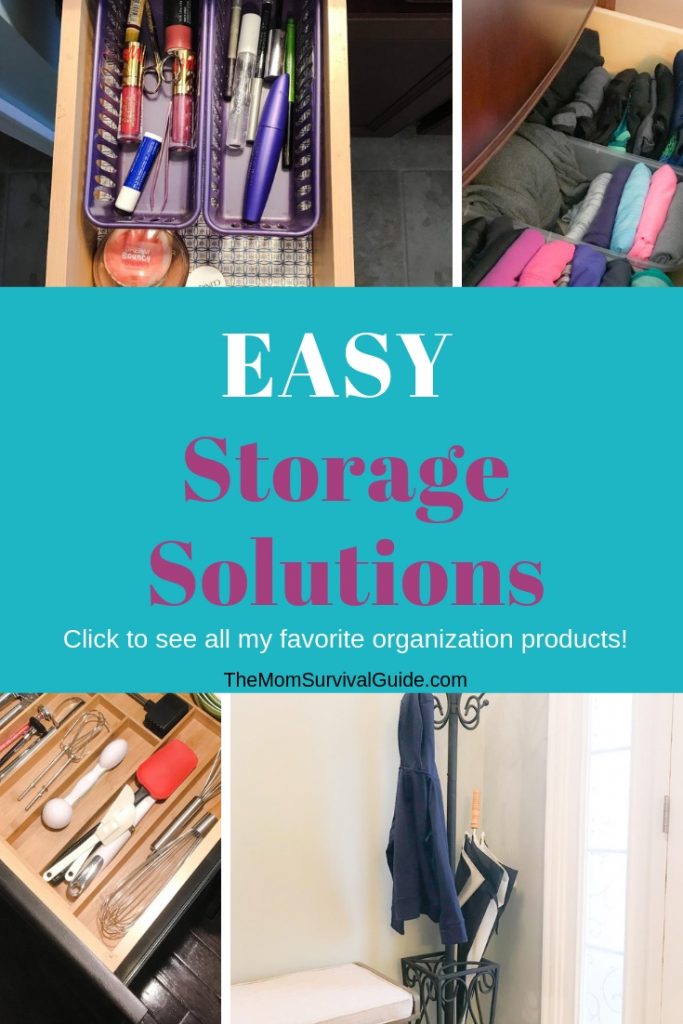 Cheap and Easy Ways To Store Things At Home
---
9 Toys Storage Ideas To Make Life Easier
---
The Cost Of Clutter And Disorganization
---
How To Start Organizing A Messy House In 6 Easy Steps
---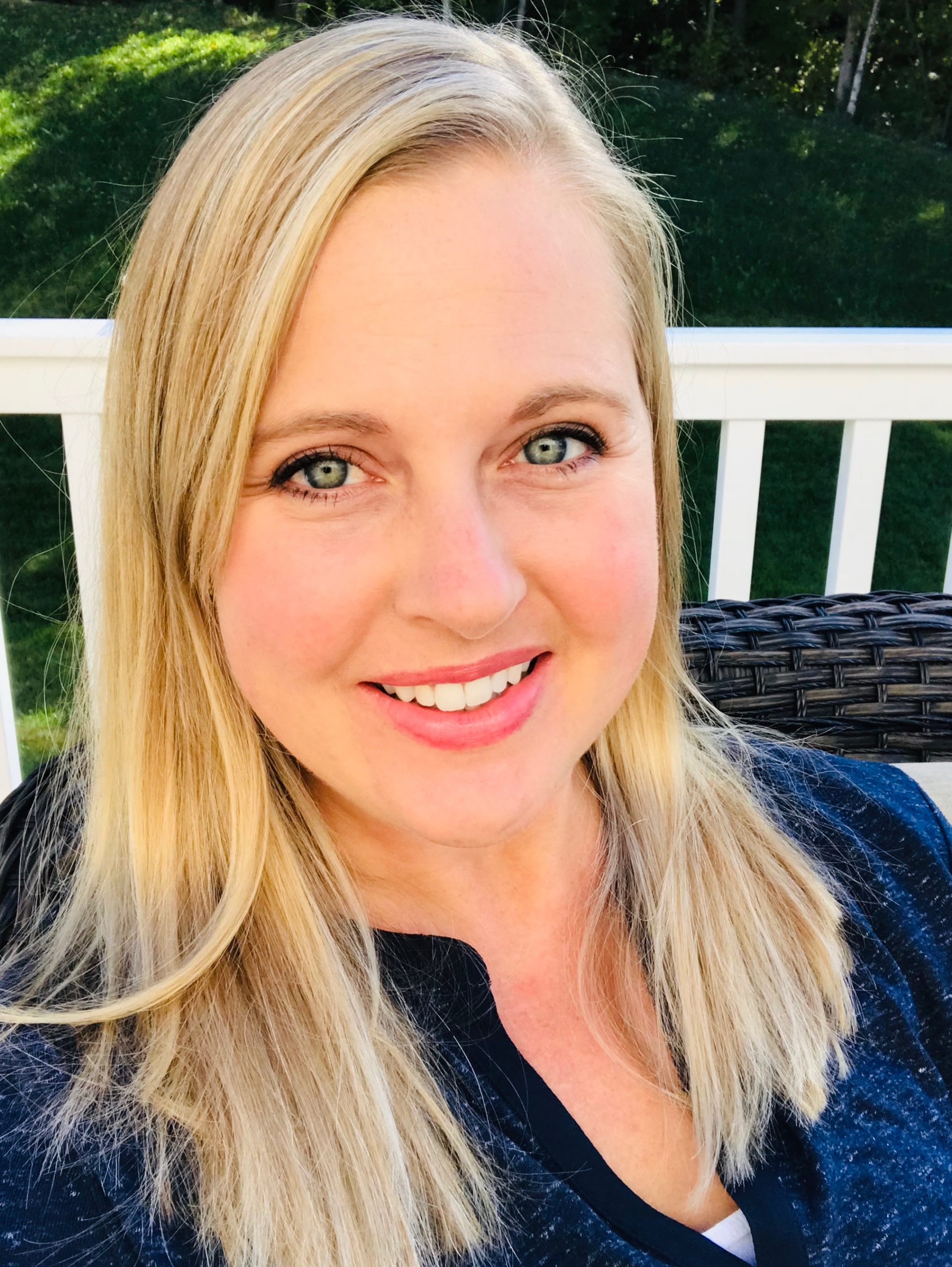 As a stay at home mom myself, I have found ways to keep myself sane and organized while loving what I do …be home with my kids! After 14 years of being home, I realized other moms may benefit from some of the tips and tricks I have learned over the years. Join me to learn ways to manage your home and life as a stay at home mom so you can make time to enjoy the best part…family. Things I love…feeling motivated, Harry Potter, being outside, and digging deeper into my life and my family's life in order to make it better. I have a Degree in Biology and am also a freelance writer.